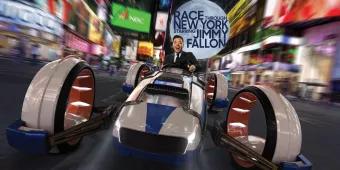 By ATD's Florida Experts, Susan and Simon Veness
It has been a wild ride over at Universal Studios, with headliner attractions opening at breakneck speed, and this year there is literally a wild ride (at breakneck speed!) opening on April 6. But the Number One question we've been asked by UK readers is: who, exactly, is Jimmy Fallon?
Universal Orlando's newest attraction, Race Through New York Starring Jimmy Fallon, is one crazy adventure, over, under, around and through beloved icons of New York, with a breathtaking slingshot to the moon and back. It starts in a recreation of Manhattan's 30 Rockefeller Center building (better known as 30 Rock), as guests become the audience in Studio 6B during a taping of The Tonight Show starring Jimmy Fallon.
From the gallery-like ground floor lobby with display windows featuring artifacts, show highlights and memorabilia from each of The Tonight Show's past five hosts, plus its current host, Jimmy Fallon, to the second floor lobby with interactive desks, live performers, and Hashtag the Panda (more on that later!), there is so much to see before you even enter Studio 6B, you'll forget you're in a queue. And that's part of the point: there is no queue, so you've entered Jimmy's world right from the start. But who is this Fallon guy, and how did he score his own attraction?
Let's start with a bit of The Tonight Show history. In 1954 comedian Steve Allen hosted the first late-night talk show from 30 Rockefeller Center. The show featured popular celebrities of the day, comedy skits, live music and what would become a trademark of the show, a humourous opening monologue.
Morning talk show host Jack Parr took over in 1957 using the same variety format, followed by quiz show host Johnny Carson. Carson took The Tonight Show from an amusing distraction to an American institution; the absolute Must-Watch late night television for the next 30 years. Johnny had the power to make or break celebrities, and his alter-egos—especially clairvoyant Carnac the Magnificent, whose trademark turban is featured in his window at Universal's 30 Rock—were like beloved friends in nearly every American household. Carson handed over to comedian Jay Leno in 1992, comedian Conan O-Brian took the reins in 2009, Leno returned in 2010, and our good man Jimmy Fallon won the coveted seat at the desk in 2014.
Phew!


Fresh-faced wild boy Fallon was no stranger to late night TV. He made his name as a cast member on sketch comedy show Saturday Night Live, a long-running, edgy nighttime staple that made the careers of Dan Aykroyd, John Belushi, Chevy Chase, Bill Murray, Eddie Murphy, Billy Crystal, Tina Fey and many, many others.
In 2009 he was given his own show, Late Night with Jimmy Fallon, where Fallon's talent for wacky comedy, celebrity impersonations, music, and audience interaction could really shine. Along with social and political comedy in his opening monologue, Fallon enhanced the now-standard late-night variety show format with regular routines such as "Thank You Notes" (bizarre little correspondences such as, 'Thank you 40 ounce beers for being great if you want an ice cold beer, but only for the first 10 minutes,' and 'Thank you hotel Jacuzzis for somehow making it not seem weird that I'm taking a hot bath with strangers'); visits from Hashtag the Panda, whose relentless dancing skyrocketed him to fame and led to the occasional dead faint; and the Ragtime Gals, an all-male barbershop "quartet" who sing wildly inappropriate songs in hilarious style.
Race Through New York includes all of those iconic moments and more, and while the in-jokes may be unfamiliar to some, the overall concept won't be. But don't take it from us. Here's what Jason Surrell – Creative Director, Universal Creative had to say about the attraction as regards guests who aren't familiar with Jimmy or The Tonight Show:
"It was difficult to land on something that felt right – we watched hundreds of hours of The Tonight Show to analyse what it's all about, and we fixed on the wacky celebrity races Jimmy does with guests, and that gave us the basis for it. Jimmy can be a very competitive guy, to say the least, so instead of racing around Studio 6B, we expanded it to the whole of New York and beyond. And, just to make sure guests wouldn't be left out if they didn't know The Tonight Show, we literally made New York the co-star of the attraction."
International visitors are not likely to have seen the show, but nearly everyone knows what New York is all about. "As a city, New York pretty much transcends the whole idea, so even if you're not aware of Jimmy Fallon, you will know the Empire State Building and the Statue of Liberty," Jason told us. "The obvious thing was then to house the ride in 30 Rock. Jimmy had returned the show to the original Studio 6B from Burbank [the California location where the show was taped when Johnny Carson, Jay Leno and Conan O'Brien were hosts], so we had to bring that landmark to life for people and we wanted to treat it with deference. It was just as important for us to create a lush environment to bring guests into, so we have the iconic art deco marquee at the front door and then the corridor that allows people to experience the full interior art deco style."
Now you know who Jimmy is and a bit about The Tonight Show's history, but what—besides an outrageous, fast-paced simulator ride on a flying television studio—makes the attraction so groundbreaking? We'll let Jason fill you in:

"This is really The Big Science Experiment for all of us at Universal. We really wanted to approach it differently to eliminate one of the biggest bugbears of theme parks, which is queuing. We also wanted to make the anticipation of the attraction part of the experience, so we brought live entertainment into it, which has never been done before, with the history of rap, heavy metal, etcetera, all brought to life in the unique style of the Ragtime Gals. We tried to bring the best of The Tonight Show to life for people. We wanted to take guests out of the line and immerse them in the show experience. It is unprecedented in the way of live entertainment being presented in lounge-queue terms. You have to think of it more as a show that happens to take place in this lounge where people are waiting. We are really excited for what this means for the future of themed entertainment and I think this is just Step One."
We agree, and, along with the TapuTapu queue-beating system coming to Universal's new Volcano Bay water park, we can't wait to see what's next!
To visit Universal Orlando Resort this year, click here to browse tickets. 
Liked this post? You may also like...