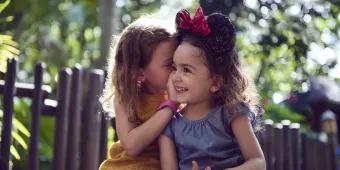 Don't leave home without this information!
Planning a Walt Disney World Resort in Florida trip doesn't need to be tricky with these insider tips to getting the most from your holiday...
1. There's more than one way to meet your favourite Characters
If you have small children, waiting in line to meet their favourite Characters might not be possible for you. Of course, one way to get around this is to book a Fastpass+ reservation for your meet and greet (more on that below), but if you've used all of these up there is another way to meet the Characters you want to see. By booking a Character dining experience, you can guarantee one on one time with specific Characters that you or your children love.
Here are just some of the Character dining experiences you can book:
Disney Contemporary Resort: Mickey Mouse, Minnie Mouse, Donald Duck, Goofy, Pluto. Book tickets for breakfast, brunch or dinner with luxury transfers. (Characters subject to change)
The Crystal Palace at Magic Kingdom: Winnie the Pooh, Tigger, Eeyore, Piglet (Characters subject to change)
Cinderella's Royal Table: Ariel, Cinderella, princess Aurora, Snow White, Princess Jasmine (Characters subject to change, not all princesses will be present depending on meal times)
2. You can book attraction reservations ahead of time
You can reserve at least 3 time slots a day at a single park to experience attractions at a time of your choosing at no extra cost using the My Disney Experience app or logging on to mydisneyexperience.co.uk. These attractions include rides, Character experiences and shows and allow you to skip the standby line to join a shorter wait line during your allotted time. Everyone (with valid admission) has the opportunity to book these from 30 days before they arrive, or 60 days before if you are staying at an on-site Disney Resort Hotel.
Find out more about this service here:
3. Check back for FastPass+ reservations even on the day
Didn't manage to get the FastPass+ reservation you wanted? Don't panic! It's worth checking the My Disney Experience app frequently in the lead up to the day as guests occasionally cancel their reservations and, you never know, you might strike it lucky!
4. You can book dining 6 months in advance, even if you're not staying on site
It might sound strange to book dining reservations 180 days ahead but by doing so you know you won't be disappointed on your holiday if your favourite restaurant or the place you have been dying to try is all booked up! We really recommend booking at least a couple of your meals this far out – you can always amend your plans later.
5. Consider which Parks you'll visit most when you book your hotel
If you're staying on-site at Walt Disney World, it's a good idea to take into consideration where the hotel you're booking is in relation to your favourite park. For example, if you know you'll be visiting Epcot a lot it's a great idea to book Boardwalk, Beach Club or Yacht Club as these Disney Resort Hotels are walking distance from the Park. Although there are transport options to a from all the Disney Resort Hotels to each of the Disney Parks, it will definitely save you time to be near your favourite Disney Park.
6. You can view the fireworks from loads of restaurants
There's no need to stake out your place in the park for the fireworks every night if you have the right restaurant booking at the right time! Our top pick for viewing the fireworks over Magic Kingdom is California Grill, while we'd really recommend the Rose and Crown Pub & Dining Room for viewing fireworks over at Epcot. Just make sure you check the firework times before making your reservations as times change seasonally.
7. You don't need to spend $$$ to get healthy and delicious food
Walt Disney World is committed to offering healthy, accessible food to all it's guests, which means that there are healthy options at every end of the budget. Counter service meals can be healthy, delicious and affordable. Here are just some healthy budget conscious options we would recommend:
Grilled salmon with vegetable rice and vegetables from Columbia Harbour House (Magic Kingdom)
The sushi selection at Katsura Grill (Epcot)
The Turkey Sandwich at Woody's Lunch Box (Disney's Hollywood Studios)
8. Water is free!
Save the environment AND your wallet by bringing a refillable bottle into the Parks and making the most of the free icy cold water at the counter-service stands. No more expensive plastic bottles of water!
9. Get there for rope drop
If you can get yourselves out of bed to arrive at the park in time for rope drop (the ceremony which opens the Parks each day) you'll have the chance to make a beeline for the most popular rides and ride them with much shorter wait times than throughout the rest of the day. We recommend doing this for AVATAR: Flight of Passage at Disney's Animal Kingdom, Soarin' at Epcot and Slinky Dog Dash at Disney's Hollywood Studios as these are some of the newest and most popular rides at the Parks. Sometimes the Parks open even earlier than advertised, so get there with plenty of time to spare.
10. Pack ponchos
Even if you enjoy getting soaked on the rides, ponchos are bound to come in handy at least once on your holiday. They can be folded up really small and will save you from the brief but unpredictable Florida rain storms which can happen in the summer months.
11. You can buy cheap buggies at Walmart
If you're visiting Walt Disney World with young children, even children who have been walking for a little while, you might want to bring a long a fold up push chair just in case they start to get tired throughout the day. You can hire these at Walt Disney World for $13-$15 per day or just buy one from Walmart for under $27 for you to use throughout your stay. If you think you'll need it for more than 2 days on your trip, you can save yourself a LOT of money by doing this!
12. Don't forget to take a rest
You might be tempted to do it all in one holiday but trust us when we say you will need a rest! With 6 huge Parks and 2 entertainment complexes to visit, there's no way you can do everything in one trip. By planning ahead though, you can make sure you do everything you'd like to and still have time to take a rest in between. A day by the pool could be just the tonic you need after a busy magical days at the Parks.
Still need more tips? Watch our video with our top 5 tips for visiting Walt Disney World:
Now you're armed with all these tips, it's time to get booking those tickets! Click here to view ticket options.
Liked this post? You may also like...