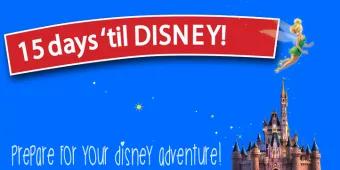 15 Days 'til Disney!
Join in to your Countdown to Disney!
Your Walt Disney World holiday is soon approaching and we know how excited you must be!
To get you even more in the spirit for your magical holiday, we've created a 15 day countdown calendar. From Disney movie marathons to themed baked treats, this is the perfect tool to get you and your family feeling the magic.
Like us on Facebook to keep up with our own countdown and check out our Pinterest for fun inspiration, baking ideas and much more!"
Be sure to join in and share with us your countdown with the hashtag #OTDDisneyCountdown to be in with a chance of winning an incredible goody bag!
Click here to download the calendar