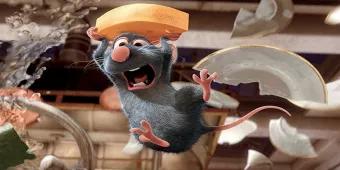 Disney Pixar's Ratatouille will soon find a home at Disneyland Paris...
Disney couldn't have found a better home for an attraction inspired by a film that has the French capital at its heart and featured in its background. Disney Pixar's Ratatouille inspires a new Disneyland Paris attraction, Kitchen Calamity, due to be launched at the Parisian Disney park in 2014! Till then, why not explore the French capital featured in Disney's delicious Parisian tale!
No doubt foodies and fans of Disney Pixar's award winning Ratatouille were delighted when Disney unveiled plans for a new attraction, Kitchen Calamity, inspired by the very said film Ratatouille, released what feels like a lifetime ago, in 2007. Not only will the whiff of a new attraction at Disneyland Paris lure more guests through the theme park's gates and give the world a chance to reacquiant themselves with Remy the rat and Linguini, the chef who knows nothing about cooking, but the new attraction will offer yet another reason to explore Paris, be it for the first, second or third time.
Set in the heart of Paris, Disney Pixar uses real Parisian locations and landscapes to form the film's backdrop, most of which are iconic and you will recognise, others maybe not so obvious....
The amazing view that can be seen from Linguini's small apartment window, that overlooks Paris from an elevated view, suggests that his
 apartment is located on Montmarte in North Paris. Montmarte is a hill in Paris that makes home to the famous Roman Catholic church Basilique du Sacre-Coeur ( Basilica of the Sacred Heart of Paris), which sits at the highest point in Paris.
Of course, this particular Parisian landmark needs no introduction. When Remy becomes separated from his family, he ends up in Paris beneath Gusteau's restaurant in Paris. It's the sight of the Eiffel Tower that confirms to Remy that he has, much to his delight, not only ended up in Paris, but at the restaurant of his favourite chef.
You will have noticed the romance capital's beautiful gothic cathedral, the Notre Dame form the backdrop of a street scene, where a disgruntled Chef Skinner reads about the success of Linguini at Gusteau's.
If you look close enough at this image, you will notice a particularly familiar mime artist nearer the cathedral. Those of you that can't recall  this Disney character, he is Mr Incredible's enemy, Bomb Voyage, the mime like criminal from the Incredibles (2004) directed by Brad Bird, who is also the director of Ratatouille.
Although not a particularly nice visual, in one of the scenes in Ratatouille a shop with dead rats hanging in the windowsis shown. This is an actual establishment in Paris, an exterminator shop called Destruction des Animaux Nuisibles, found at  8 Rue des Halles, just in case you should want to visit! We thought we'd spare you any gory images, but you can keep an eye out for it the next time you watch the film.
According to Disney Pixar's landscapes, should the animation depict the actual layout of Paris, Gustau's restaurant would be located directly oposite the Louvre across the River Seine, the very river Linguini almost throws Remy in. This has been deciphered from scenes in the film that display the Pont Des Arts from a perspective that shows the Eiffel Tower and Gustau's restaurant on the opposing side.  Of course, Gustau's isn't an actual restaurant and won't actually be found in Paris!
Indeed there is a wait till the Ratatouille themed attraction Kitchen Calamity arrives at Disneyland Paris, so you might be inclined to put your Disneyland Paris tickets on hold till an opening date is unveiled. However, it is likely that you'll want to get away before 2014. So, why not hop on the Eurostar to Paris and spend your days admiring the spectacular Parisian landmarks and landscapes that made Ratatouille so authentic and spend your evenings dining on food that'll make your mouth water.
Attraction Tickets Direct offers a range of sightseeing tours in Paris which include the landmarks featured in this article - apart from the Destruction des Animaux Nuisibles, which we have no doubt you won't want to see anyhow.
Bomb Voyage!