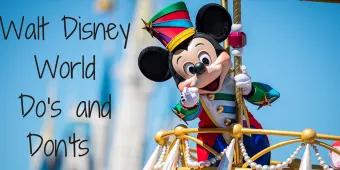 Disney Do's and Don'ts
Planning a trip to Walt Disney World? Let us help you out with our handy guide of Disney Do's and Don'ts that will make your holiday hassle free…
Do's
Do… book your tickets in advance
This is one of our top tips! It's so important to book your Disney tickets in advance as it can save you so much money. Buying tickets on the gate when you arrive, means you'll have to wait in a long queue to get in and you're guaranteed to pay more. By booking in advance you can save yourself both time and money! Who doesn't want that?
Do… make a plan
If you're going on holiday to Walt Disney World, it's essential to make a plan. This doesn't need to be a strict plan or extremely detailed, as long as you have some idea of what you'd like to do. We'd advise doing some research before you go to decide which parks you'd like to visit, rides you'd like to experience and characters you'd love to meet, so that you can fit everything in and don't leave disappointed. Knowing which park you're going to be in on which day will also help you utilise Disney's FastPass+ service. At the same time, don't worry if things don't always go to plan, it's important to enjoy the magic as it happens too.
Do… use Disney's FastPass+
Disney's FastPass+ is a fantastic service that lets you skip the line, reserve priority areas for the parades and shows and book character meet and greet experiences, before you even arrive. You can make 3 FastPass+ reservations per day completely free when you book Disney tickets. We strongly recommend you make the most of this service and book ALL 3 reservations per day, to save time waiting in queues. Don't worry, you can always change them if your plan changes. That's not all though, once you've used all 3 reservations, you can use the park's free Wi-Fi to book more!  
Top tip: use your FastPass+ reservations for the newest or most popular rides as these will have the longest queues!
Do… arrive before the park opens
We'd always recommend arriving around 20-30 minutes before the park is due to open. This way you'll be able to get on some of the park's top attractions without having to wait in long lines. The Magic Kingdom even has an opening show called 'Let the Magic Begin' where some of your favourite characters come out to welcome you to the park. This takes place just before the park opens, so you'll have to arrive early if you want to see it.
Do… make your dining reservations early
When we say early we mean REALLY early! Disney take dining reservations up to 180-days in advance, and if you're set on a particular restaurant, we really would recommend booking a table as early as possible. Character dining in particular often gets fully booked, so make a reservation early to avoid missing out.
Do… check the height restrictions
If you're travelling with little ones it's a good idea to check the height restrictions for the park's attractions before you arrive. You don't want them to get excited about a ride that they're too small to enjoy. Checking beforehand means you won't have to worry and can get straight on those rides!
Do… wear comfortable shoes
When you're visiting the parks for the day, it's important to be prepared. Comfortable shoes are a must, as you'll be doing lots of walking! To put it into perspective, the entire Walt Disney World Resort is approximately the same size as San Francisco, and while you may not be walking around the whole Resort, a good pair of shoes will save you from the dreaded blisters!
Do… come prepared
Arriving at the park fully prepared will help to make your day run as smoothly as possible. We suggest bringing a rucksack filled with your essentials. The weather in Orlando can sometimes be unpredictable, so it's a good idea to bring sun cream and a poncho. Hopefully it won't rain, but a poncho will still come in handy on the water rides!
We'd also recommend bringing along a water bottle. It's important to stay hydrated in the Floridian heat and there are fountains located throughout the parks so you can easily refill your bottle during the day. You might also want to bring along a few snacks, a portable phone charger, a pen and an autograph book (for when you meet your favourite characters), a change of clothes (for when you get splashed on the rides!) and anything else you might need during the day.
Do… stay for the fireworks
Magic Kingdom, Hollywood Studios and Epcot all have their own spectacular, night-time firework displays. Ideally, we'd recommend watching all of them, but if you don't have time, make sure you get the chance to watch at least one. This is the perfect way to end your night and our customers often say this was one of their holiday highlights.  
Do… make the most of Extra Magic Hours
Extra Magic Hours is an amazing opportunity offered to those staying onsite at a Disney Resort Hotel. It gives you the chance to enjoy additional time in the parks at no extra cost. The parks will be much quieter than usual which means you'll be able to ride your favourite attractions with little to no queues! Each day a different Disney theme park will either open 1 hour early or stay open 2 hours late. If you're staying onsite, make sure you check the schedule when you arrive.
Don'ts
Don't… forget to use your Memory Maker
Usually the cast members will remind you, but when you're coming out of an incredible ride, talking about how great it was, it can be easy to forget. Try not to though, as you won't want to miss out on seeing your 'ride face'!
Don't… skip breakfast
You'll need lots of energy for a day exploring the parks and if you miss breakfast, we guarantee you'll regret it. Having a big breakfast could also save you money later on, as you can get a light lunch or inexpensive snack instead.
Don't… hesitate to share meals
You'll soon realise that you can get some pretty big food portions at Walt Disney World! Don't hesitate to share meals as you can save yourself some money and you definitely won't be left feeling hungry.
Don't... buy your souvenirs straight away
It can be tempting to make a purchase as soon as something catches your eye (and there's lots that will catch your eye at Walt Disney World!), but try not to buy souvenirs straight away. You might see something else you prefer later, after you've already blown your souvenir budget. Little ones might change their mind too, so this could be a good way to save yourself spending more money on souvenirs. You could even wait and pay a visit to World of Disney at Disney Springs near the end of your trip. It's the biggest Disney store in the world, so you're bound to find something.
Don't… leave out Disney Springs
In the last few years, Disney Springs (formerly known as Downtown Disney) has undergone an incredible transformation. Visitors can indulge in a bit of retail therapy, with over 100 shops to explore including Lacoste, Levi's, Mac Cosmetics, Pandora, Zara and World of Disney- the biggest Disney store in the world! There's also more than 50 places to dine, where you can choose from fast-fired pizza, succulent steak and authentic Asian cuisine. There's even a cupcake ATM at Sprinkles bakery!
Don't... miss the special events
There's so much to do at Walt Disney World on any day of the year, but if you're visiting during a festival or the holidays, make sure you join in the fun. Epcot is famous for its Flower & Garden Festival and International Food & Wine Festival, which is great fun for the grownups! Disney also celebrate the holidays in a big way, so you can expect huge Halloween and Christmas celebrations in particular. Check what's on before you go so you don't miss out.
Don't… forget to take a break
While it can be tempting to make each day jam packed, you'll be left feeling exhausted if you try and cram too much in. Instead, make a feasible plan and factor in lots of breaks. Our top tip is to spend some time relaxing by the pool in the afternoons. Not only is this one of the hottest times of day, but also when the parks are at their busiest. Avoid this and get some much needed rest, and you can head back to the parks in the evening to make the most of the night-time entertainment. You might even want to have one day away from the parks to catch up, do a bit of shopping or explore the rest of Florida. You'll feel refreshed and ready to tackle the parks again the next day.
Want to experience the magic? Click here, to view our Walt Disney World Resort tickets.
For more blog posts like this try…
Find out all the latest news from Orlando in our BLOG