Get ready to unwind in the heart of nature
This is one of the best budget-friendly options when staying at Disneyland Paris, without compromising on quality.
With cabins that sleep up to 6 people across two bedrooms, and with two shower rooms, Disney Davy Crockett Ranch is the perfect Disneyland® Paris hotel for larger families needing a bit more space. After the excitement of a day at Disneyland® Park and Walt Disney Studios® Park, these cabins offer a touch of calm thanks to the cosy atmosphere and natural surroundings. 
To get you ready for your stay, here are 5 things you need to know about Disney Davy Crockett Ranch!
1. The cabins are self-catered
Each cabin at Disney Davy Crockett Ranch is fully equipped with a hob, microwave and crockery, plus an outdoor barbecue area complete with a picnic table, meaning your holiday can be completely self-catered if you want it to be! There's even a dishwasher so you won't have to worry about the washing up! 
The Alamo Trading Post in The Village stocks all the essentials, including meat, fruit and veg for the barbecue, and every morning you can pick up a takeaway breakfast bag of pastries, cereal and fruit to enjoy in your cabin. If you don't want to go self-catered or want to splurge for one meal, there's also Davy Crockett's Tavern, an all-you-can-eat buffet restaurant. 
2. Your dog can stay with you in your cabin
Yes that's right, your dog can experience the magic of Disney too! Okay, so they can't join you in the parks, but they can stay with you at Disney Davy Crockett Ranch*! You'll need to specify that you want to bring your furry friend with you as you'll need to be staying in one of the dog-friendly cabins. You'll also be required to pay a daily surcharge, but this will include a welcome kit with a collar, two bowls, poop scoop, door hanger and disposable carpet.
*Conditions apply.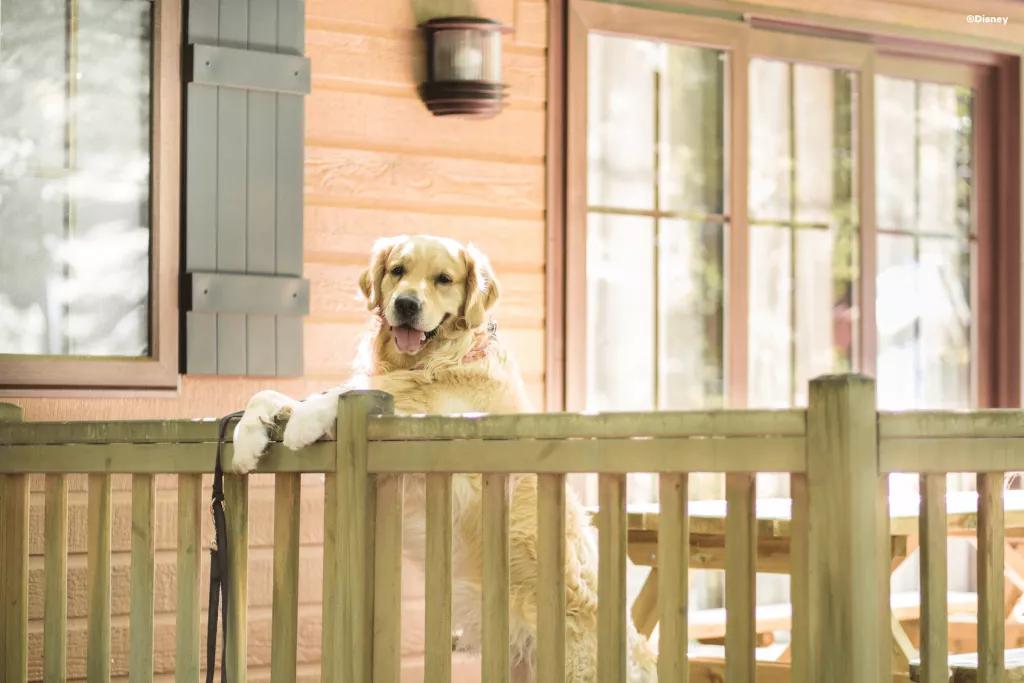 3. There's an onsite mini-golf course and treetop trail 
If you fancy a break from all the thrills of the Disneyland Parks, there are plenty of leisure activities at Disney Davy Crockett Ranch that the whole family will love. For a bit of friendly competition, there's a 9-hole mini golf course you can play on for a small surcharge. For little ones there is also an outdoor play area, while older guests can book to take part in Davy Crockett's Adventure; a paid treetop adventure trail that will have you following in the footsteps of Tarzan high above the ground. 
4. The pool has a slide, waterfalls and whirlpools 
The pool at Disney Davy Crockett Ranch is one of our favourites at the Disneyland Paris hotels! Keeping with the American frontier theming, the pool is decorated with rocks, greenery and a wooden bridge, and is heated so you can enjoy it at any time of year. Complete with a water slide, whirlpools, rivers and hot tubs, this is the perfect pool for both relaxing and playing, for guests of all ages.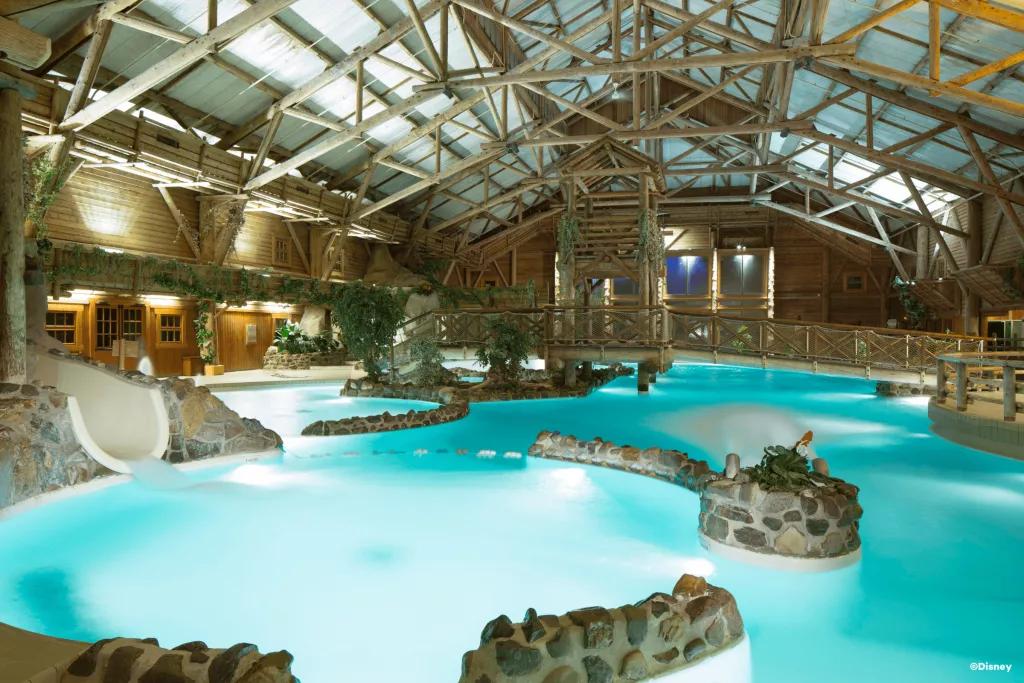 5. There isn't a shuttle service to the Disneyland Parks 
Disney Davy Crockett Ranch is just a 15-minute drive away from Disneyland Paris, but you will need your own car to make the journey as there isn't a shuttle service. As a guest of a Disney hotel you'll get free parking at the theme parks; just show your MagicPass at the gate and you'll be let straight in.  If you're already planning to travel by car via the Eurotunnel or ferry then this is the hotel for you. 
So now you're ready for an unforgettable stay at Disneyland Paris at Disney Davy Crockett Ranch. If you haven't already, book your trip today to receive up to €75 Disney Gift Card and 10 souvenir prints as part of your hotel and ticket package; book online or give our team of Disneyland Paris experts a call on 0800 223 0324.