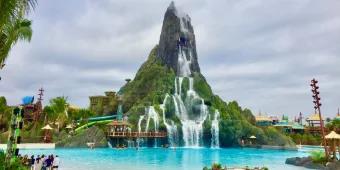 I'm 15 years old and recently visited Volcano Bay with the rest of my family. I can talk to you about the sort of things that are located there, the problems and ways around them, how to make your trip the easiest it can be and an insight into the things you should get up to.
Planning and organisation
To begin with, the planning and organisation when it comes to actually getting into the park. When I was there, I would wake up at 8:00am and get there by 8:45. This was due to the fact that the lines just to get onto the bus to get you to the park are enormous.
I would normally get there before 9:00am before it even opened and be at the gate to be in as quick as I could. Although I still had to queue for up to an hour and a half just to get in, depending on how busy it was.
So you will have to plan ahead on your experience to make sure its the best and most time efficient it can be.
Once the bus has taken you to the actual entrance of the waterpark you have to wait in another line for about 20 minutes so you can get your TapuTapu wristband that allows you to go on the rides in the park.
Once you get that, its first come first served with things like beach chairs and beach umbrellas as there is not enough for everybody on the park. So you try to get there as quick as you can to get an advantage over everybody else.
Activities and things to do at the waterpark
When you find your ideal place, you can now either relax in the hot sun or go and try out some of the rides. Their TapuTapu scheme is very helpful and extremely useful as you can go to a ride that you want to go on and if you think that the wait is too long, you can tap into the ride and it leaves a timer on your wristband to let you know when it is ready for you to go on.
In the meantime of waiting you can either go on other rides with waits of a shorter time period, or you can go on this part of the park called the lazy river, which I found fun and you will too.
it's basically a big river that pushes you around while in a rubber ring and it also enables you to see the whole park. The only downside to it is when I was in there I kept losing my wrist band because it kept falling off in the water. I lost about two and had to keep going to the help desk and asking for new ones.
So what I would suggest when your in the lazy river is leave your band where your chairs and towels are so it doesn't get lost.
Another thing that I found was a downside to the waterpark was the waits for rides. Some of them were upwards of 2 hours, I know this is because of the amount of people at the park but it is a lot of effort to be standing in a line for two hours. But while you wait there is always refreshments, food and other smaller fun activities to get on with. 
Personally, my favourite ride on the whole park is the Honu of the Honu ika Moana™.
Not only do you experience thrills and excitement on this ride, but you can do so while being surrounded by your family.
It is a five person ride which makes it all the better and if you are to ever visit this amazing waterpark I 100% suggest you go on this ride, it will not let you down and is definitely worth a long wait.
Another ride that i liked was the Kala & Tai Nui Serpentine Body Slides™.
You would also like this ride because it will give you the biggest thrill of all the rides on the park. The drop is basically vertical and is so sudden, you're not expecting to go as fast as you do. I would highly recommend this ride to any thrill seekers out there. It is the epitome of a thrilling ride. 
Refreshments and food
The food in this park is of a good quality as well. It is easily accessible so whenever you get hungry, food is less than a 2 minute walk away. There are often, unfortunately, queues for food too. But they are never long, maximum of ten minutes so definitely worth the short wait.
Maps and resources to make your visit as easy as possible
Here is a map of volcano bay, you will definitely need to study this and bring it with you before and when you go, it will help a lot.
https://www.doingflorida.com/wp-content/uploads/2018/01/universal-volca…
Costs and prices
Last thing i'm going to talk about is ticket prices for an adult a 1 day ticket costs $80.00 and a 1 day child ticket costs $75.00 and a 5 day ticket for an adult is $319.99 and a 5 day ticket for a child is $309.99. There are other sites that sell tickets for Universal; like 365tickets.com.
they offer deals better than the Orlando website, for example they do 2 park explorer. So you can go to volcano bay and another park like universal studios for 14 consecutive days as often as you choose. For only €263.50 for an adult and €254.25 for a child.
If you compare these prices to the universal website you are saving a lot of money so you're better off using 365tickets.com instead. Purchasing these tickets may seem expensive but they will give you an experience you will never forget and that will stay with you for the rest of your life. so in my opinion, they are worth every penny.
Conclusion
Overall these are all reasons I feel that you should visit this waterpark, it is all worth it, the cost and the waiting. If you don't do as much as you can then you will regret it after. So plan! Try and pack as much as you can into your day to get the most out of the experience.