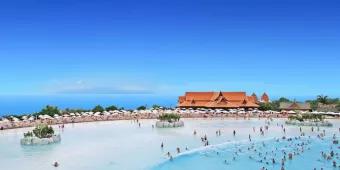 We take a look at some of the best water parks in Spain to add to your next holiday.
Spain is home to some of the best water parks in Europe, if not the world! Make a splash and cool down on our favourite lazy rivers, water slides, and more.
You may have already sorted some of your Spain attraction tickets for your upcoming holiday, but have you considered visiting one of the best water parks in Spain? In this blog post, we'll highlight the attractions at two of our best selling aqua parks. All you have to do is grab your swimming costume and decide which one to visit! Let the fun begin…
Siam Park 
If you're searching for the best of the best, Siam Park has to be on your list. 
Located in the Canary Islands on the breathtaking island of Tenerife, Siam Park has been voted the number one water park in the world for SIX consecutive years by Trip Advisor. Now that's a title we can get behind. 
Ideal for thrill seekers and poolside bathers alike, there's so much on offer at this water park like no other. With over 30 attractions including some record-breaking rides, let's take a look at the park's best bits. 
The Tower of Power
Begin your visit to Siam Park with a go on the park's most iconic attraction, The Tower of Power.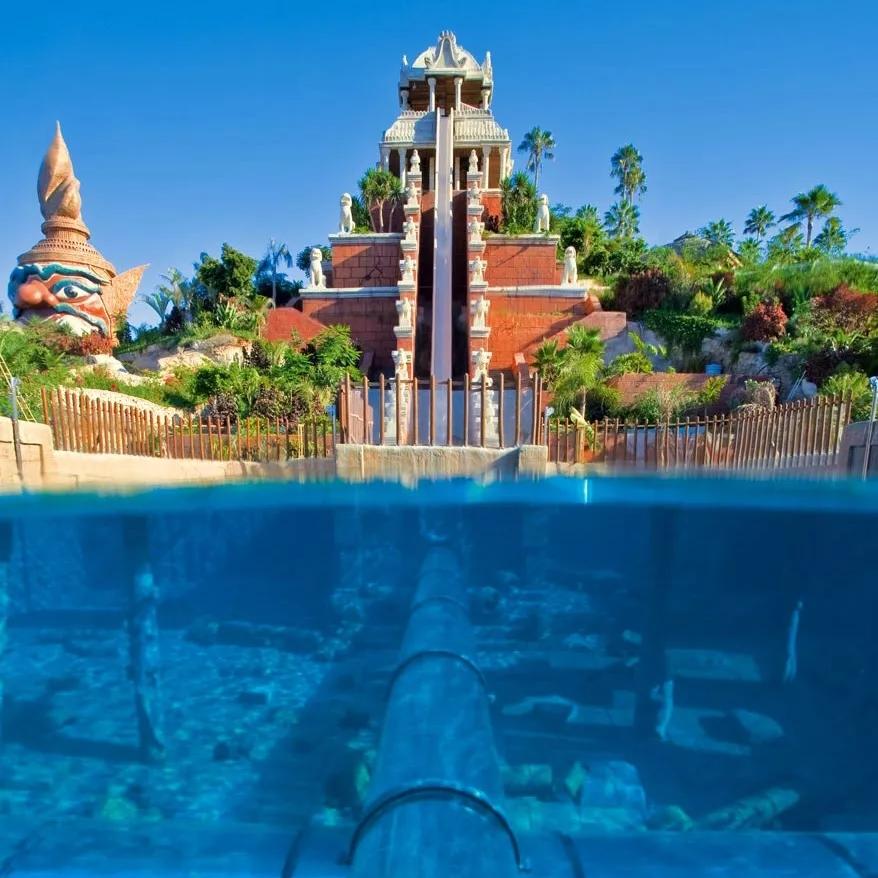 Feel your adrenaline pumping as you climb the many steps to the top of the ride, which offers breathtaking views across the entire area. Then, take a deep breath in and get ready to scream, as you plunge down the near vertical 28-metre drop in 'free-fall', whizzing through the park's stunning aquarium. You'll emerge unscathed and (hopefully) ready to tackle the challenge again!
Mai Thai River
Relax as you float along the longest lazy river in the world, taking in the blue skies, Spanish sunshine, and cascading waterfalls. With all the excitement and thrill rides at Siam Park, it's important to take a moment to simply enjoy the scenery and soak up your surroundings. The Mai Thai River lazy river is the perfect place to unwind and take in that blissful holiday feeling. As lazy rivers go, you'll struggle to find one as impressive as this.
The Giant 
A firm park favourite, The Giant is a water attraction unique to Siam Park and Europe. Experience a zero gravity-like sensation alongside four others in the very same float.
The slide has a completely vertical tunnel, combining social fun with epic thrills. As you slip and slide around the enormous cone, you'll be watched by the careful eyes of the park's iconic dragon. But will you escape his deadly, fire-filled breath? 
Siam Beach
Make the most of the beauty of the Canary Islands and dip your toes in the glorious white sand of Siam Park's very own beach.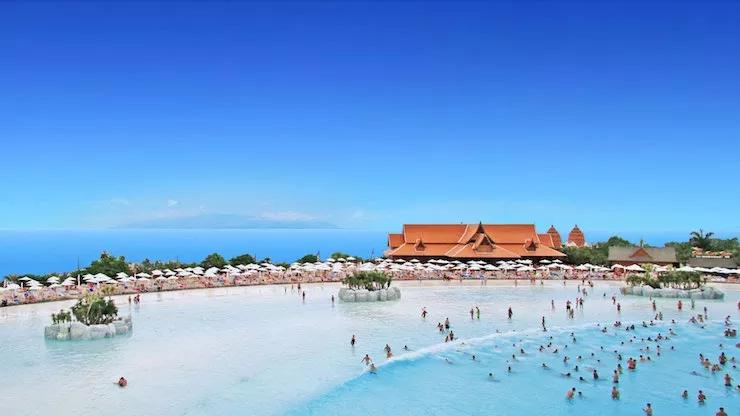 Take in the beautiful views of La Gomera and the ocean as you enjoy this exclusively relaxing experience. 
The pool - The Palace of Waves - is constantly heated to 24 degrees, so you can get that tropical holiday feeling no matter what time of year you visit. No beach experience would be complete without a wave pool, of course, and luckily Siam Beach has one of the best. 
AttractionTickets.com Top Tip:  Don't worry about how you're getting to the park - FREE Siam Park buses for Siam Park ticket holders operate between Los Cristianos, Playa de las Américas, Costa Adeje, and Siam Park. Simply check the schedule for times and enjoy a hassle free journey to the world's best water park. 
PortAventura Caribe Aquatic Park 
One of the best water parks near Barcelona, the water park at PortAventura World is located just over an hour away from this bustling Spanish city. It wouldn't be a holiday to Costa Dorada without a visit to this world-famous attraction, and the connecting water park is the perfect way to break up your time there by experiencing some splash-tastic rides. 
With attractions to get your heart-racing, as well as kid-friendly rides and relaxing chill-out spaces, PortAventura Caribe Aquatic Park is perfect for both family-fun and seasoned thrill seekers. Here's some of our favourite things about the park.
King Khajuna
Starting with the star attraction of PortAventura Caribe Aquatic Park, the King Khajuna is an experience not to be missed - after all, it is Europe's highest free-falling waterslide...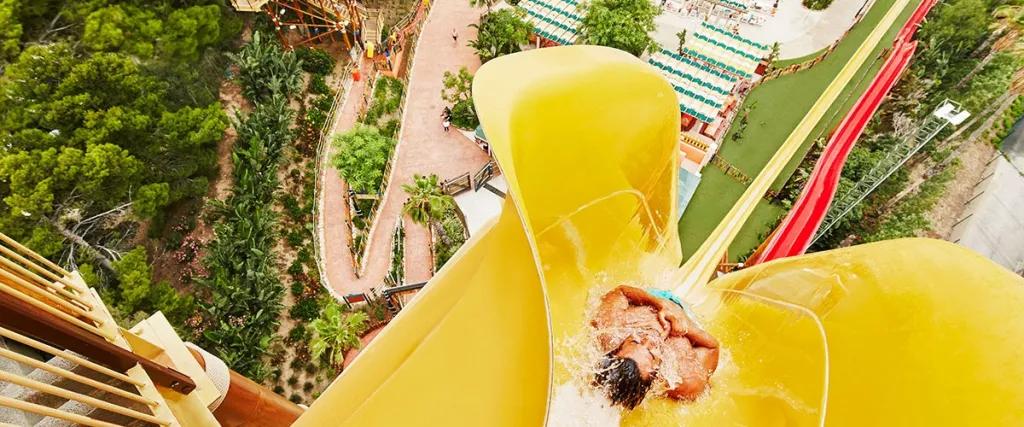 Free fall from a height of 31 metres in this toe-curling, hair-raising slide. The slide races at an impressive speed of six metres per second - but can you handle the pace and take on the mighty drop?
El Rio Loco
The El Rio Loco combines all of our favourite elements of a lazy river, with some crazy and unexpected aquatic twists. Embark on a brilliant adventure on the 1500 metre river, encountering fun obstacles and surprises along the way. Grab your mates and head for the dinghies - it's time for some classic water park fun.
READ NEXT: How to Get to PortAventura from Barcelona
Bahama Beach
PortAventura Caribe Aquatic Park isn't just all about fast-paced thrills. Take some time for yourself and unwind to the backdrop of gentle waves, on the idyllic Bahama Beach.
Catch some rays in a sun lounger and enjoy the impressive Carribean-inspired backdrop during your moment of zen.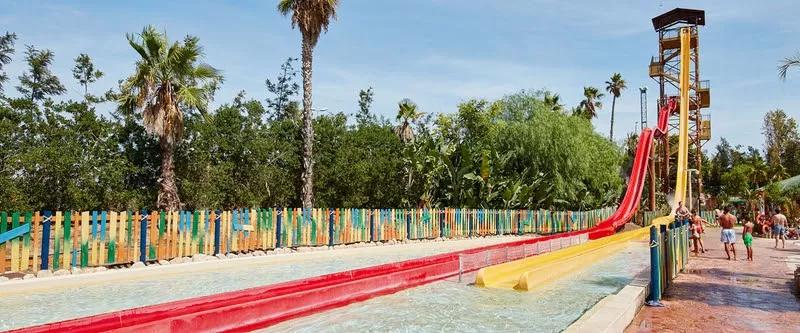 Ciclón Tropical 
A new addition to the park is this exciting water attraction, which will see you gliding 100 metres down a multi-bump slide.  Cross your arms (and your fingers and your toes!) and take on the challenge of the Ciclón Tropica, a must-do for any adrenaline junkies. 
AttractionTickets.com Top Tip: Get a multi day PortAventura World ticket and make the most of everything the park has to offer. The attached theme park is home to over 40 rides and one-of-a-kind coasters. Head over to Ferrari Land (separate ticket required) and immerse yourself in amazing attractions inspired by Ferrari, including the tallest and fastest vertical accelerator in Europe!
So, what are you waiting for? Whether you're holidaying on the mainland or heading to the beautiful island of Tenerife, Spain has some of the best water parks in Europe. Don't miss out on a visit to one of our favourites - browse our Spain attraction ticket options today!