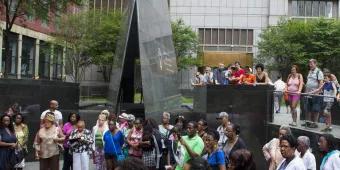 A city as diverse and vibrant as New York has so much to offer...
Find something a little different to do on your trip to New York!
There are thousands of amazing things to do in the Big Apple, so competition is fierce to provide unusual and non-touristy walking tours of this amazing city. We've hand-picked some of our favourite tours which are a little off the beaten track, perfect if you want to do something a little different on your New York holiday.
1. Bronxs Little Italy Tour
Learn more about this culinary destination in the Bronx as you take a stroll with an expert guide around this diverse and exciting neighbourhood. The Belmont area of the Bronx is famous for its authentic Italian bakeries, butchers, fish markets and speciality stores and – don't worry – you'll have plenty of time to shop for tasty souvenirs! Of course, this tour is not only about the history of food in the area, but how this neighbourhood grew with the arrival of Italian immigrants to become one of the most vibrant districts in the city.
To find out more, click here.
2. New York and Harlem Gospel Experience Tours
Find out more about the history of Gospel in Harlem and Brooklyn Heights on these 2 New York gospel tours which take you through the history of African-American gospel music in the city. Start your tour in Lower Manhattan and walk towards Brooklyn, or meet in Harlem for a tour of this iconic neighbourhood. Learn more about the evolution of gospel music in the United States and the influence the music has had on blues and rock n roll in the city. Both tours conclude with a gospel performance in an African-American church that is guaranteed to warm the soul.  
To find out more, click here for Brooklyn and here for Harlem.
3. Discover Brooklyn's Hidden Edible Plants on a Foraging Journey
Expert botanists take you on a journey around Brooklyn's Prospect Park to forage for edible plants and 'weeds' in what is definitely a very unusual New York activity! Learn how to identify and prepare wild mushrooms, sassafras and even mulberries, all of which are grown in the park and can be found in local gardens.
4. NYC Slavery and Underground Railroad Tour
It's important to remember that the history of New York is not always pleasant, and this tour in particular tackles one of the darkest parts of the city's history. In this 2-hour tour, visitors will learn about the times of slavery in the city and the brave men and women who escaped the brutal regime through a network of secret routes and safe houses. Throughout the tour you will visit archaeological sites and memorials dedicated to the memory of enslaved Africans in colonial America and listens to tales of triumph and courage from this terrible period of New York's history.
To find out more, click here.
5. A Tour of NY's Lower East Side
The Lower East Side of Manhattan is a diverse and enticing neighbourhood that can take you from an African Burial Ground to China Town within a few blocks. On this tour, which starts at City Hall - a significant starting point as it's where many of the neighbourhood's immigrants became new citizens – you'll be taken round 100-year-old bakeries, churches and markets and be exposed to Latin, Jewish and many other cultures. You'll also be shown the Tenement Museum, a museum dedicated to the lodgings that many of the city's immigrants found themselves in when they arrived in this area of Manhattan.  
To find out more, click here.
6. The South Bronx Renaissance Tour
The Bronx may be synonymous with a lot of bad press due to falling on hard times in the 20th century, but it is currently undergoing a cultural and social revival making it one of the coolest destinations in the city. If you love Hip Hop culture and graffiti and street art you'll love exploring the brightly painted and colourful streets of this vibrant neighbourhood. See the names of local Bronx celebrities from the Hip Hop world, including Swizz Beats Grandmaster Caz and Afrika Bombaataa, as well as learning more about the neighbourhood's other surprising famous locals.
To find out more, click here.
7. Greenwich Village Music Tours
Greenwich village was basically a home from home for Bob Dylan and many other rock 'n' roll legends, making it a great place to walk around if you're travelling with a (wannabe) rock star. On this self-guided tour you can visit famous night clubs like The Bitter End and Village Gate on Bleeker Street and bars on famous MacDougal Street, including the famous Kettle of Fish (now the Gaslight Café), which were frequented by greats such as Dylan, British Poet Dylan Thomas and Suze Rotolo.
Planning a trip to New York? Make sure you pre-book your tours to avoid disappointment and save yourself time and money when you arrive. Please note that some tours do not run in January and February due to the extreme cold weather!
Liked this post? You may also like…