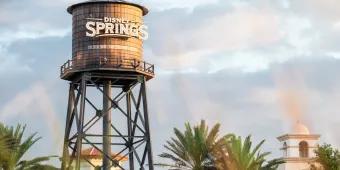 By AttractionTickets.com's Florida Experts, Susan and Simon Veness
It isn't a theme park, but Disney Springs can easily be worth a full Orlando day out
We all know that Walt Disney World and its theme parks are the prime lure for Orlando holiday-makers. After all, the House of Mouse has been perfecting its offerings for more than 50 years now.
But among the rush to the theme parks, there are other Disney attractions that are equally worthy, and it's easy to overlook them, and that would be a great shame, especially when it comes to Disney Springs.
We are often asked if this area is worth time from a typical two holiday, and our answer is simple: If you like unique shopping, delectable dining and world-class entertainment, it's an absolute no-brainer.
It is free to park at and enter, boasts an amazing choice of restaurants in particular, and is easy to find off motorway I-4. Formerly known as Downtown Disney (and Disney Village Marketplace before that!), it is split into four sections – the Marketplace, The Landing, Town Center and West Side – and is an attractive mix of attractive open-air plazas and courtyards, all set beside a lake and with a free water taxi service from one end to the other.
There is nearly always something new in this exciting district, whether it's the delicious Almare Spritz at Terralina Crafted Italian restaurant or the Little Mermaid apparel collection at the gigantic World of Disney store, and there is a really stylish edge to the architecture and landscaping.
With all that in mind, we thought we would offer 10 reasons why you should visit Disney Springs, just in case you are not sure:
10. Raglan Road: Our perennial favourite since it opened in 2005, Irish pubs tend to be two a penny in most American cities, but the Disney Springs version is one of the very best. It is fully Irish owned and run, and much of the interior – notably the two main bars – was shipped in directly from Ireland. The live music and dancing is equally authentic, and the menu was created by Irish celebrity chef Kevin Dundon. The main indoor hall contains two stages, and there are periodic events and celebrations that add to the lively atmosphere. To round things off, there's a cute gift shop and a great photo op outside with the bench statue of Irish poet Patrick Kavanagh.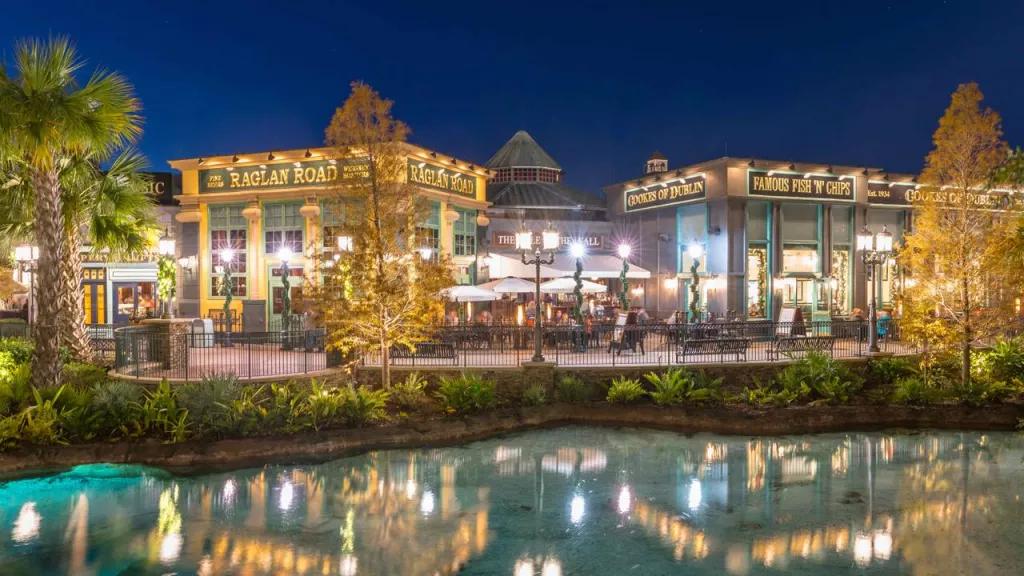 9. Aerophile: A ride at Disney Springs? Why not! In fact, this tethered balloon ride is a real thrill as well as a scenic spectacular. It rises gently to a height of 400ft – the equivalent of a 40-storey building – and the specially-designed cradle offers a magnificent 360-degree panorama of the Disney landscape, with views to downtown Orlando, 20 miles north. Located in the West Side section, it flies daily from 9am-11pm (weather permitting).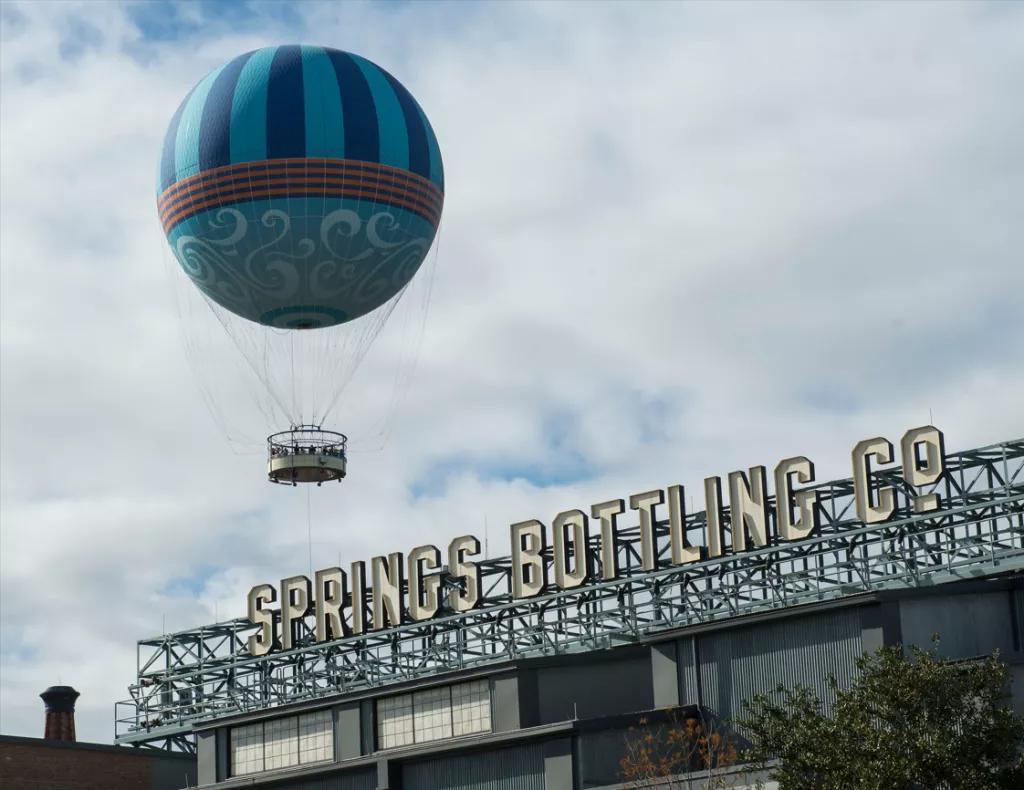 8. House of Blues: Whether you're looking for lunch, dinner or just some cool sounds, the House of Blues can provide the right flavours and music for most moods. The restaurant, with its outdoor terrace and stage, features a range of New Orleans-inspired dishes that include mouth-watering jambalaya and barbecue classics, while the stand-alone concert venue next door brings in headline acts, including The Molly Ringwalds, Cody Jinks and Corey Taylor in 2023.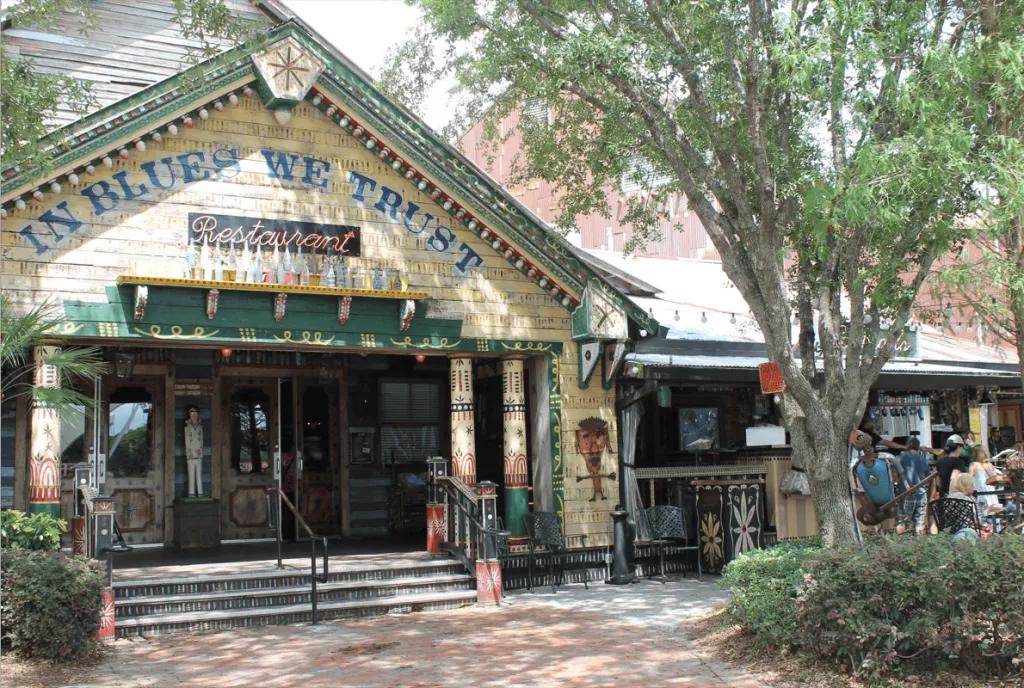 7. Live Music: Sprinkled throughout the near one-mile stretch of Disney Springs are a range of five stages and small-scale venues for live music acts on a nightly basis. They vary from classical violinists to flamenco guitarists, and rappers to Afropop, and they usually perform several times each evening. And it is all free to listen to as you wander the streets and courtyards of this open-air playground.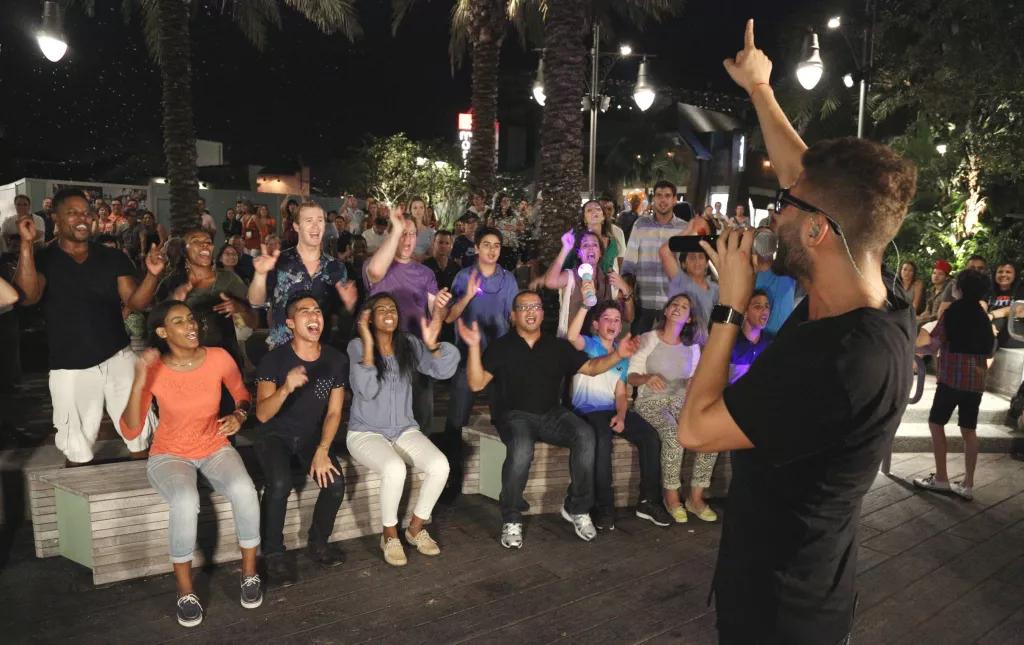 6. The Boathouse: Our absolute No.1 choice when we're looking for a special night out (or just a drink in this super-cool waterside location). The Boathouse comes complete with its fabulous amphicar water rides, in addition to a choice of different bars and dining rooms, both inside and out. You can be sure of an epic lunch or dinner, with gracious service, an upscale atmosphere and superb fish and shellfish dishes, as well as steaks, chicken and pasta.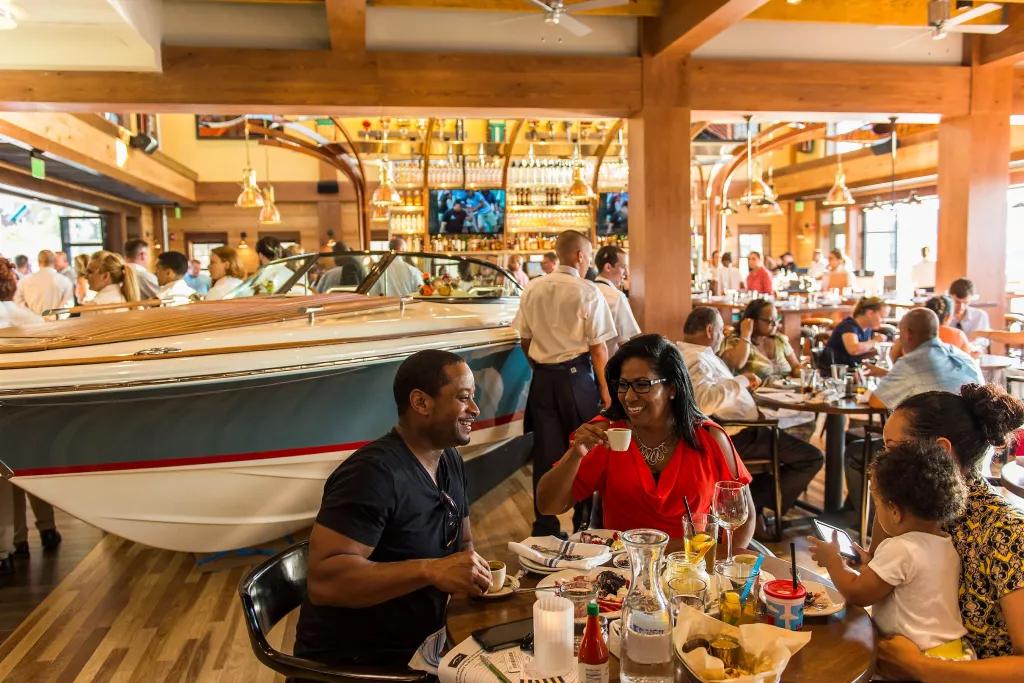 5. Coca-Cola Store: There are more than 100 places that offer different kinds of shopping throughout Disney Springs, and many of the most exclusive stores – including Columbia Sportswear, Coach, Anthropologie, Jo Malone, MAC Cosmetics and the new Fit2Run – are in the Town Center, which is also where you'll find the iconic Coca-Cola Store. This unique building is both a Coke superstore, with a bewildering array of souvenirs and apparel, and a rooftop bar, serving all manner of Coca-Cola products and speciality drinks. Definitely a bar with a view!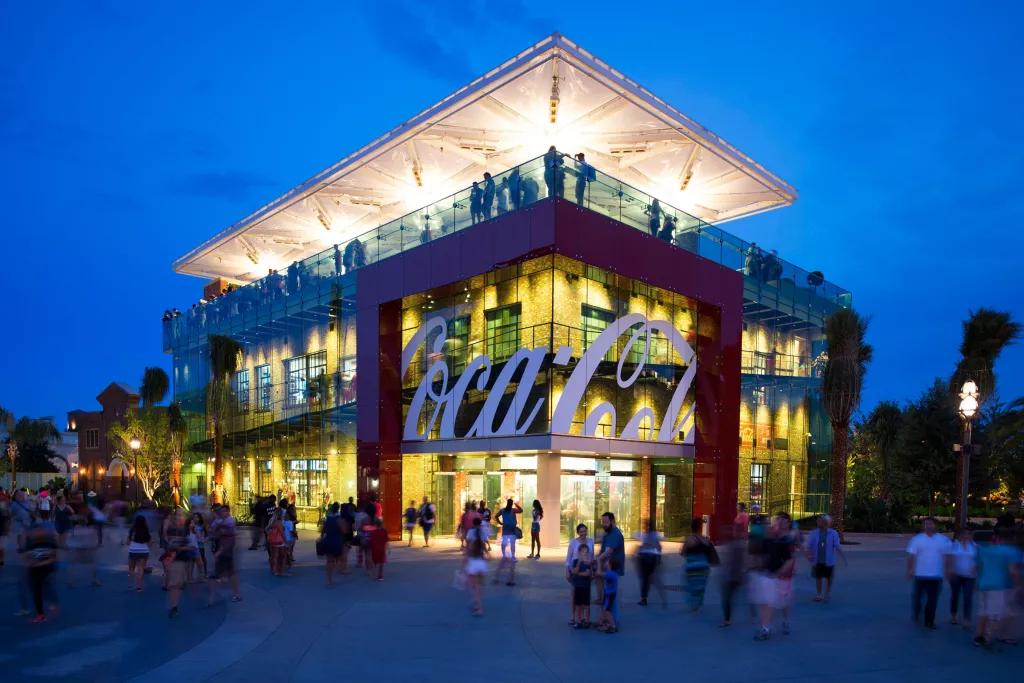 4. The Art of Disney: When you want to find the best of the best in Disney souvenir and gift terms, the place to go is this hugely artistic shop tucked away in the Marketplace area (next to the huge Rainforest Café). Packed with classic Disney images, from large-scale framed prints to individual animation cels, it offers the best range of collectible artwork within the 40 square miles of Walt Disney World.
3. Gideon's Bakehouse: This Orlando original opened in the trendy East End Market north of downtown and was such a local success Disney invited them to open up a major standalone venue. Situated in The Landing, Gideon's is an eye-popping bakery of oversized cookies - including their legendary "almost half-a-pound cookies" - as well as cake slices, coffees, iced drinks and other sweet treats. Their Double Frosted Cakes are worth coming in for on their own, but beware the long lines to get in each morning!
2. World of Disney: If you're looking for that one-stop-shop experience to grab all your Disney souvenirs and gift items, this is definitely the place to come. A vast emporium of just about every kind of branded apparel, plush, jewellery, accessory and collectible you can think of, World of Disney is also the place to look for kitchenware, candles and home decor. It was extensively remodelled in 2018, with the popular Bibbidi, Bobbidi Boutique getting its own venue in The Marketplace (which has yet to reopen since its closure during the pandemic).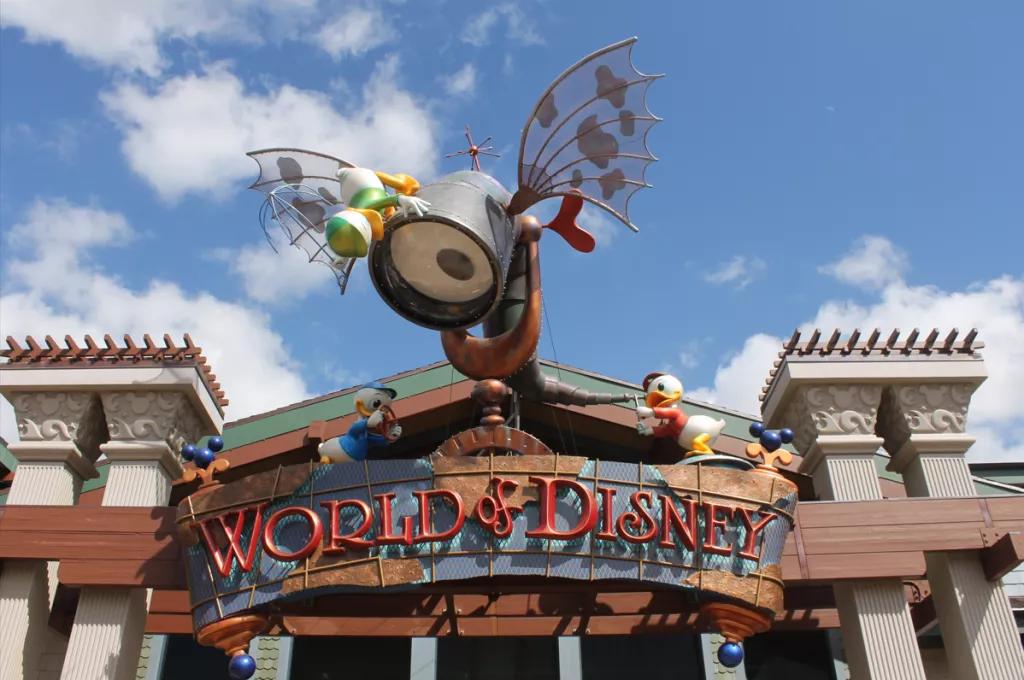 1. Drawn To Life: The best show in town, bar none, guaranteed, can be found inside the huge tent-like structure of the Cirque du Soleil theatre at the top of the West End section. Ticket prices start at $85, but they are worth every penny for the astounding new show, Drawn To Life, which features a first-of-its-kind collaboration between the daring artistry and grace of the Cirque group and the magic of Disney animation. Words really don't do it justice, so we will simply say: Don't miss this show!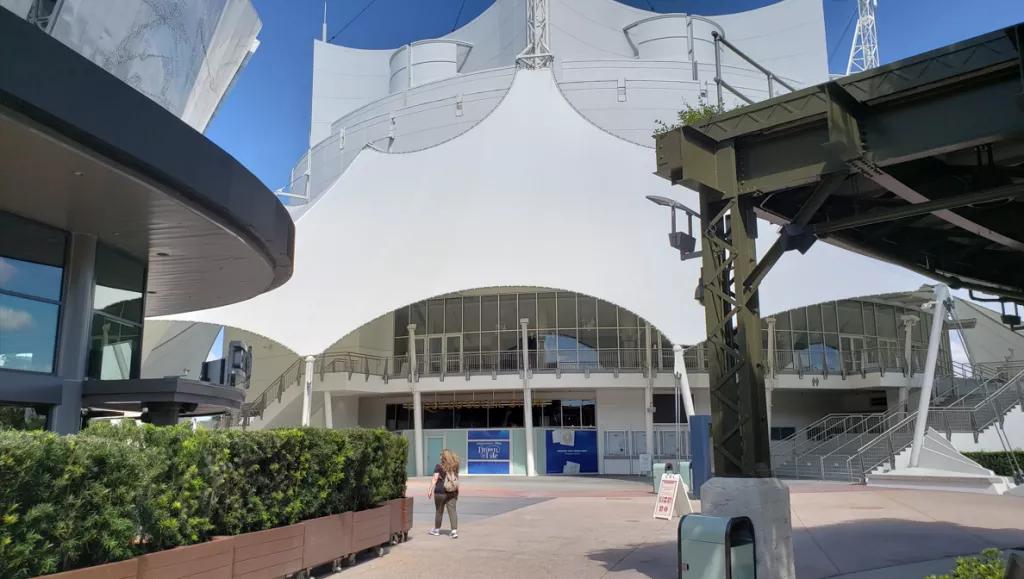 Have you visited Disney Springs in the past? Tell us your experiences on the friendly ATD forums, our Community Facebook page, on Twitter or Instagram.