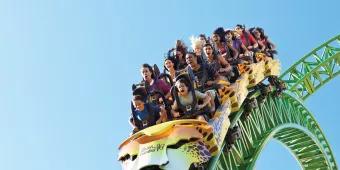 Busch Gardens is home to some of the biggest thrill rides in Florida!
If you're looking for exciting thrills and once-in-a-lifetime ride experiences, a visit to Busch Gardens Tampa Bay needs to be on your Orlando holiday itinerary. With hair-raising rides and splash-tastic attractions, you won't leave the park underwhelmed, that's for sure!
Located a short drive away from the main hustle bustle of Florida's best-known theme parks, Busch Gardens Tampa Bay is full of wildlife-inspired attractions, thrilling rides, and family friendly experiences. 
Experiencing your next favourite ride couldn't be easier, especially when you pre-purchase your Busch Gardens tickets and skip those ticket queues at the front! Now, let's take a look at some of the best rides and attractions at Busch Gardens…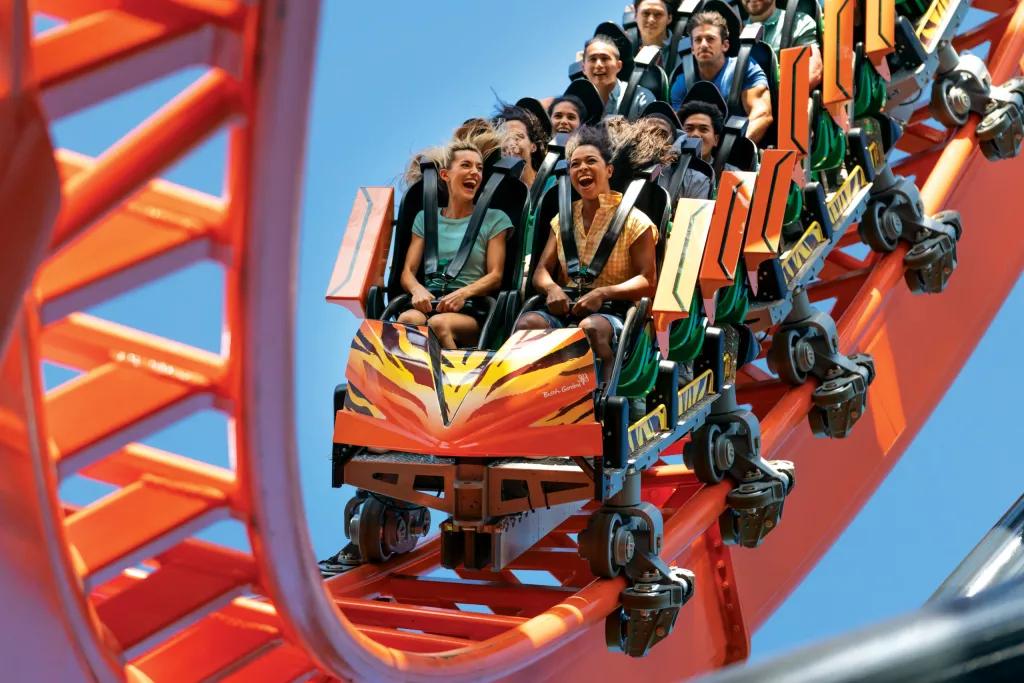 Top Thrill Rides 
Busch Gardens is home to some record-breaking coasters, adrenaline junkies will be delighted to hear! 
First up is Tigris, Florida's tallest launch coaster. This ride features a triple launch and 150-foot skyward surge, inspired by the powerful and agile almighty tiger. You'll soar through twists and turns, and even an inverted heartline roll.
Another record holder at the park belongs to Falcon's Fury, holding the title of tallest freestanding drop tower in North America! Enjoy spectacular views of the park before you plunge 60mph straight down at 3.5 Gs. Brace yourself for a truly powerful experience.
Hop onto SheiKra to experience speeds of up to 70 mph. You'll be hurtled 90 degrees straight down, after being whisked up 200 feet in the air…we'll brave it if you do!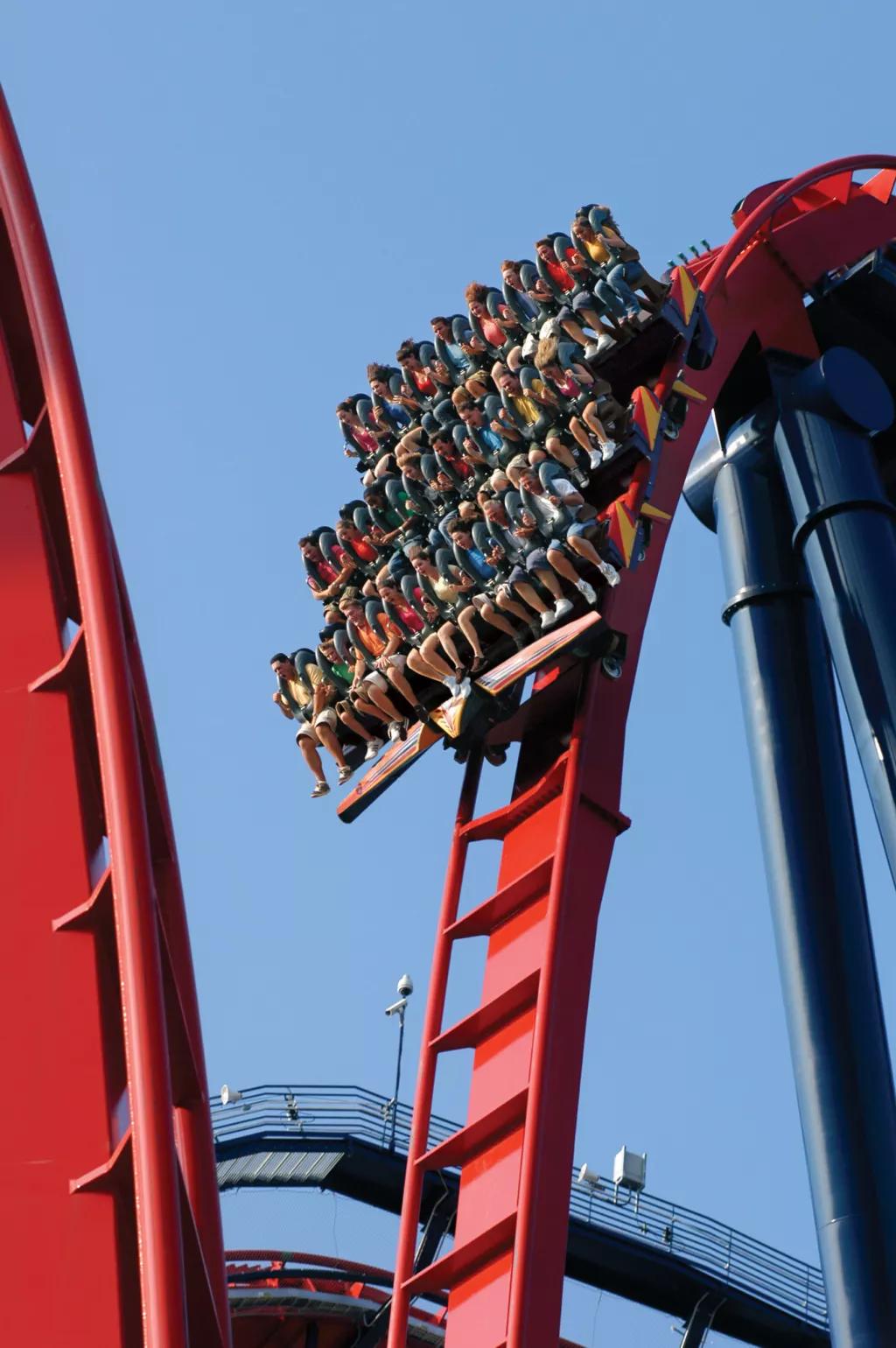 We told you Busch Gardens is home to some of the world's biggest and best attractions and our next ride, Montu, is no exception. This is one of the tallest and longest inverted roller coasters in the world, featuring loops, drops and speeds of over 60 mph. All this, while your feet dangle freely below you - terrifying!
Inspired by the speed and stamina of the world's fastest animal, Cheetah Hunt (main picture) is another must-do ride for any coaster fanatics. A launch coaster that imitates the animal's movements across the Serengeti Plains, embark on the hunt of your life in this unique experience.
Another high-thrill roller coaster at Busch Gardens is Griffon. This floorless dive coaster with a 205-foot drop was the first of its kind, with a 90 degrees drop straight down at 75 miles per hour. It's a birds'-eye view that you'll never forget!
What is the fastest ride in Busch Gardens?
Iron Gwazi is an exciting new addition to the park, gearing up to open in Spring 2021. This will be the fastest ride at Busch Gardens, reaching speeds of up to 71mph.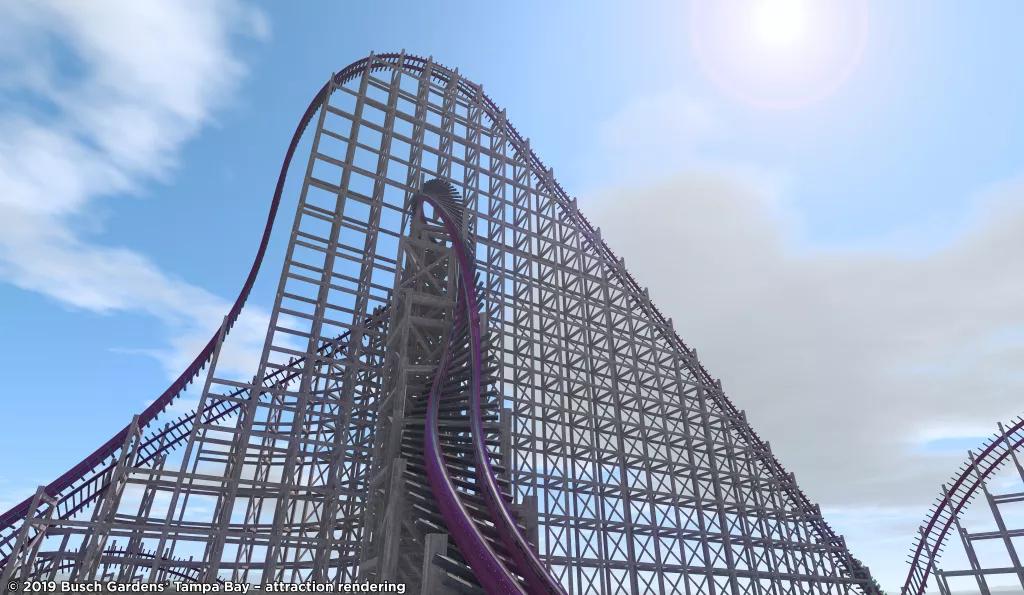 Take a look at some of the most thrilling roller coasters Busch Gardens has to offer:
Best Water Rides
Escape the Florida heat and cool down on these epic attractions. Make a splash on our favourite water rides at Busch Gardens Tampa Bay.
Prepare to get seriously soaked onboard the Congo River Rapids, as you glide down a racing river inspired by the Congo. The ride is complete with spouting jets, waterfalls and water caves, this drenching experience is one not to be missed. And watch out - friends, family, and bystanders can contribute to the splashtastic fun by firing water spray jets at you as you embark on this adventure! Congo River Rapids is currently only open on weekends. 
A log flume ride that's perfect for younger guests, the Stanley Falls Flume is the perfect way to cool off during a fun-filled day at Busch Gardens. The ride takes you on an exciting journey through a lush jungle, making twists and turns before plunging down a 40-foot splash drop. Ideal for any hot day! Stanley Falls Flume is currently temporarily closed. 
Family Favourite Attractions
While Busch Gardens may be known for being a thrill seeker's delight, there's still lots on offer in the park that the entire family can enjoy together. The following attractions are certified kid-friendly, perfect for younger park goers. 
Did you know that Busch Gardens has an entire land dedicated to kid-friendly fun? Sesame Street Safari of Fun is home to some great experiences and attractions, inspired by the characters guests of all ages will recognise. 
Introduce your littles ones to their first roller coaster experience with Air Grover, located inside the area. Family members are more than welcome to accompany younger riders too, as they embark on this memorable journey. 
Once they've tackled their first roller coaster, it's time to get your kids acquainted with the excitement of drop rides! Wild Surge is the perfect introduction to this type of ride. You'll climb to 35-feet, enjoying views of Jungala below, before dropping back to the ground. You may even catch a glimpse of the gibbons and flying foxes of the nearby animal habitat before your descent! 
Best Non-Ride Attractions 
Despite being home to some of the country's most thrilling rides, Busch Gardens also has some fantastic non-ride attractions, promising fun and excitement no matter how you choose to experience the park. 
Take a break from the pulse-raising, spine-tingling coasters, and immerse yourself in these animal-inspired delights. 
Did you know that Busch Gardens has over 200 different animal species in the park? Keep your eyes peeled for some of them onboard the Serengeti Express Train, as you take in the beauty of the park. You'll get a great view of some of the world's most spectacular animals, including giraffes, zebras, antelopes, ostriches, and many more. 
If breath-taking views are your thing, hop aboard the Skyride, a fantastic cable car experience that traverses the entire park. It's also the ideal way to get across the lush park during your visit, while you relax at 50 feet. Skyride is currently temporarily closed. 
There's also a wide range of animal interactions for you and your family to enjoy together. Connect with sloths and flamingos, seeing them up close and personal. A unique, once-in-a-lifetime experience, where you will also learn more about the conservation efforts of Busch Gardens too.
AttractionTickets.com Top Tips
Make the most out of your visit to Busch Gardens Tampa Bay with our handy top tips: 
Don't worry about meals with our All Day Dining Deal at Busch Gardens - enjoy unlimited food and drink at participating restaurants across the park. 
Skip the lines with our Busch Gardens Quick Queue Unlimited Ticket - get unlimited front-of-line access to some of the park's top attractions.
If you don't have your own transport, don't worry! All of our tickets include FREE bus transportation from the Orlando area, via the Busch Gardens Tampa Shuttle Express. 
Keep an eye out for any legendary Busch Gardens events taking place during your visit - Christmas Town and the Food and Drink Festival are particularly spectacular! 
Reasons to book with AttractionTickets.com
We're the UK's no.1 Florida ticket seller, with more than 19 years experience and award-winning service
Official partner of SeaWorld Parks
Always cheaper than the gate
Real tickets, not vouchers, so so you can get straight in
Get 3 Parks for the Price of 2 and FREE parking on your Busch Gardens tickets when you book in advance
Low deposits with flexible payments
Free Covid Cancellation Cover. Full T&C's on our special offer page. 
Ready to take your seat on our favourite rides and attractions in Tampa Bay? Start planning your next Florida holiday and browse our Busch Gardens attractions tickets now.