By AttractionTickets.com's Florida Experts, Susan and Simon Veness
This festive programme is full of Yuletide spirit and splendour!
When you're looking for that something special during the Christmas season in Florida, it's easy to overlook the Tampa theme park of Busch Gardens.
After all, that's the place for roller-coasters and animals, right? Not so fast! While this extensive park is justifiably known for its thrill-rides and animal habitats, it has also pioneered a unique festive programme that is now a must-see local staple.
Christmas Town began as a paid-for extra evening event a few years ago (like Mickey's Very Merry Christmas Party at the Magic Kingdom), but it quickly morphed into a regular part of the park's seasonal offerings, included with regular admission. Now, this all-day presentation of shows, character experiences and festive colour is a rival to any of the fabulous Christmas offerings in the state.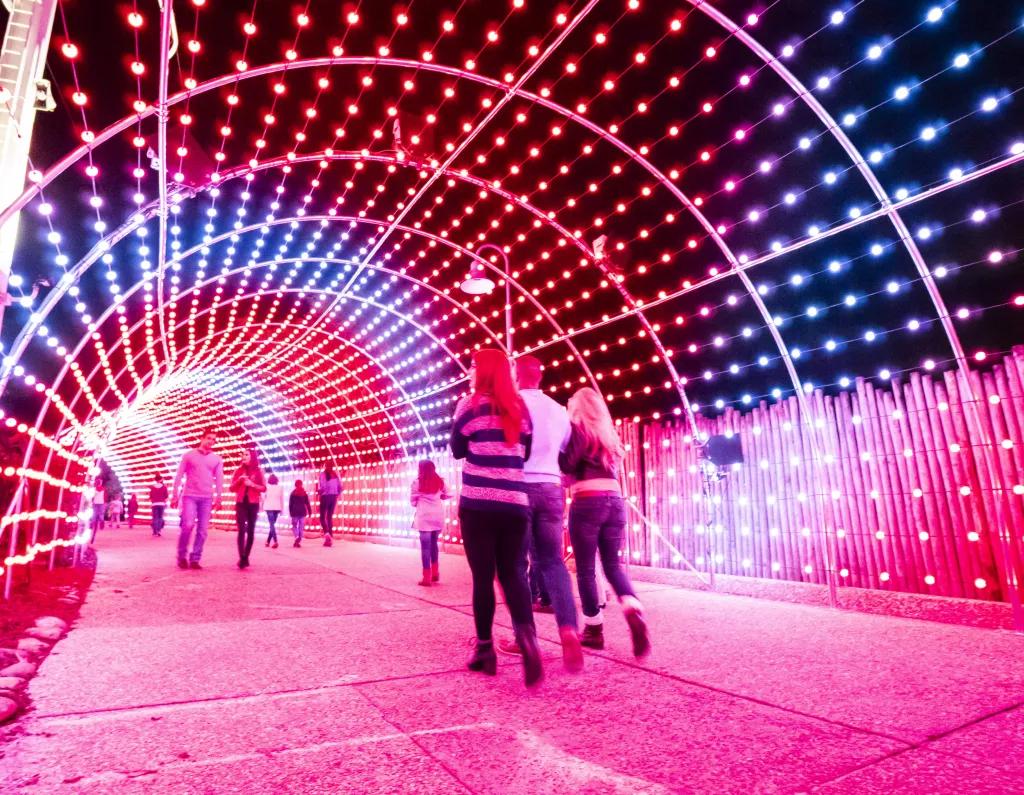 We were at Busch Gardens last Saturday for the first full Christmas Town event of the season, and once again it proved a wonderfully enjoyable and eye-catching occasion. Here's an idea of how to get the most out of the full array of entertainment on offer this year:
If you're not necessarily interested in doing all the rides, arrive around mid-afternoon and head straight for the first of the big shows, at the Moroccan Palace Theater. Christmas On Ice is the park's signature production, an ice-skating extravaganza full of style and eye-popping stunts.
After the 25-minute skating production, consider the two impressive set-piece character experiences that tend to draw significant queues in the evening.
Rudolph's Winter Wonderland is a delightful snowy recreation of the cartoon story of the red-nosed reindeer and his friends, so be ready for some great photo opportunities here.
Likewise, Santa's North Pole Experience is another child-friendly chance to meet a Christmas icon in his own setting of elaborate festive charm and merriment.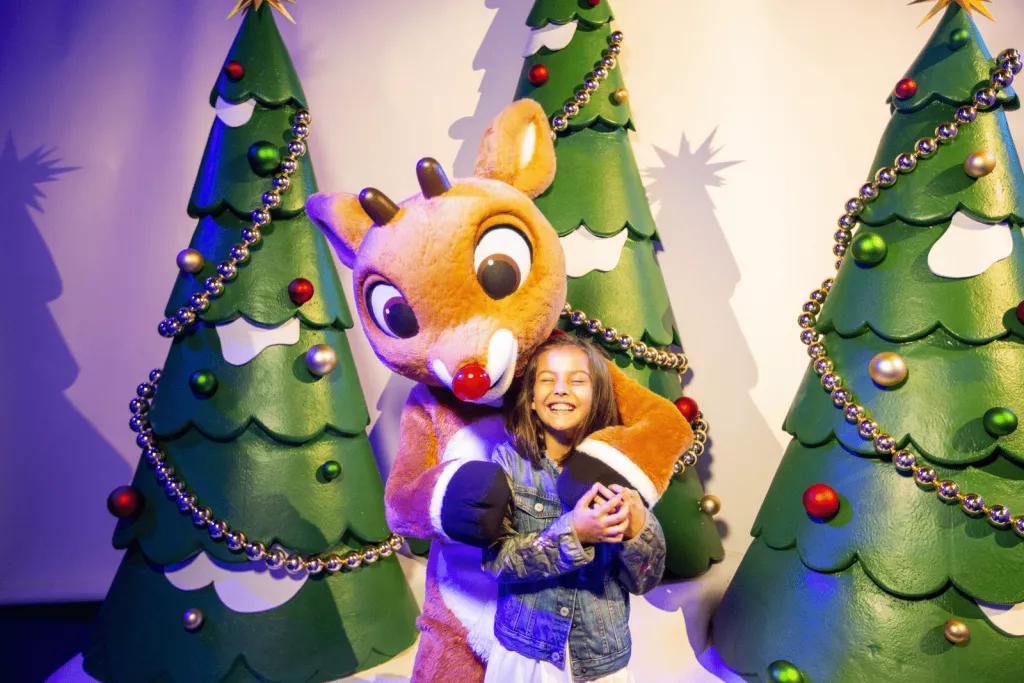 When you're ready for a break, the Dragon Fire Grill is an ideal option for both good food and a sit-down, as well as the stage entertainment of the Three Kings Journey, a celebration of the Nativity in musical fashion.
As it gets dark, seek out the lovely opportunity that is the Holly Jolly Express, the park's Serengeti Express train dressed up for the occasion in plenty of tinsel and garland, and with a sing-along selection of well-known Christmas songs to enjoy on the slow chug around the railroad's circular track.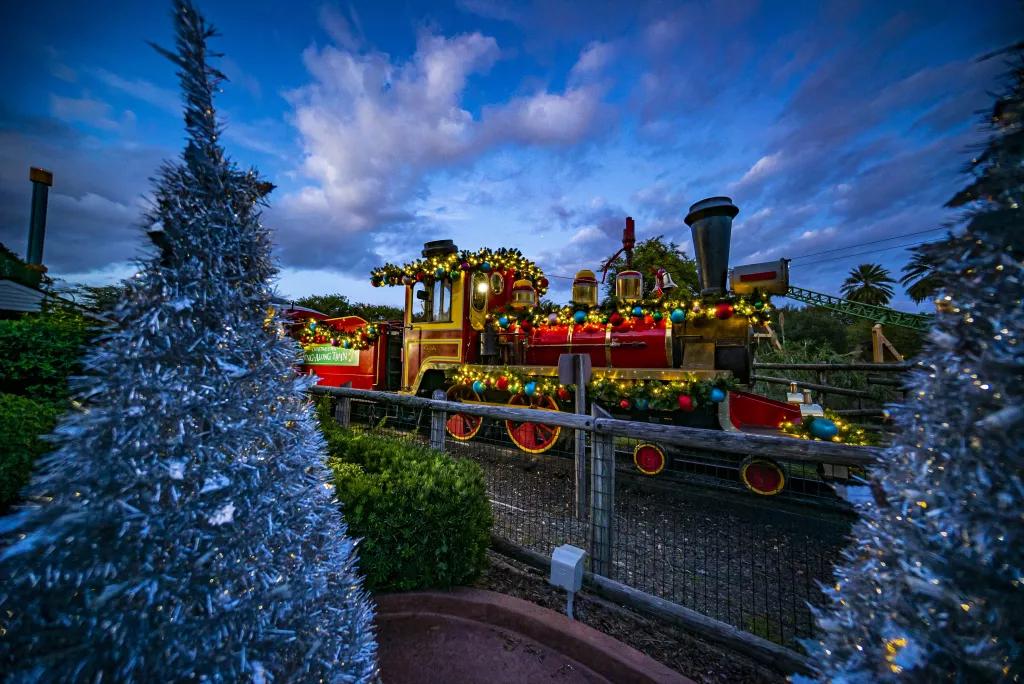 The evening is the time to take a relaxed stroll among the dazzling series of lighting effects that are spread throughout Busch Gardens, including the creative Tunnel Of Lights and the fully-fledged lighting and projection show that plays on the front of Crown Colony House in the Edge of Africa area.
If you have young children, they will probably want to catch Elmo's Christmas Wish at the Sunny Day Theater in the Sesame Street Safari of Fun, and they will also love the series of character meet-and-greets around the park, including the Ice Princess, the Sugar Plum Princess and Storytime with Mrs Claus, the latter of which runs up to five times a day.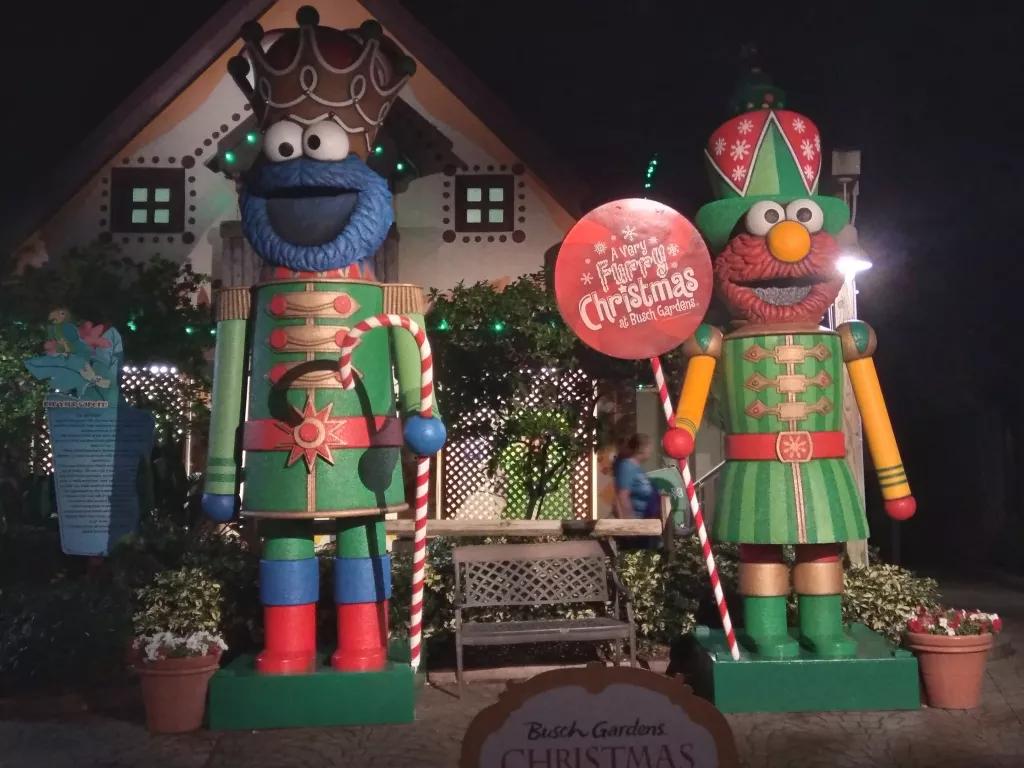 Finally, there is the Christmas Town Village of food and beverage kiosks, gift stalls and souvenir merchandise.
We'd have to say we were rather underwhelmed by the food choice at this year's event, which seemed something of an afterthought. The hot cocoa and cookies were good, though, and there is always the delicious barbecue of the Zambia Smokehouse if you want a full meal.
You might also like to try the Cookie Decorating stall (for an additional $6.99) or add Baileys Irish Cream, Kahlua or Peppermint Schnapps (for an extra $6) to your hot cocoa ($9.49 in a souvenir cup) for a suitably grown-up treat.
On Saturday nights and other select dates through the whole Christmas period, there is the added attraction of the Holiday in the Sky fireworks show (Nov 19-23, 25 and 26, Dec 2, 3, 9, 10, 16, 17, 18, 23, 24 25-31, and Jan 1). This usually runs at 9pm on show nights and is a typically eye-popping way to bring down the curtain on this epic seasonal spectacular.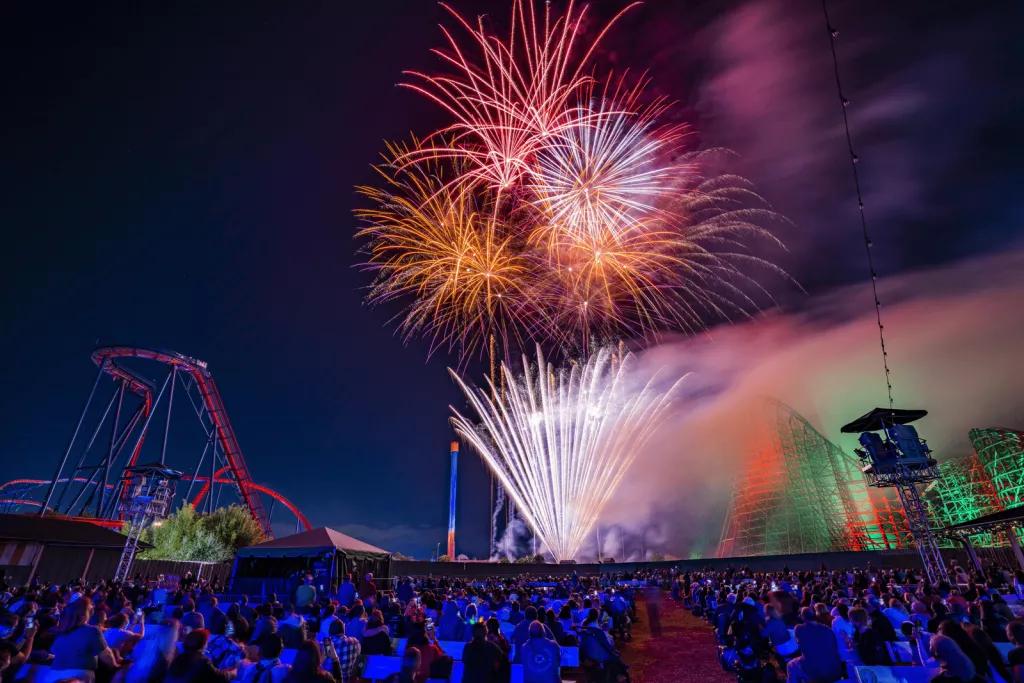 You can probably tell that we like Christmas Town a lot. Like its sister park SeaWorld Orlando, all the festive 'extras' come at no additional cost, and that makes for a truly terrific day out at this time of year.
The lights alone are worth coming to see and, with all the live entertainment and other set-piece events, it makes for a really satisfying experience. The whole presentation runs from 10am to either 8, 9 or 10pm each day. PS: We have also created a Christmas Town highlights video on our YouTube channel.
Have you been to Christmas Town? Tell us about it on the friendly ATD forums, our Community Facebook page, on Twitter or Instagram.