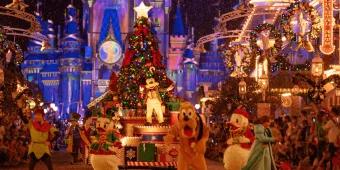 By AttractionTickets.com's Florida Experts, Susan and Simon Veness
The Magic Kingdom's after-hours party is THE big Disney Christmas highlight.
When you simply have to have all the essential Disney Christmas magic, there is only one experience you need to know about – Mickey's Very Merry Christmas Party.
Just to start with, Magic Kingdom Park is extra special at this time of year, with a festive overlay that simply exudes the spirit of the season. Then, when you add in the various components of Disney's big after-hours event – including a crackerjack new fireworks show and a scintillating parade – you have just about everything you could ask for when it comes to Yuletide splendour and excitement.
And, as the evenings finally become a bit cooler, it is the ideal time to join in the Christmas throng at Walt Disney World Resort's flagship park for this annual highlight. Yes, it is an extra-ticketed event, but we think it is definitely worth it for all the 'extras' there are to enjoy at this fabulously creative party.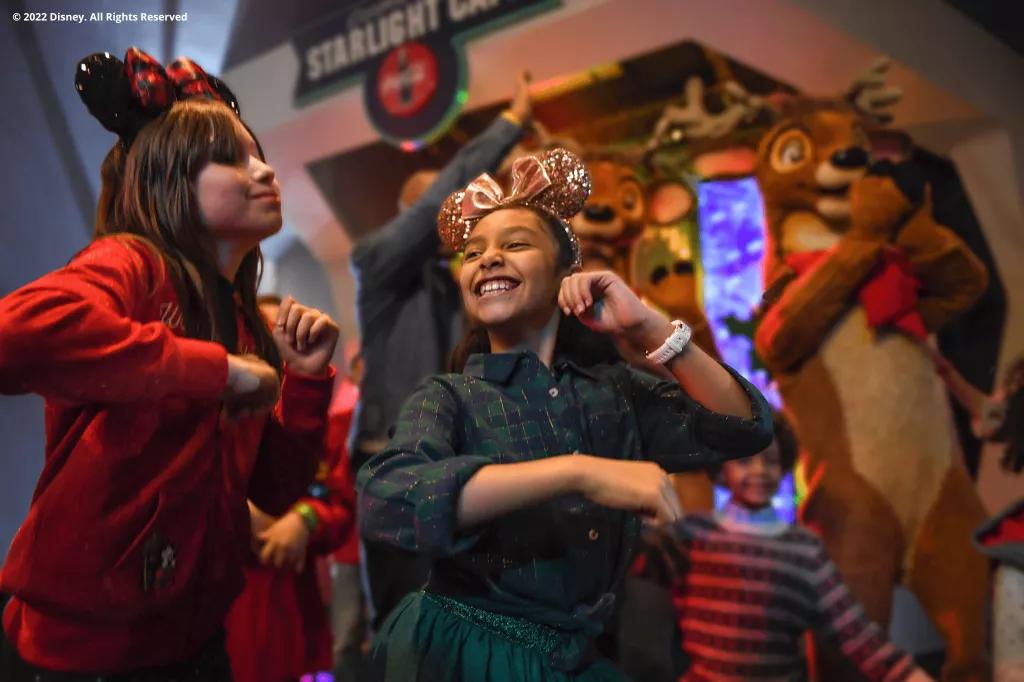 In fact, we have a dozen Very Good Reasons why you should give Mickey's Very Merry Christmas Party a try in 2022:
12. It's back in full this year for the first time since 2019. The event's pandemic-enforced hiatus is finally over, and that makes the festive vibe that much sweeter.
11. Disney's culinary honchos have delved into their book of special recipes and produced an array of tempting new treats for the occasion, including a Holiday Dinner Dog at Casey's Corner, the Once Upon a Christmas Tart at Sunshine Tree Terrace (Susan's must-try, a delicious chocolate and cranberry concoction) and, Simon's favourite, the Christmas Wreath Doughnut from the Main Street Snack Cart.
10. Christmas is all about gifts, right, so it makes sense that the evening should start and end with a suitable Magic Kingdom keepsake. In this year's case, there are two – a lovely Christmas tree ornament on arrival, and a themed 50th anniversary commemorative print when you leave.
9. Character meet-and-greets are always a big part of the Disney theme park experience, and that is notably the case for MVMCP. As well as the likes of Mickey and Minnie in seasonal costumes and full ensemble appearances by Winnie the Pooh and friends and those wacky Country Bears, you'll find rare character opportunities such as Moana by the Enchanted Tiki Room, Snow White and her Prince and Ariel and Prince Eric (both in Fantasyland), as well as Santa in Liberty Square and Jack Skellington and Sally from The Nightmare Before Christmas near the Sleepy Hollow kiosk.
8. Watch out for the wonderful variety of Holly Jolly Photos throughout the event. These are a mixture of traditional Disney PhotoPass options from the usual array of in-park photographers and new Step-In photo frames that provide extra festive touches. All these can be captured on the excellent value Disney Memory Maker system (which is free with all adult Disney Magic tickets).
7. As well as all the park's regular attractions being open (often with much smaller queues than during the day), several rides have a special seasonal overlay or additions that provide a whole new reason to try them. Look for them on the Holiday-themed Jungle Cruise (renamed to the Jingle Cruise!), the lively Mad Tea Party, a specially-lit Tomorrowland Speedway, roller-coaster Space Mountain and the Christmas version of Monsters Inc. Laugh Floor.
6. There are an additional six live entertainment options to watch or even take part in, including the new Totally Tomorrowland Christmas on the Rockettower Plaza Stage, featuring Stitch (Lilo & Stitch), Buzz Lightyear (Toy Story) and Mike Wazowski (Monsters Inc.). This 18-minute song-and-dance production is great family-friendly fun and performs five times each evening.
5. Among the live events are two festive dance parties that are especially geared for children. Club Tinsel takes place in Cosmic Ray's Starlight Café in Tomorrowland with its own dedicated DJ, while the Storybook Circus Disney Junior Jingle Jam features Disney Junior characters.
4. What is a party without Holiday Treats, and MVMCP offers a series of five complimentary treat locations that are designed to put you in the perfect Yule mood. Each one features a complimentary cookie-and-beverage combo, with Snickerdoodle, Gingerbread and Chocolate Chip snacks paired variously with hot cocoa, eggnog or (non-alcoholic) apple cider. Oh, and it's OK to visit all the stations more than once!
3. The Castle Forecourt Stage is the place to catch the fully-fledged production of Mickey's Most Merriest Celebration, a 20-minute musical extravaganza with Mickey, Minnie and friends that runs four times during each Party.
2. When the clock hits 10pm, it's time for Minnie's Wonderful Christmastime Fireworks Show, another unique MVMCP highlight that lights up the sky over Cinderella Castle with a 12-minute pyrotechnic and projection display. It is yet another example of Disney's mastery of fireworks and includes several eye-popping special effects (watch out for the smiley-face firework!).
1. Every Disney day has to feature a parade and this Christmas party offers a truly enchanting example of the artistry. Mickey's Once Upon a Christmastime Parade is a 15-minute cavalcade featuring characters old (Clarabelle Cow) and new (Wreck-It Ralph and Vanellope) and takes place to a constant steady "snowfall" along Main Street and Town Square. It is an utterly magical finale (if you stay for the second parade at 11pm), and a grand reason in itself to try Mickey's Very Merry Christmas Party.
PS: If you want a "sneak peek" at the Parade, we have our own video from the Party we attended this week:
Mickey's Very Merry Christmas Party runs on select nights at the Magic Kingdom through until December 22 from 7pm-midnight (but Party ticket holders can actually enter the park from 4pm).
Have you been to Mickey's Very Merry Christmas Party? Tell us your experience on the friendly ATD forums, our Community Facebook page, on Twitter or Instagram.