The alligator capital of the world!
A day at Gatorland is full of fun and smiles, but did you know you can add even more excitement to your day?
There might not be roller coasters around every corner like there are in some of the bigger Orlando theme parks, but Gatorland still has thrills aplenty. And we're not just talking about the Alligator: Legends of the Swamp arena! If you want to up the thrill factor and take your Gatorland visit to the next level, check out these additional experience tickets.
Have you got what it takes to ride the Screamin' Gator Zip Line? Voted one of the best zip lines in the USA, this attraction will have you gliding across 5 different wires, ranging from 230 feet to more than 500 feet in length, at heights of up to 65 feet. As you soar through the air at almost 30 miles per hour, you'll want to make sure you keep your eyes open to take in the sights… and by that we mean the hundreds of alligators and crocodiles right underneath you in the Breeding Marsh! 
Our Screamin' Gator Zip Line tickets are open-dated, but this experience does require advance reservations. Once you know when you want to visit, just call the number on your ticket to book your time slot.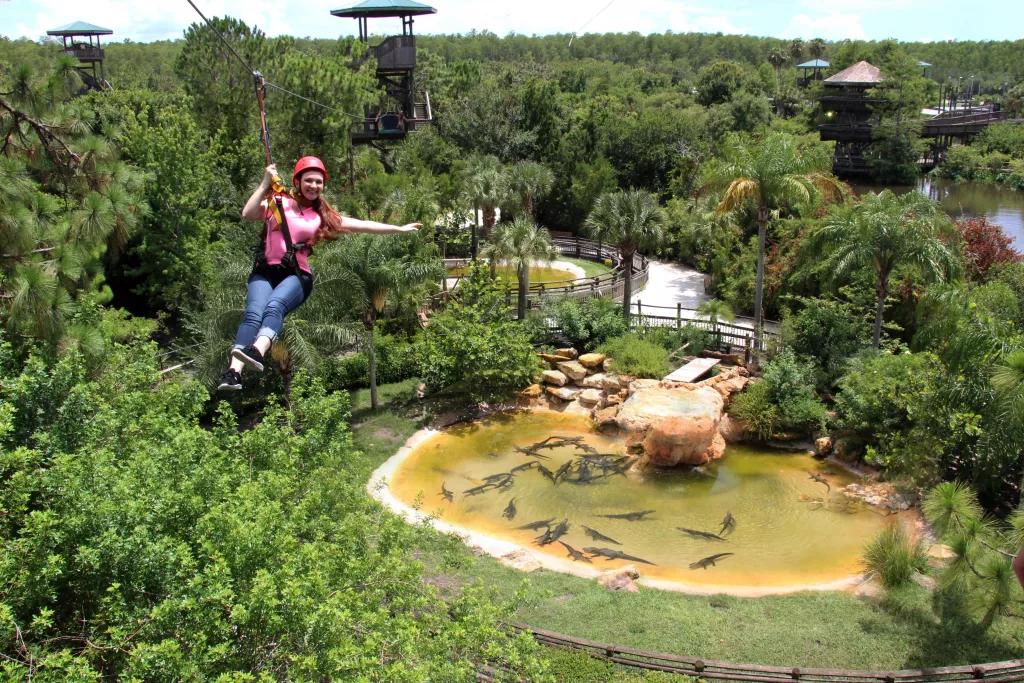 Croc Rock Adventure 
Croc Rock Adventure is the newest interactive experience at Gatorland, opening in March 2023. A three-in-one experience, Croc Rock will get you climbing, crossing bridges and ziplining, taking the fun to brand-new heights! Get ready to climb up a 32-foot climbing wall before walking over a 15-foot swinging cable bridge, then making it safely back down to the ground riding a 350-foot zip line. 
Fun Fact! The Croc Rock climbing wall was crafted to mimic the local sandstone of the area, creating an incredibly natural appearance while making sure the structure is completely safe. 
This attraction is currently only bookable in the park, but if you book your Gatorland admission in advance you'll receive free Gator Chow to enhance your experience even further! 
Go deeper into the swamps of the Everglades on Bonecrusher, Cannibal Jake or Swamp Ghost… yes those really are the names of Gatorland's off-road vehicles! Named after iconic alligators and crocodiles, these 12-foot-high monster trucks will take you through hills, puddles and ponds that are home to hundreds of gators and crocs. This is one of our favourite ways to discover more about the natural side of Florida as it's not only educational but also incredibly fun thanks to wacky characters and singing tour guides! 
You won't need to call ahead to reserve this experience, just make sure you arrive at Gatorland before 11am on the date of your choice to book a time slot once you're in the park.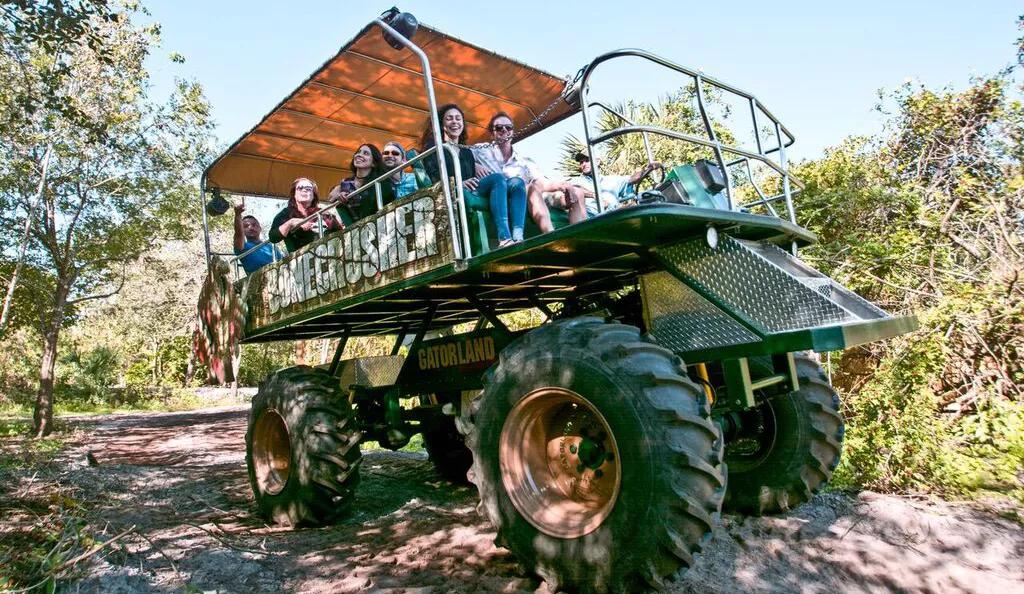 Want to get a behind-the-scenes look at what it takes to care for gators and crocodiles? Know an animal lover who will love a hands-on experience with some scaly friends? The Gatorland Trainer for a Day experience will have you getting up close and personal with some of the smallest and largest creatures in the park. Not only do participants get to meet some baby alligators and other reptiles from the Up-Close Encounters show, but they even get to step into the Gator Wrestling Arena (with a Gatorland Trainer keeping them safe of course) for a truly one-of-a-kind experience!
And if these thrills aren't quite your speed, Gatorland is still worth a visit for the chance to see more of Florida's incredible natural beauty. However you want to spend your day, there is an experience for everyone; you could even book one experience for certain members of the family and something else for others, as you can then spend the rest of the day exploring the park together. Take a look at our Gatorland tickets below!