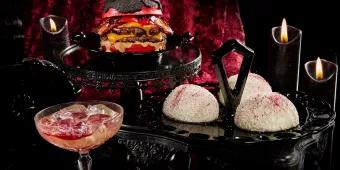 All that screaming can work up a serious appetite
There are some devilish dishes and creepy concoctions on the menu this year, exclusively at Halloween Horror Nights
Halloween Horror Nights is returning for its 32nd year at Universal Orlando Resort on September 1st 2023. The full lineup of haunted houses, scare zones and entertainment has now been announced, with popular franchises such as The Last of Us, Stranger Things and The Exorcist heading up the list. 
If you're planning your visit to the World's Premier Halloween Event* you'll want to make sure you schedule some time for a break between all those scares to stop for a bite to eat - you'll definitely need to keep your energy up if you're going to be facing demons, yetis and killer dolls. But if you don't want to waste any time going through menus on the night, we've got you covered with some of this year's standout food and beverage options. 
Cordyceps Corndog 
Where? New York 
Don't fear becoming a Clicker; cordyceps fungi topping this giant Korean corndog are delicious when paired with crispy potato sticks, daikon sprouts, mozzarella and a truffle cream sauce.
Bloody Snowball 
Where? New York 
Get yeti to get your claws on this chocolate cake topped with marshmallow buttercream and desiccated coconut.
Peanut Blooder Smash Burger 
Where? Lagoon Bridge 
Sink your teeth into these two beef patties practically bleeding raspberry jelly and topped with peanut sauce, Leicester cheese, onions, jalapeño bacon and cherry peppers on a vampire brioche bun.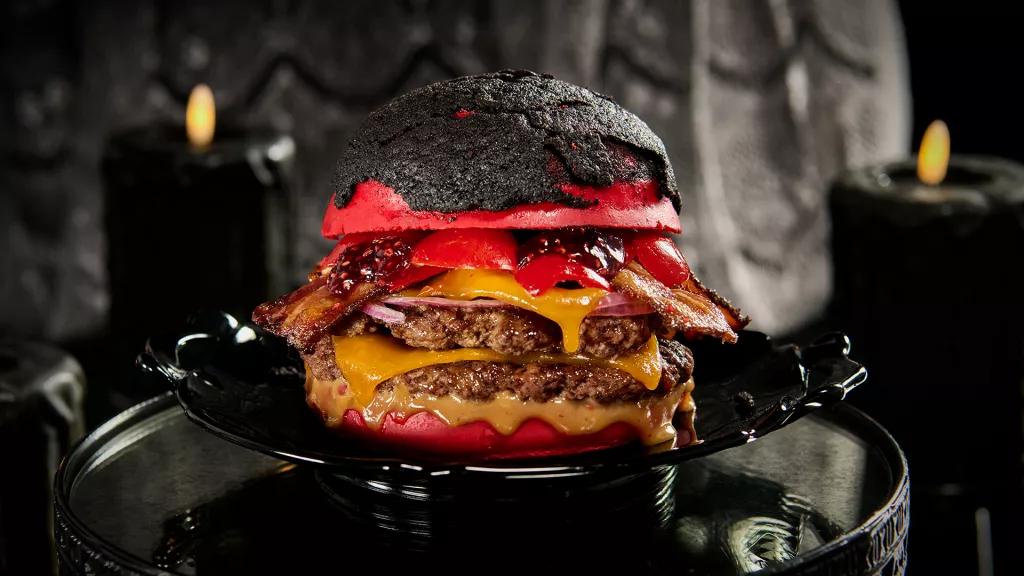 Sour Apple Pie Funnel Fries 
Where? Music Plaza 
These sugar-seasoned funnel fries are the stuff of legend, topped with apple pie filling, sour apple ice cream and streusel.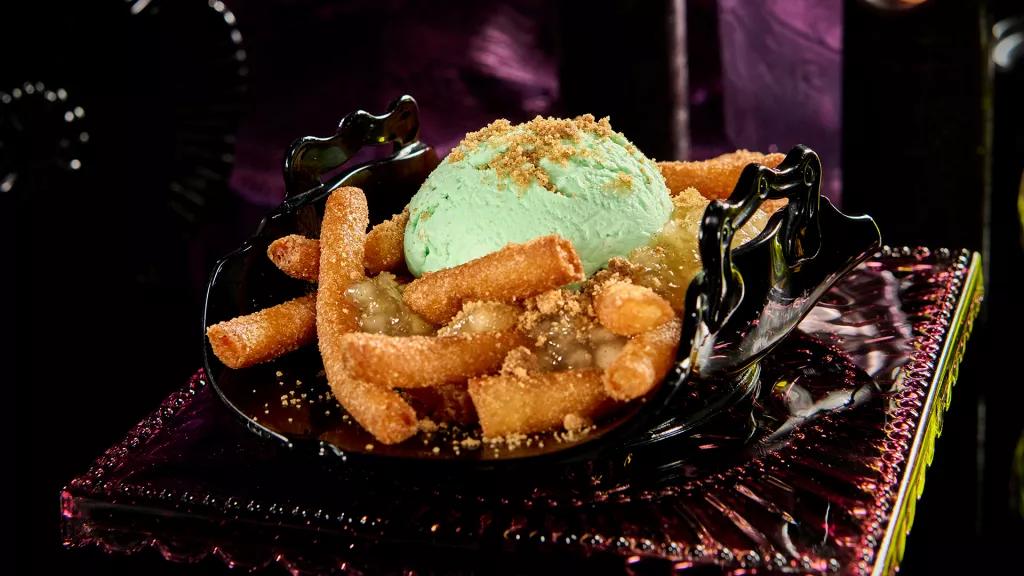 New York Sour 
Where? New York 
Survey the scare zone perimeter while sipping this vodka cocktail layered with guava-lime-mint and cucumber-lime frescas.
Heart of Damballa 
Where? Near the Chucky: Ultimate Kill Count Haunted House 
Be transported (figuratively, not literally) by this bourbon-agave lemonade with blueberry and malbec on top and glitter at the bottom.
Peanut Butter Smuggler Mocktail 
Where? Stellar Bar in Music Plaza 
Escape from certain doom with this peanut butter and raspberry jelly mocktail, with a touch of spice and honey.
Plus there will be plenty of Universal Studios Florida dining locations open with their regular menus, including The Leaky Cauldron, Krusty Burger, and the newly-opened Minion Cafe! There are also some speciality items to try in Universal CityWalk, at Voodoo Doughnut, The Toothsome Chocolate Emporium and Savory Feast Kitchen, and the Revenge of the Dead Coconut Club. 
We're just dying to try some of these gruesome goodies and if you are too make sure you buy your Halloween Horror Nights tickets while availability lasts. To make the most of your time at Universal Orlando Resort, the 3-Park Explorer Ticket will give you access to Universal Studios Florida, Universal's Islands of Adventures, and Universal's Volcano Bay Water Park! 
* Named Best Halloween Event by Amusement Today's Golden Ticket Awards for 13 years (2006, 2008-2018, 2021).