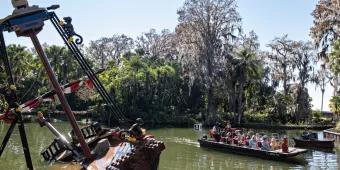 By AttractionTickets.com's Florida Experts, Susan and Simon Veness
New attraction highlights the park "designed just for kids"
We have been big fans of LEGOLAND Florida ever since it opened in 2011. It offers something distinctly different to Orlando's other theme parks, and it has continually added new rides and attractions year by year.
It has all the style and polish of LEGOLAND Windsor Resort in the UK, but a more expansive feel from its 150-acre site, and a greater variety of rides. Plus, it is in a truly gorgeous location, just a 45-minute drive south of Orlando in the charming setting of Winter Haven, and with magnificent lake views. In fact, if you are staying in the holiday villa areas along Highway 27, you're closer to LEGOLAND than to Universal Orlando!
And, yes, they have a new ride for 2023, beating everyone to the punch this year and unveiling the novel Pirate River Quest to keep the kiddies happy in this delightful corner of Central Florida. In truth, this should have been 2022's big new attraction, but last September's Hurricane Ian – and its torrential rains – put the kibosh on a November opening. The lake levels got so high, it was impossible to put the finishing touches to the ride, and it had to be postponed until the water level dropped back to something approximating normal.
Thankfully, there has been little rain ever since, and January 12 saw LEGOLAND in perfect celebratory form, with canons, confetti and bright blue skies to greet their latest addition.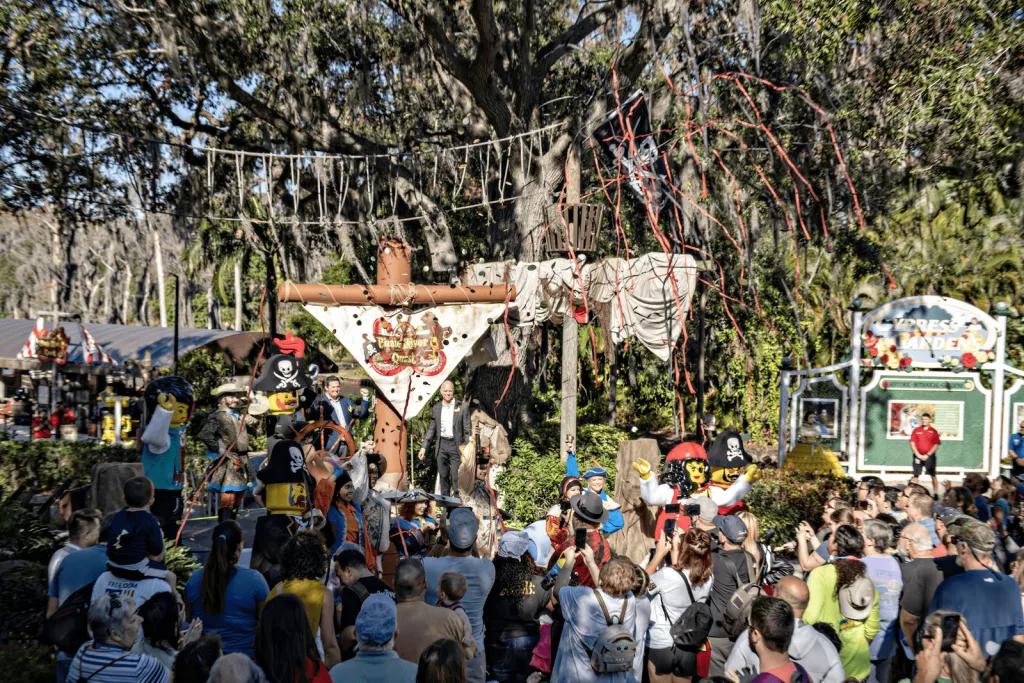 And, after the introductory speeches, it was all aboard one of the 10 pontoon boats that take up to 11 passengers at a time around the historic waterways bordering beautiful Lake Eloise, ready to undertake Captain Redbeard's scavenger-hunt type quest to recover his treasure and lift the curse that keeps him from returning to LEGOLAND Florida.
And, yes, we did say "historic" waterways, as they actually date back to 1938 and the original attraction hereabouts, which was Cypress Gardens. Anyone who visited this area prior to 2009 may even have seen it or taken the gentle boat ride along the man-made canals themselves, as it was a truly lovely spot that lived up to its reputation as one of the state's foremost attractions.
The demise of Cypress Gardens was a terribly sad one, as it gradually drifted into a death spiral of poor upkeep from the early 2000s, but when LEGOLAND owners Merlin Entertainments bought the partly derelict site and reopened it under their full branding, they promised to keep the Gardens alive.
True to their word, LEGOLAND has gradually nursed the lovely-but-neglected botanical gardens back to life over the past 10 years or so, but this area remained something of an "unknown" for many visitors, as it didn't offer any of the park's signature rides or shows. With nothing to really draw people into this lush extent of tropical plants and foliage, the park's gardeners were largely working for the general handful of people who made it to the rear section of LEGOLAND.
Happily, that is no longer the case. With the advent of Pirate River Quest, all that will be truly ancient history as the ride is firmly geared towards providing some much-needed life and prominence to the park's former crowning glory.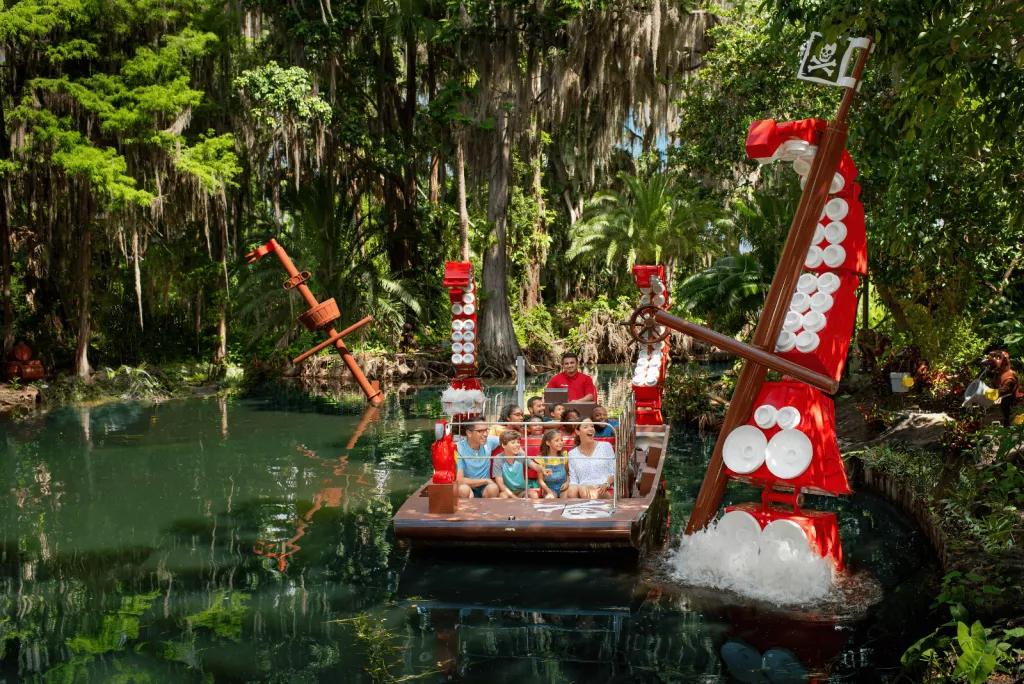 And that, according to Rex Jackson, the managing director for LEGOLAND – North America, was one of the key facets of creating the new attraction. Giving the ride's debut speech, he insisted: "What is significant about this ride is that we are bringing boats back to the original Cypress Gardens canals for the first time since we've been operating LEGOLAND Florida Resort. It's a phenomenal area."
"This is a full restoration of the original canal-ways, which we were given in a state of disrepair, not because of any previous issues, but because this lake is about a foot and a half taller now than it was in the 1930s," explained Nick Miller, the park's director of operations. "Therefore, the original sea walls are just underwater and are no longer useful. But we were able to put a new sea wall around the area, restore the canals and restore the grasses and plants alongside the canals.
"Guests who come and actually walk through the Gardens give us way more five-star reviews than guests who don't. It is a pleasant surprise for visitors who find the Gardens, and we want people to come back and take a walk because it's a nice, relaxing part of the day."
That message was underlined by head of marketing and communications Kelly Hornick, who added: "It's a reason to bring a whole new generation into the Gardens. It's reintroducing kids with LEGO humour, LEGO pirates and the silliness that comes with that, to be able to experience the Gardens and really appreciate them."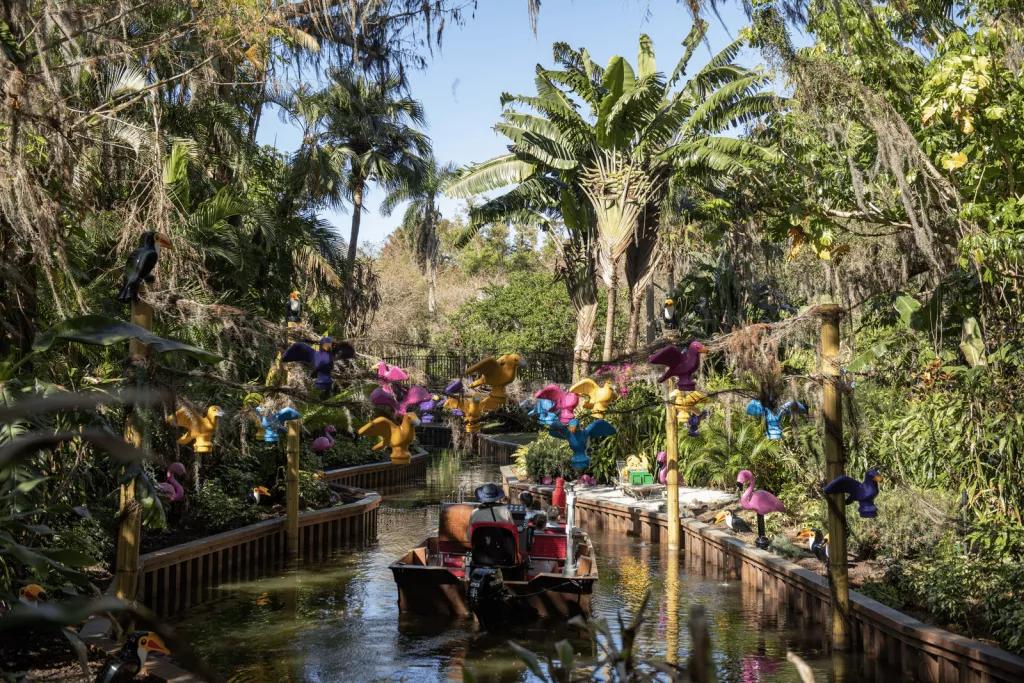 If that's the background to the new attraction, the reality is just as good. Once aboard the open boats, which sport names such as Pope's Plunder (named for original Cypress Gardens founders Dick and Julie Pope) and The Cypress Belle, it's a no-holds-barred LEGO infusion of fun and good humour.
The "treasure" is pretty easy to spot as you sail along, but it's more about the cute theming and tongue-in-cheek narrative – similar to Disney's Jungle Cruise – that make this a terrific family ride.
It lasts around 20 minutes and concludes with a welcome stretch along Lake Eloise itself, which leads into the area for the adjacent water-ski spectacular of Brickbeard's Watersport Stunt Show. There is even a little Cypress Gardens history thrown in to round things out and provide some context for the setting.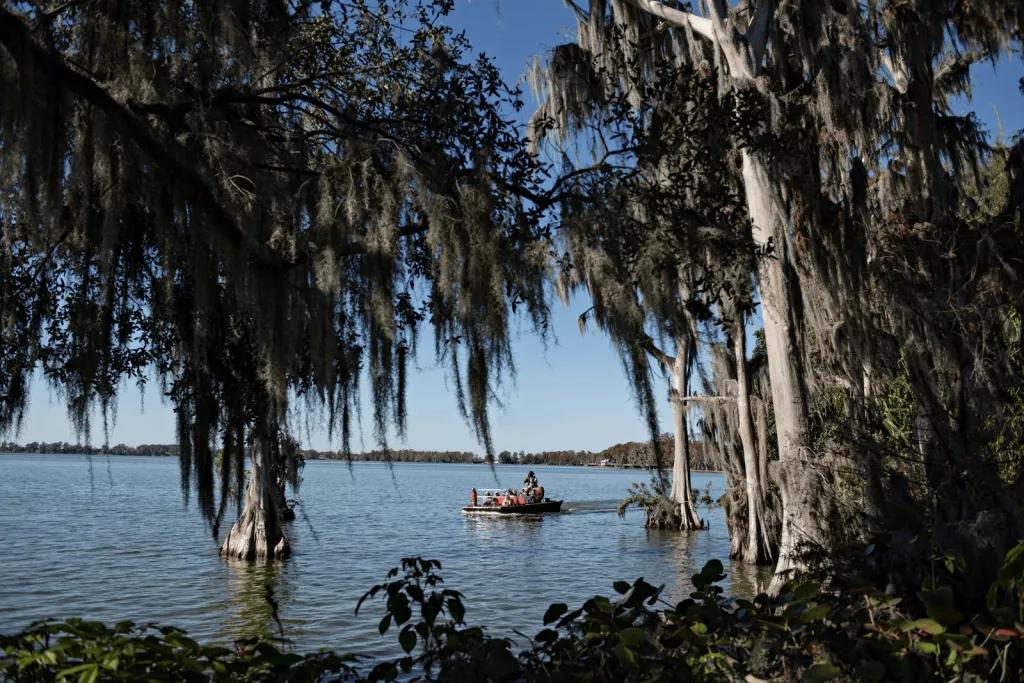 Here's what to watch out for, in addition to the trail of Golden Bricks that constitute Redbeard's treasure:
10 LEGO Minifigures, including LEGOLAND's exclusive characters Calico Jade and Captain Redbeard
22 Birds
2 Toucans
21 Monkeys
5 Skeletons
10 Spiders
4 Alligators
It's really just missing the partridge in a pear tree to complete a riot of LEGO figures and characters that are the park's stock in trade.
For us, it's just delightful to see the Gardens come to life again. Having seen them in their full glory in the 1990s, it was absolutely tragic to see the park's closure in 2009 and witness what looked like the end for this truly tranquil park.
Pirate tip: Keep an eye out during the boat ride for a true Florida icon – a swimming pool in the shape of the state that was built in 1953 for film star Esther Williams in the MGM blockbuster "Easy To Love." Now that's REAL Florida history!
PS: Don't forget to get your LEGOLAND Florida tickets in advance for the best prices!
Have you been to LEGOLAND Florida in the past? Tell us about it on the friendly AttractionTickets.com forums, our Community Facebook page, on Twitter or Instagram.