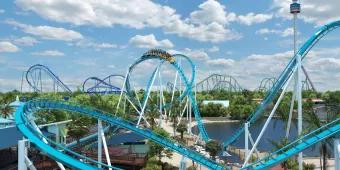 Calling all thrill seekers!
SeaWorld Orlando's newest attraction will open to the public on May 27th 2023.
Almost a year after the ride was first announced, Pipeline: The Surf Coaster now has an official opening date! The seventh rollercoaster in SeaWorld Orlando's repertoire will open on May 27th 2023, just in time for the summer holidays. 
If you're a thrill seeker then this announcement is one for you, as the ride is set to have plenty of inversions and airtime moments. But that's not all. The main appeal of this new attraction will be that guests will ride while standing up in a surfing position, moving up and down on the ride vehicle to create a wave-jumping motion. You'll really feel like you're riding the waves! 
It isn't too long now until we'll get to ride Pipeline in real life, but until then, SeaWorld have released this simulated ride-through that's definitely got us excited! 
Pipeline is located right at the front of the park, and is almost 3,000 feet long, so you won't be able to miss this one. 
Pipeline: The Surf Coaster isn't the only thing coming to SeaWorld Orlando on May 27th. On select dates through September 4th, the SeaWorld Summer Spectacular will see the night come to life with dance music, colourful lights and fireworks. Stay tuned for more information about this event! 
Ready to book your SeaWorld Orlando tickets to experience Pipeline, the SeaWorld Summer Spectacular and more? Book your tickets today and get All-Day Dining at SeaWorld, Busch Gardens Tampa Bay and Aquatica!