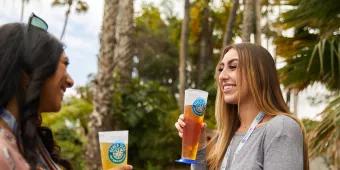 Set sail for an ocean full of flavour and fun
From February 3rd to May 7th, guests at SeaWorld Orlando will be able to experience the culinary adventure that is the Seven Seas Food Festival. Running every Thursday through Sunday, this is the biggest theme park food festival in Orlando with more than 200 distinct food and drink offerings across 27 internationally-inspired marketplaces! 
And it's not just the food that's worth getting excited about. Select dates will see themed entertainment and live music concerts taking place into the evening, all included in the cost of your admission. Keep reading to discover all the details. 
Festival Marketplaces 
There's more food and drink than ever before at this year's festival, including more than 50 unique dishes, over 75 wines and cocktails, and 75 craft beers. Whether you want something spicy and aromatic or something delectably sweet, there's a menu for everyone to enjoy, inspired by countries such as Italy, Ireland, Germany, Brazil, China and more. 
Some old favourites will be making a comeback but you won't want to miss the many mouth-watering options that are brand-new for 2023, including: 
Parmesan Truffle Fries - Grana Padano cheese, fresh parsley, winter white truffle oil 
Ropa Vieja - 12-hour slow cooked shredded beef served on top of smashed plantains, garnished with micro cilantro 
Italian Beef Arancini - arancini served on top of San Marzano tomato sauce, garnished with fresh basil 
Strawberry Shortcake 'a la mode - vanilla ice cream served with yellow cake, topped with strawberry glaze 
Jameson Bread Pudding - Jameson-infused bread pudding topped with Jameson anglaise sauce
There'll be a whole range of new refreshing cocktails to enjoy too while you savour the tastes of the Seven Seas, including: 
Island Rum Punch - light, dark and coconut rum, orange juice, pineapple juice, cranberry 
Southern Peach - Fistful bourbon, peach schnapps, peach, Sprite, simple syrup 
Mediterranean Sangria - red sangria, red wine, cranberry juice, orange juice, lime
Tokyo Rose - Shimizu-No-Mai Pure Snow sake, Tito's Vodka, Triple Sec, cranberry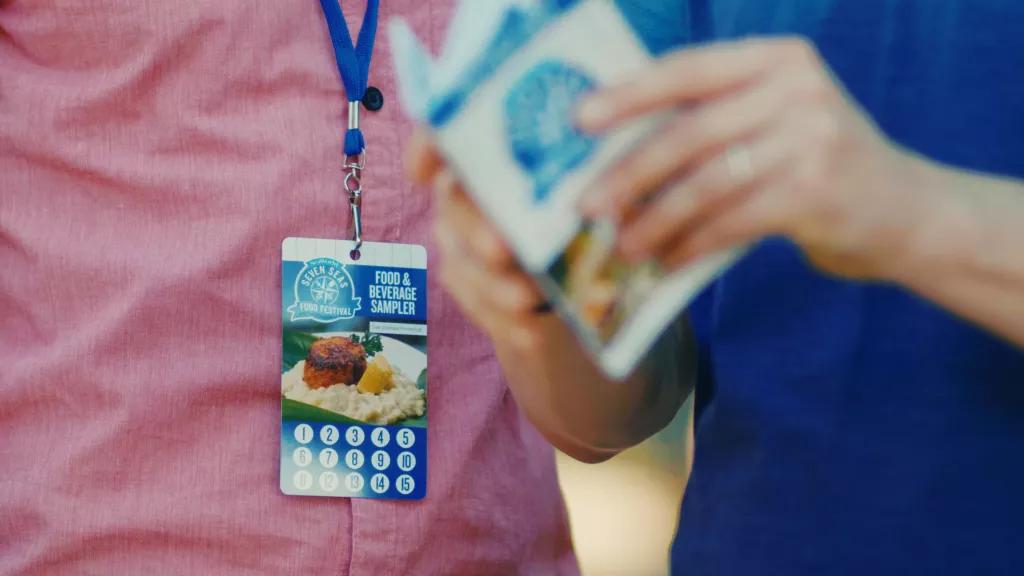 Seven Seas Food Festival Tasting Lanyard
Why not make the most of everything on offer with a food and beverage sampler lanyard? Starting from $70, you can purchase a 10- or 15-sample lanyard that can be used for any of the drinks and dishes available, so you can get the best value for your money. 
Live concerts
Every weekend of the Seven Seas Food Festival, exclusive live music performances will be held at the open-air Bayside Stadium. Access to these concerts is included in the price of your park tickets, or you can purchase reserved concert seating starting from just $9.99 per person. 
The line-up announced so far includes the following acts, with plenty more still to be announced: 
4th February - En Vogue 
5th February - REO Speedwagon
11th February - The Commodores 
18th February - Collective Soul 
19th February - Jerry Rivera 
25th February - Don McLean 
26th February - Ludacris 
4th March - Joey Fatone & Friends 
26th March - Eli Young Band 
Ready to buy your tickets for SeaWorld this spring? Discover our latest offers, including our 3 Visit Ticket with All Day Dine at SeaWorld, Aquatica and Busch Gardens!