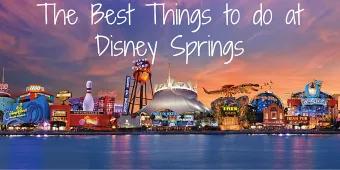 Eating, drinking and lots of shopping!
An exciting new area has opened at Disney Springs! Discover the best things to do at the brand new Town Center…
Disney Springs can sometimes be overlooked when you're having fun inside Disney's magical parks, but there's so much to do, it's really worth making the time to pay a visit. After 3 years in the making, the new Town Center area is finally open, offering an exciting new range of restaurants and shopping outlets. With dancing fountains and beautiful landscapes, Disney Springs is the place to be for leisure and entertainment outside of the theme parks. Here's our pick of the top 6 things you can do there…
Go shopping:
The range of shops at Disney Springs has just expanded, and there are now over 80 retail outlets. The newest additions include popular clothing, cosmetic and footwear brands transforming the area into a shopper's paradise. Kate Spade New York, L'Occitane En Provence, Mac Cosmetics, Pandora, Sephora, UGG and Zara are just a few of the latest shops that officially opened on 15th May.
You can also purchase stunning artwork, homeware, toys and gorgeous jewellery from the many shops. The 'Build-a-Dino' workshop and 'Bibbidi Bobbidi Boutique' are perfect for children, let them create their very own personalised Dino plush, or receive the ultimate princess makeover!  
Try the 24-hour cupcake ATM:
On its opening day, the queue for the cupcake ATM would've rivalled the longest ride queue inside the parks. Outside sprinkles bakery the pink ATM calls out to all cupcake fans, drawing them in to the new incredible novelty. Now, at any time of the day, you can satisfy your sugar craving with a delicious cupcake creation.
Simply use the touchscreen to select which flavour you would like (the creamy red velvet is their most popular!), swipe your card, and wait for the cupcake to appear as if by magic! Freshly baked every day, you have to try these tasty treats! 
Dine with a difference:
When it comes to dining, there are so many amazing places to choose from at Disney Springs. Whether you're looking for a light snack, or a sit-down meal, you'll find plenty of diverse food you'll want to try. Here's a few of our favourites…
For snacks - Go to the food trucks and tuck into cheesy flatbreads and beef sliders, as well as theme park favourites like corn dogs, waffle fries and buffalo chicken.
For themed dining - Children will love the gigantic animatronic dinosaurs and delicious Dino menu at T-REX restaurant. Be warned, they'll be meteor showers when you least expect it! The Rainforest Café is another restaurant where you can get closer to nature and watch animals come to life, as you venture into the Amazon. Dine underneath the starry sky on rainforest burgers, jungle steaks and planet earth pasta.
For fine dining - The Boathouse offers a luxury waterfront dining experience, with first class food. Savour succulent steaks and fresh fish as you take in the beautiful views. You can even choose to take a tour of Disney Springs on a romantic water taxi journey. The acclaimed Wolfgang Puck also has two separate dining areas serving Asian and Californian cuisine.
Relax with a drink in hand:
Disney Springs is a great place to relax at the end of a long day of exploring the parks. Unwind with an ice cold drink at one of the many lively bars. Raglan Road is a traditional Irish Pub, that's as authentic as you can get. It was actually constructed in Dublin and shipped over, so that visitors can embrace the Irish culture in Orlando! You can expect hearty pub food, pints of Guinness and live Irish dancing.
Head to Jock Lindsey's Hangar Bar, for light bites and refreshing cocktails. The waterfront bar has an aviation theme, with propeller ceiling fans and vintage travel posters. Based on the adventures of Indiana Jones and his pilot Jock Lindsey, there's plenty of props you might recognise. When it comes to the drinks, try the 'Fountain of Youth' a sweet and sour concoction, or the 'Cool-headed Monkey' a fruity rum infused creation.   
Experience Cirque Du Soleil:
La Nouba is a mesmerising Cirque Du Soleil spectacular that welcomes you into a 'world of make-believe'. Get ready for an exhilarating performance that will leave you on the edge of your seat from start to finish. Watch a love story unfold before your eyes, with a unique aerial bamboo routine, followed by powerful breakdancing acts, daring acrobatics, and an extraordinary trampoline show that features a staggering 395 flips!
Marvel at the impeccable choreography, dazzling costumes, and unbelievable talent at a show you'll never forget. Suitable for the whole family, this is a one-of-a-kind performance that you can all enjoy together.
Click here to view our Cirque Du Soleil tickets.
Take to the skies:
Ascend 400-feet into the air above Disney Springs for the opportunity to take flight in the world's largest tethered helium balloon! Filled with 210,000 cubic feet of helium, prepare to soar into the sky.  You might recognise some famous faces too, as the balloon is decorated with your favourite Disney characters. Look out for Aladdin, Dumbo, Tinker Bell, Buzz Lightyear and the rest of the gang.
The awe-inspiring flight lasts between 8-10 minutes and gives you the chance to admire breath-taking panoramic views over Disney Springs and the surrounding theme parks. Spot some of the most iconic Walt Disney World landmarks from way up high, with 360-degree views spanning up to 10 miles!
For more blog posts like this try…