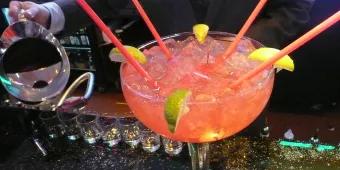 By ATD's Florida experts, Susan and Simon Veness
Downtown Disney has evolved into Disney Springs, and it's easier than ever to find superb dining. But where can you find the best spots for a drink or two as the sun goes down? Join us on a bar hop (but not all on the same day!) of Disney Springs' Super Six.
Lava Lounge
Where it's located: Rainforest Café sits at the far eastern end of Disney Springs' Marketplace, and that's where we'll start. Head straight through the small tunnel on the left-hand side of the restaurant to find this comfortable outdoor lounge at the back of the volcano.
What makes it special: First, it's water-side with a west facing view, and that's where you want to be when the sun sets. Second, the menu is squishy (meaning, it's got a jelly-like feel to it, and that's just plain fun).
What you should nibble on: The Lava Bites menu features small plate appetisers, and it's worth ordering at least two per couple. Coastal Calamari with pepperoncini, carrots, and banana peppers should be one of them. Volcanic Sliders should be another (small Kobe beef burgers with bacon, onion, and apricot jam on one; smoked Portobello mushroom, arugula, and Boursin cheese on a second; and avocado, Jack cheese, and chipotle on a third). Then, choose between Tectonic Tacos or peel-and-eat Shrimp in the Mist.
What you should drink: You're on holiday, and holidays mean rum punch. Try the Island Punch (Captain Morgan Spiced Rum, Bols Amaretto, Southern Comfort whiskey flavoured liqueur, fruit juices and grenadine). Or go for the Cheetah Rita (Jose Cuervo Gold Tequila, Patron Citronage Orange Liqueur, sweet and sour mix, and a salted rim).
Raglan Road Irish Pub
Where it's located: Heading west from Rainforest Café, Raglan Road is right at the intersection of Marketplace and The Landing (formerly Pleasure Island).
What makes it special: It's a 'reminder-of-home', if the pubs at home were 5 times their normal size. The bar itself was brought over from Dublin, and there's authentic Irish dancing and a live Irish band. Visit while the band is playing and the atmosphere is wonderfully interactive and lively.
What you should nibble on: The full menu is available at the bar, but we're nibbling here, right? Nom Nom Wings sweet and spicy flavours are delish, and you have to get the Dalkey Duo just for the novelty of being served battered cocktail sausages stuck on forks. Or go all out and get the Appetizer D'Lirrah, featuring the wings and sausages, plus scallops and Guinness glazed ribs.
What you should drink: Beer. Because it's a pub. With 20 beers on tap, many of them from The Home Country, and another 11 domestic and 25 imported bottled beers, it's hard to go wrong. Cocktails, wine, and whiskeys are available, but who's kidding who? For something you won't find just any old where, give one of our favourites, the Kentucky Bourbon Barrel Ale, a try. Not a beer drinker? Go for the Bailey's (very alcoholic) Shake.
Morimoto Asia's Forbidden Lounge
Where it's located: Morimoto Asia is just across the walkway from Raglan Road, and the lounge is on the upper floor.
What makes it special: Most of the bars on our list are casual, but this one has a distinct air of elegance, ideal for Date Night, a special event, or when you just want to feel a bit more grown-up.
What you should nibble on: One of the highlights of our year was finding Morimoto Spare Ribs, and while they come in two sizes and can be split as an appetizer, we might as well admit it: we snarl at anyone who expects us to 'share' these succulent treats. You have to ask for them in the Lounge, but do it. We also like a grazing evening, with Edamame, Crab Rangoon, maybe a Sushi roll, and Five Spice Chicken Wings. But get the ribs instead.
What you should drink: Sake. Because Sake. Forbidden Lounge offers 4 distinct sakes, but if that's too intimidating, go for a fruity Sake Sangria, a snappy Morimotini (vodka and sake), or the sweet sinfulness of the Pisco-Lychee Pop (pisco, lychee liqueur, yazu, and lime). You're welcome.
Dockside Bar at the Boathouse
Where it's located: After Raglan Road and Morimoto's, keep walking until you reach the waterside (but stop before you're in it). A long dock at the back of the restaurant extends over the water to the bar.
What makes it special: It's that whole 'sunset' thing again. An ideal viewing spot at twilight, the bar also offers a good daytime view of the fun Amphicars (amphibious cars) that drive off the ramp next to The Boathouse and straight into the lake.
What you should nibble on: Dockside doesn't have its own kitchen, which means you get to order off the main menu, and that's a good thing. With an excellent seafood menu including Firecracker Shrimp and the Beach and Sea Lobster Bake, shellfish lovers are spoilt for choice. But we think a selection from the raw bar is the perfect accompaniment to sundown over pretty Lake Buena Vista in the middle of Disney Springs. Not a seafood fan? The steaks are fantastic. Just want a light bite? It's Truffle Fries and Mac and Cheese, all the way.
What you should drink: Light and summery, the Cucumber Cooler (citrus vodka, sweet and sour mix, and Sprite) makes a refreshing change and pairs well with seafood, as does the White Negroni (Death's Door Gin, Carpano Blanco and Cointreau). Several of their craft beers are also worth trying, including Kona Longboard and Magic Hat.
Jock Lindsey's Hangar Bar
Where it's located: Literally just to the left of The Boathouse, but figuratively a world away.
What makes it special: You're inside Jock Lindsey's airplane-hangar-turned-bar, surrounded by fun props based on the Indiana Jones movies (Jock was Indy's pilot pal). Fans of the defunct Adventurer's Club, formerly in Disney's Pleasure Island, will also recognise props from the club, and if you have a keen eye you might see a few Star Wars references as well.
What you should nibble on: No contest: Lao Che's Revenge is a must. These slightly spicy Asian sticky ribs are superbly flavourful, and big enough to split as an appetizer between two. But don't stop there. Jock's is all about sharing, so add either the Snack of Ra (a pleasant selection of African salads and dips, with Injera bread and Naan Crisps) or mildly spicy Rolling Boulder Sliders with yoghurt. End with some Good Dates. Just because.
What you should drink: You're going to struggle when your server puts their excellent (and humourous!) cocktail menu in front of you. Try anything. If you can't decide, Simon's libation of choice is the Air Pilot's Mule (Disney's own Knob Creek Special Reserve Bourbon, Fever Tree Ginger Beer, and lime juice), while Susan likes the vodka and Blue Curacao Fountain of Youth. But the signature drink is the orange vodka and Midori Melon Reggie's Revenge, named for Jock's pet snake.
Splitsville
Where it's located: Splitsville is located next to the AMC Movie Theater in West Side, and it boasts 5 distinct bars. But the one you want is the first floor balcony that allows for people-watching with a birds-eye view.
What makes it special: The vantage point. Servers take Splitsville's casual, everyone-is-family attitude seriously, but even so, they won't shout down and tell the tourists what you really think of their Goofy hat.
What you should nibble on: You can, of course, order anything off the main menu, but be a little naughty while you spy on passers-by and get the Loaded Fries (smothered in nacho cheese, bacon and scallions) or a Macho Nachos. Already feeling guilty? An order of Edamame and your choice of Sushi should set things right. Those of a particularly virtuous bent should try the unusual Alberto sushi, with all of the protein (tuna) and veggies (avocado and cucumber) and none of the rice. Weird, right? Ignore that and go for the Loaded Fries. You know you want to.
What you should drink: Feeling dangerous? Try the Miami Vice (there's so much stuff in this rum drink we can't list it all). Have a sweet tooth? The Birthday Cake martini is right for you. Still on that 'virtuous' kick? They'll mix you a Skinny Margarita. If you try out our Super Six in order, you're due for a Bloody Mary. And tell the bartender to Spice It Up!
Tell us about YOUR favourite bar or lounge at Walt Disney World, or anything else Orlando related, on Attraction Tickets Direct's discussion forums! 
Liked this post? You may also like...