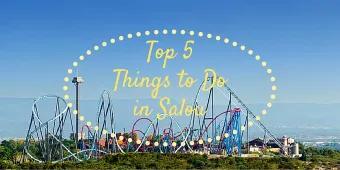 Salou, on the Costa Dorada, offers a great mix of theme parks, sunshine and wide sandy beaches. Here are our top 5 must-dos for this fabulous beach-side resort...
1. PortAventura
PortAventura was recently named the 2nd best theme park in Europe and the 10th best in the world and we think we know why! With 6 incredible themed areas taking you round the world from Mexico, to China, Polynesia and more, there's plenty to keep the whole crew happy for days on end. If you're in to high octane thrills, there are 7 incredible rollercoasters for you to try, including the Furius Baco which reaches an incredible 83.9 miles per hour and Shambahala: Expedicion al Himalaya which stands at a stomach churning 249 feet. For the little ones, there's Sésamo Aventura, a Sesame Street themed area complete with monorail, a children-sized roller and even a pint-sized drop tower! To find out more about PortAventura, click here.
2. Costa Caribe Aquatic Park
If you can't get enough of PortAventura, you'll love the Costa Caribe Aquatic Park which is adjacent to the park. Set over 50,000 square meters, the Caribbean themed park is an oasis on the Costa Dorada complete with swaying palm trees, sandy beaches and, of course, reggae music! Again, the park is suited to both families and young groups, with a perfect blend of thrill rides and attractions for the little ones.  We love the Rapid Race ride, a high-speed, forward-facing mat slide which dips and slides you at scream-inducing speeds down to the bottom in a wave of spray. If you're more the relaxing type, El Rio Loco lazy river ride will take you round the park at a much more manageable speed. Make sure to upgrade your PortAventura tickets to include entrance to this fabulous water park. 
3. Capellans Beach
If you're looking for a nice beach in Salou, Cappellans should be your first port of call. The water is beautifully clear and clean in this small bay and the sand is also soft and clean. Even though it's a relatively quiet and relaxed beach, there are a number of cafés and shops to keep everyone topped up with cold drinks, ice creams and beach games, as well as pedalo hire at the end of the beach. It's the perfect place to sit back and relax after a hectic few days at the theme parks (if you can drag yourself away that is!).
4. Downhill biking
If you'd like to get out and explore the countryside around Salou, what better way to do it than on a fun and informative bike tour of the area? You can choose to do a full or half day on the bikes, which are suitable for everyone aged 2 to 102! The breath taking scenery in the 'real' Spain outside of Salou, including the rugged Catalan mountains and quaint little villages, will leave you amazed and eager to hear more about the surrounding areas from the fun and witty guides. Find out more about this experience with Down Hill Bikes Salou.
5. Llenguadets Beach
After all that exertion, another beach day might be in order. And where better to spend it than at Llenguadets beach, the 'locals beach' in Salou, where you won't need to negotiate for space on the sand. This beautiful, quiet sandy beach is the perfect place to while away a day, with trips to the bar the only thing necessary to disrupt your lazy sunbathing slumber. Bliss! 
To book tickets for a holiday to the amazing PortAventura, click here.
Liked this post? You may also like: