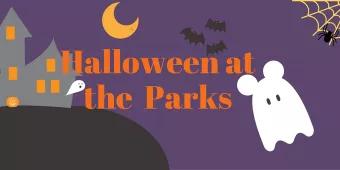 Your guide to having the scariest (or not-so-scary) halloween in Florida
We know that Halloween is a huge deal in America, especially at the theme parks. If you're heading to Florida for Halloween, check out our ultimate guide to having a scary (or not-so-scary) time at the parks!
Halloween is one of the most popular times of year to visit the Florida Parks. It's well known that Halloween is a big deal in America, and the theme parks of Orlando are no exception. All the big theme parks put on special Halloween themed events and arguably make more of the spooky season than they do Christmas!
Expect pumpkins to line the streets, with ghostly games and spooky surprises at every turn. Your favourite rides will get a mystical makeover, your favourite characters will reveal their scary alter-egos, and your favourite edible treats will get a terrifying twist!
We have collected the very best Halloween events happening at the top Florida parks this Halloween. Some of these events are totally safe for children and the whole family is sure to have a great time. But other events are designed to be seriously scary. Please use the guide below to gauge how suitable each event is for you and your family.
Halloween parties and events in Florida start from the end of August and run to the end of October, meaning there's plenty of frightening fun to go around. If you're planning to visit the Florida parks for Halloween, make sure to purchase your Disney tickets in advance, and check out our ultimate guide to having a scary time at the parks this Halloween!
Walt Disney World
Halloween is one of the most popular times of year to visit Walt Disney World, with an average of 3 million guests heading into the parks throughout September and October.
The spooky season at Walt Disney World runs from the end of August, across September, until the end of October.
Mickey's Not-So-Scary Halloween Party
Spooky Rating: 2 pumpkins
Beat the queues! The party officially starts at 7pm, but ticket holders can enter from 4pm, and once the party starts, queues for rides will be virtually non-existent!
What to expect:
Character meet-and-greets with characters in fancy dress – meet Micky, Minnie, and all your favourites dressed up in their Halloween costumes! 
The Boo-to-You parade – this amazing parade features all the Disney characters on incredible floats accompanied by music
Happy Hallowishes Firework Display – Incredible fireworks are to music and songs from Disney's most famous villains 
The Cadaver Dans Barbershop Quartet – head to Frontierland to request a spooky song from these dead-great singers  
Hocus Pocus Villains Spelltacular – The three witches and their fiendish friends out on a terrifying Halloween show! 
Hallowishes Dessert Party  - enjoy terrifyingly tasty treats at this dessert buffet 
Costumes allowed? Yes! Usually, any guests over the age of 14 are strictly prohibited from wearing costumes, but not at Halloween! Layered costumes are discouraged, and costumes must not have weapons or anything that looks like a weapon.
Top tip: Tuesdays in September are usually the least crowded and Friday nights in October are the busiest. Parties get progressively busier toward Halloween @DisTouristBlog)
SeaWorld
Unlike Walt Disney World, SeaWorld's Halloween events run across the daytime and are included in your regular admission to the park.
The spooky season at SeaWorld runs from the end of September to the end of October.
SeaWorld's Halloween Spooktacular
Spooky Rating: 1 pumpkin
What to expect
Penelope's Garden Party – this 'underwater' party is hosted by Penelope the Mermaid and has a live DJ, arts and crafts, and floating bubbles everywhere
Sesame Street's Countdown to Halloween – help Elmo and the Muppets get Count von Count into the Halloween spirit
Spooktacular Dance Party – join a host of under-the-sea characters for a dance party in the Village Square
Trick or Treat! When you arrive at the park, you'll be given a bag and team members will pass out candy all day!
Costumes allowed? Yes! Guests of all ages are welcome to dress in costume, but guests over 12 are not allowed to wear masks or hoods
Top tip: Face-painting touch-ups are free all day! @Kristin_B_Ford
LEGOLAND
LEGOLAND's Halloween events are across extended park opening hours and last all day and access to the events are included in your theme park ticket. VIP experiences are available at an additional cost.
Spooky Season at LEGOLAND runs across seven dates in mid to late October.
LEGOLAND Florida's Brick or Treat
Spooky Rating: 1 pumpkin
What to expect
Halloween monster meet and greets – meet Vlad the Vampyre, Mummy, Mad Scientist, Frank N. Stein are more!
LEGO building parties - get hands-on and get building a scary structure!
Gigantic Halloween LEGO builds – look out for a larger than life build that has been created exclusively for Brick or Treat!
A spooky scavenger hunt in Miniland USA!  - with a collectable limited-edition LEGO brick!
Like the other parks, grab a bag and fill it up with free candy! And for a limited time only, get Pumpkin Spice Granny's Apple Fries!
Costumes allowed? Yes! Guests in costumes will get free entry into a special Halloween Parade!
Top tip:  Grab a pair of viewing glasses to add a LEGO twist to the colourful fireworks display over Lake Eloise @Attractions
Busch Gardens
This event takes place across Fridays and Saturdays in September and October
Howl-O-Scream
Spooky Rating: 4 pumpkins
What to expect:
Haunted Houses – Pirates, zombies, Voodoo Queens and demons welcome you into their terrifying lairs
Roaming hordes of zombies – from the front gates to the darkest corners of the park, monsters will be roaming and waiting to jump out on stragglers
Scare Zones – outdoor areas including claustrophobic mazes full of thick fog and disorienting lighting
Fiends show – creatures of the night celebrate Halloween in a deranged dance party
Fright Feast – delicious all-you-can-eat buffets with early front-of-the-line access to the haunted houses!
Costumes allowed? No. Guests are not allowed to wear costumes to the events
Universal Orlando
The scariest event in Orlando, Universal's Halloween Horror Nights is certainly not for the fainthearted and strictly adults only. Winning 'Best Halloween Event' in the Golden Ticket Awards and running for more than 25 years, nobody puts on a scream-inducing horror-fest better than Universal Orlando.
This event runs across mid-September to early-November. 
Halloween Horror Nights
Spooky Rating: 5 pumpkins
Haunted Houses – the primary attractions for this event. Past famous haunted houses include Saw, The Walking Dead, The Exorcist, and American Horror Story
Scare Zones – Wandering around the park you will enter these terrifying scare zones, actors are not allowed to attack you but will bear their weapons and chase you! Past Scare Zones include: The Purge- A Chance in Hell, and Asylum in Wonderland
Costumes allowed? No. Since there are so many scary characters already in costume, in the streets and in the houses, it would impossible to distinguish guests apart.
Top tip: Saturdays are always the busiest nights, and October is the most popular month for this event. The least crowded nights are usually early November. @OrlandoInformer
Image credits: HarshLight, Leigh Caldwell, Britt Reints, BestofOrlando, Brian Holland