You won't leave hungry!
Loosen your belts and tuck into these amazing dishes from the best restaurants at Disney Springs, Walt Disney World Resort.
When you're visiting Walt Disney World Resort, you won't want to miss out on the chance to visit Disney Springs, Disney's atmospheric and colourful promenade. With fabulous late-night entertainment and shops galore, this waterfront oasis is the perfect place to grab a bite to eat.
With an eclectic mix to choose from, we've put together a list of some of Disney Springs' best restaurants and eateries. So put your Disney World Tickets away and take a stroll along the promenade to try some of Disney Springs' delectable dishes.
The best places to eat in Disney Springs
Wolfgang Puck Bar & Grill
In need of some comfort food? Sample the Californian delights on offer at Wolfgang Puck Bar & Grill. From flavoursome pasta dishes and sandwiches to exquisite gelato desserts and speciality cocktails, this is a restaurant who knows how to woo its diners.
"It's incredible", says blogger Laura from Miss LJ Beauty. "The best pasta I have ever had. Honestly, I dream of this place, the food is so fresh and delicious. I visited the Wolfgang Puck Express in the Disney Springs Marketplace, and I couldn't believe how cheap it was. Honestly, you would be doing yourself an injustice by not trying it!"
Blaze Fast-Fired' Pizza
Who doesn't love pizza? And in Disney Springs, Blaze Fast-Fire'd Pizza is a firm favourite, cooking up fresh pizza in a speedy 180 seconds.
"If I had to pick my absolute favourite restaurant in Disney Springs it would Blaze Pizza." Blogger Sarah from Things Sarah Loves told us. "They offer so many toppings (some are very creative!) so you can build your own pizza - it's perfect for all pizza lovers. You can also do half-and-half so if you wanted to mix up the toppings or buy one pizza to share, it works out great!
"It's really great value and good-sized portions which is why it's a staple on each visit to Disney Springs for us. You won't find better pizza at a better price on Disney property - an all-round family favourite for us!"
Shy Strange Manic blogger Kariss also recommends Blaze Pizza, especially if you're looking for a quick bite: "Blaze Pizza in Disney Springs is my favourite pizza place in the world, it's like Subway for pizza! Just pick your toppings as you go down the line and they make it in front of you before cooking it in their amazingly fast pizza ovens. Super delicious!"
The Daily Poutine
Although it may not be a restaurant, that doesn't mean it doesn't offer some of the best eats around! If cheese, meat and fries are your weakness, a visit to The Daily Poutine is just what the doctor ordered.
Another favourite of Rachel's, she told us about The Daily Poutine's unique offering: "I loved the Daily Poutine, which is a small kiosk near World of Disney, but they serve up so many different types of poutine which is a well-loved Canadian dish that's typically made from fries, cheese and gravy! So delicious!"
House of Blues Music Hall
Live music venue meets good food! House of Blues Music Hall plays host to a range of on-stage entertainment while also serving up Southern-inspired dishes including BBQ classics and slow-cooked specialities.
Blogger Rachel Nicole told us what makes House of Blues so stand-out: "I loved the House of Blues restaurant; the food is delicious with live music and great views over the lake. There's also Music Hall there where they have pretty big concerts on. If it's a lovely evening, they also have outdoor seating where you can enjoy a few drinks while listening to some great music."
The BOATHOUSE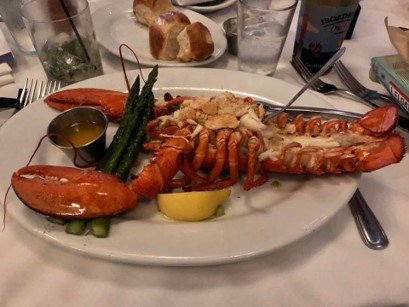 Image credit: Kerry, Disney With Kerry
Looking for a restaurant with that extra wow-factor? The BOATHOUSE offers a fantastic array of steak and seafood, with sunset views as your backdrop. Enjoy mouth-watering maritime dishes paired perfectly with craft cocktails and vintage wines for a sophisticated twist on traditional waterside fare. Restored dreamboats decorate the interior, giving the restaurant a vintage coastal feel in which to sit and while away the afternoon watching the boats go by.
Blogger Kerry from Disney With Kerry told us why she loved her visit to The BOATHOUSE: "For a special meal, we went to The BOATHOUSE. It was so beautiful near the water. The food was delicious, and the portion sizes were very good - my lobster was huge!"
Rainforest Café
Feel like a true jungle explorer at Disney Springs' Rainforest Café. Enjoy favourites such as tacos, steak and shrimp while you take in the exotic sights and sounds that fill the restaurant.
Best Things To Do In York blogger Nikki told us why it was her favourite place to dine in Disney Springs. "It's fabulously atmospheric with animal sounds and a tropical storm that happens every so often. The theming is magnificent too, with lush foliage. Outside there is a volcano that spews fire and smoke into the air, day and night."
Becca, blogger at Engage Weddings says it's a must-visit for all the family: "The Rainforest Café is one of those dining experiences your family won't forget in a while! From the moment you spot it across the lake to the minute you leave, you will be taken in by the impressive theming - my children still speak about it 10 months on from our trip!"
Chicken Guy!
If you're looking for something quick and satisfying, pay a visit to Chicken Guy!, which offers mouth-watering, fast food chicken from celebrity chef and 'Mayor of Flavortown', Guy Fieri.
Blogger Alice in Sheffield told us why Chicken Guy! is her favourite Disney Springs restaurant: "Chicken Guy! is definitely my favourite. It's also part of most Disney dining plans and offers the most tender chicken strips and delicious crispy fries. Plus, there are over 20 different sauces to choose from to make your meal even better. Fast food that's easy and convenient, but utterly delicious."
Earl of Sandwich
Who doesn't love a good sandwich? As one of Disney Springs' most popular eateries, we couldn't leave Earl of Sandwich off the list! Signature hot sandwiches, soups, pizza breads, wraps, desserts, and more can be found at this decadent sandwich bar.
"My favourite place to eat in Disney Springs has to be Earl of Sandwich," Mummies Waiting blogger Jade told us. "Honestly, the Hawaiian Barbecue is out of this world! The atmosphere is really nice in there and it's a great place to stop for a quick delicious bite that won't break the bank.
"The Hawaiian Barbecue is grilled chicken, ham, Swiss cheese, pineapple and barbecue sauce, it's a staple that I have to grab every time I visit (and at Disneyland Paris too!) and is perfect enough to fill you up, but leave room for those other Disney treats you're bound to buy!
"The great thing about Earl of Sandwich is that although you can just grab a sandwich, there's always the ability to get a full meal too and with soups, pizza bread and kids meals all on the menu, you can easily find something that everyone in your party enjoys."
Maria & Enzo's Ristorante
Savour the traditional flavours of Italy at Maria & Enzo's Ristorante. From pasta dishes and paninis to fresh fish and salads, Maria & Enzo's offers a true taste of Italy, complemented by elegant views of Lake Buena Vista - bellissimo!
Becoming Mumsy blogger Amy told us what sets Maria & Enzo's apart from other restaurants in Disney Springs: "We loved dining at Maria & Enzo's Ristorante - it was delicious. The food tasted amazing and the atmosphere was lovely with a violinist playing and taking song requests. It was a really lovely visit and certainly one that I'd recommend! We hadn't dined there before so we were very pleasantly surprised. We visited with our young daughter who was 20 months at the time and the staff were great with her."
T-REX
A great one for kids, T-REX is a dinosaur-theme restaurant serving up crowd-pleasing dishes to sink your teeth into alongside immersive, primaeval experiences. Kids have the opportunity to dig up bones in the restaurant's Paleo zones before venturing off into prehistoric-themed rooms, witnessing meteor showers, woolly mammoths, a 15-foot T-Rex and more.
"We took our three kids to T-REX at Disney Springs and it was brilliant!" Says family blogger Beth from Twinderelmo. "It's absolutely great theming for kids, especially dinosaur fans. The food is also themed, so expect lava lasagne and gummy worms in soil (Oreos!). Be sure to order the chocolate volcano dessert that 'smokes' as it's brought to the table.
"There's a lot going on and it can be noisy for some children which is something to bear in mind, but it's such a fun experience and one the kids absolutely loved."
Chef Art Smith's Homecomin'
Farm-to-plate cuisine awaits at Chef Art Smith's Homecomin'. Rustic country dishes and the flavours of Florida combine to create superb foodie delights for unbeatable comfort food. The dishes have been inspired by Florida's bygone era, offering a nostalgic and welcoming feel complete with old-timey, plaid tablecloths and a farmhouse-style interior.
"One of the best places to eat in Disney Springs is Chef Art Smith's Homecomin'," says blogger Mellissa from Fly Drive Explore. "The fried chicken is famous, and you can see why as it's brined in buttermilk to make it ever so tender. They also do a moonshine flight which is amazing, and the moonshine margarita is also recommended."
Paradiso 37, Taste of the Americas
Waterfront views, South American-inspired street food and live music, what more could you ask for at Paradiso 37, Taste of the Americas? This bar and restaurant not only serves up the finest Latin-American dishes, but also has alfresco seating to enjoy the golden hour with a cocktail before heading inside for some unforgettable live entertainment and dancing.
Danielle Carter, blogger at Miss Danielle told us why Paradiso 37 is unlike anywhere else in Disney Springs.
"One of the best places I've eaten in Disney Springs is Paradiso 37. It has a great atmosphere, vibrant food and well-priced drinks. Influenced by Latin foods and culture, the flavours they use are perfect and there's plenty of spicy options if that's something you love.
"Generally, I like to share a mix of appetiser and flatbread dishes with friends. The beef empanadas, the nachos and the tomato basil flatbread are my all-time favourites. The cocktails are great and there's something for everyone here. If you're looking for something fresh, try the Blood Orange Mojito or the Bahama Mama. I'd recommend going early in the evening so that you can get a good seat outside, watch the sunset and enjoy the live music on offer."
Can we help you plan your Walt Disney World adventure? Get in touch with the AttractionTickets.com team today or browse our fantastic Orlando attraction ticket packages today.
Main image credit: @disneysprings, Instagram