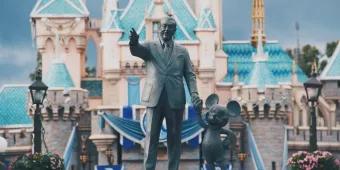 Make sure you have everything packed and prepared for Walt Disney World
You've booked your Disney tickets, now all that is left is to pack and prepare. Check out our ultimate Walt Disney World checklist for inspiration and advice.
Packing for any family holiday can be a daunting task. You never want to forget anything. But no matter how seasoned you are with preparing for a holiday, it is very easy to leave something behind. 
For your peace of mind we have created the ultimate Walt Disney World checklist, offering packing suggestions that you perhaps wouldn't have considered, as well as some advice for anyone who has just purchased their tickets.
How to plan for your trip to Disneyland
A visit to any of the parks is full of excitement and anticipation from the moment you get your Disney tickets. But to really make the most of your time there you need to know how to plan for your trip and what to pack, as Carson Durand, from Disney by Age says: "Planning ahead is the best way to ensure everyone has a wonderful, magical Disney trip!"
One of the most important things to do when you start planning your trip is to establish when you want to go. January, February, May, September, November and December are the best times to visit the parks if you want to miss the crowds. Though the week between Christmas and the New Year celebrations is particularly busy.
After you have booked everything and you are just counting down the days until you are in amongst it all at the park of your choosing, you should make a loose itinerary. Loose is the operative word here, mainly because there are just so many variables that can influence your time at Disneyland or Walt Disney World. 
Your children could fall in love with a particular ride, or want to see a show more than once, which could put any detailed plan into jeopardy. Instead, just create a list of everyone's favourite rides, shows and attractions. Ensure that you get to see all of these, then let the rest of the day just happen.
Carson Durandbelieves that "being prepared for Disney can make or break a trip", but did admit that "planning can be daunting." Along with Carson, fellow bloggers Jessica and Marcie were kind enough to suggest some key items to bring along with you.
What to take to Disneyland
Snacks and drinks
You will not be short of choice when it comes to somewhere to eat at any of the Disney Parks. But when hunger strikes as you wait in the queue for a ride you're going to need to have something with you. So do as Jessica Sanders from The Happiest Blog on Earth does and bring along some small snacks:
"Disney allows guests to bring in small snacks and drinks. But beyond that, I always add a pack of gum to my Disney bag because you won't find any chewing gum for sale on Disney property."
Carson has some similar advice, particularly if you have a younger family:
"Definitely bring a Sippy cup or bottle that can be loaded with water, milk, breastmilk, formula, juice, etc. You can get a free glass of water at any restaurant if you ask. If you are breastfeeding and want to bring in pre-made bottles, you will want to add a cooler to this list."
Battery-powered phone charger
You're going to want to document your time at Disneyland or Walt Disney World and when you may not want to carry a camera around with you, your phone becomes vitally important. Having a portable phone charger will keep your battery topped up throughout your visit and provides entertainment for your kids. When asked, it was the one thing that Marcie Cheung, the brains behind Marcie in Mommyland, recommended:
"I'd say the best thing anyone can bring to the parks is a battery-powered mobile phone charger. Not only will it keep you connected to your travel companions, but it will ensure little ones will be occupied while you wait in line. Plus, you'll have access to the Disney app which provides ride wait times, character appearances, Photo Pass points and more. And you'll always have enough battery for selfies with Mickey!"
Smart phones
There isn't any point in bringing a charger if you don't have a phone to go with it, is there? Having a smart phone for yourself is a much more convenient way of capturing the special moments that you will be sharing with your nearest and dearest as well of course, providing a means of communication. Colleen Lanin, the founder and editor of Travel Mamas suggested allowing your older children to bring theirs with them:
"I suggest allowing tweens and teens to bring their own smart phones into the parks. They can download Disney apps to help monitor wait times and give input for meals. When older kids have some control over vacations, they tend to like them more. Also, if you want to separate for a while so the kids can ride the big coasters while Mom & Dad take in a show or grab a drink, it's much easier to connect if everyone can text or call as needed. Plus, then they can take photos of the trip to share with their friends back home."
A pram 
Prams are available at each of the parks, but they are not going to be as comfortable or as practical as the one you have at home. It is something that features at the top of Carson's Disneyland checklist:
"First and foremost, a comfortable stroller (pram) is a must-bring for young children. We recommend one with ample storage and all the necessary accessories - snack tray, shade, and rain cover. Although you can rent strollers at the Disney parks, we recommend you bring your own or rent one." 
"We suggest bringing two stroller fans. We like to aim one at the kiddo, attached to the snack bar, and one pointed away from the child on the handle bar pulling a current of air through the stroller itself. This worked like a dream for us with an 18-month-old in July. Misting fans are also an option here. Check out our gear guide for suggestions on some specific products."
Protection from the sun
We hope that you are blessed with beautiful weather when you visit any of the Disney parks, but this does mean you will need to bring some form of protection from the sun. "This probably goes without saying," said Carson, "but keeping your kiddo protected from the sun is definitely part of making the most of your trip." 
A change of clothes and diapers
You're definitely going to need a spare change of clothes for your kids and possibly a couple of spare items for yourself as well. Carson recommends two changes, though this can depend on the weather: "Every parent knows why a change of clothes is a must. Two might be advisable. We also suggest you bring clothes for layering for changing weather, especially during the cooler months." 
If you're planning on trying some of the wetter rides then consider bringing a poncho with you. "This one can be easy to forget, but a soggy baby or toddler is generally less content than a dry one, at least in our experience," said Carson, who did also recommend this as an addition to your Disneyland checklist if the weather isn't great when you are heading to a park.
To carry it all, Carson suggests that you should bring a bag with you. Alongside the clothes, he did advise that you bring a couple of other things if you have a young family:
"A Backpack or Diaper Bag - choose one that can carry and organize the things you and your child need, but that will not take an overly long time to check at the park entrance."
"All the restrooms have places to change your baby or tot. Each park also has a Baby Care Center that will have places to change and breastfeed, as well as extra baby supplies. We suggest bringing along a changing pad or disposable covers for the diapering areas." 
Sanitiser
When you consider that more than 40,000 people are visiting each park every day, it would be wise to bring some form of sanitiser with you. It is something that Carson recommends, particularly if you are visiting with children: "Hand sanitiser or sanitising wipes can be very helpful considering the number of surfaces everyone will touch throughout the day."
Appropriate footwear
Comfort is key. At any of the Disney parks you are guaranteed to be doing a lot of walking, so make sure you have are wearing or pack a pair of comfortable for yourself and for any of your children. "If your little one are going to want to get out and explore, ensure he or she has comfortable shoes to avoid owies," said Carson.
Open Mind and Flexibility
Finally, this is something that you can't stick in a rucksack. Your little ones are sure to be excited from the moment you purchase your Disney tickets all the way until you the end of your visit, but it can be a tiring affair for all involved. That is why you might have to accept taking an extended break, or even spending less than the whole day exploring if your children are young, as Carson explains: "When you are bringing a young child to the Disney parks, they might not last as long as older children or adults. Being willing to do a half day and then take a nap can be a great way to help the youngest in your group enjoy Disney."
However, this will not be the case for everyone. For every child you see recharging their batteries you'll see one charging between rides and shows with parents in tow. You know your family, so prepare yourself for planning rest stops or even arranging to see their favourite things as early as possible so you can avoid any disappointment if they do sleep through the afternoon.
A holiday to Walt Disney World is a magical experience and certainly something that no one will be able to forget in a hurry. Hopefully our checklist has helped you best prepare for your trip or at least given you some inspiration before you go.
Image Credit: Josh Hallett