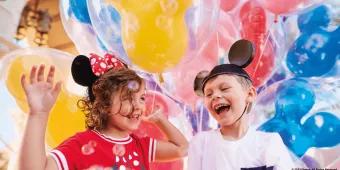 Theme Park Reservations, Dining Plans and more!
Disney have announced a number of updates to help improve guest experience at Walt Disney World Resort - here's what you need to know!
There are many things to consider when booking a holiday to Walt Disney World Resort in Florida, from the hotel you should stay in, to the restaurants you should eat at. There's a lot to plan, especially for first-time visitors, but thanks to some recent updates from Disney, your Walt Disney World Resort holiday is about to become a lot simpler, so you can focus on what's important - having fun!
Removal of Theme Park Reservation Requirements
Probably the most important update for our customers is the removal of Theme Park reservations for dated tickets, starting from January 9th 2024. This is a change that many guests have been hoping for, and it should give you a bit more flexibility when it comes to planning your holiday! 
So what does this mean for your Walt Disney World Resort booking? Our 7-Day and 14-Day Disney Magic Tickets (including those that are part of Orlando combo tickets) are date based, so you simply need to choose your start date when booking and if this is on or after January 9th 2024 you're then all set for your visit! 
If your Walt Disney World Resort holiday is before January 9th 2024, you should continue to make your Park Pass Reservations as normal. We'd always recommend that you check Theme Park availability before booking to avoid any disappointment, then make your reservations as soon as possible once you have your tickets. 
Return of Disney Dining Plans
If you visited Walt Disney World Resort in Florida pre-Covid, you will likely be familiar with the Disney Dining Plans. This benefit of staying at a Disney Resort hotel allows guests to pre-pay for their meals and snacks as part of their holiday package, taking away the stress of budgeting and carrying around large amounts of spending money when you're in the parks. 
Two Dining Plan options will be making a welcome return from January 9th 2024; the Disney Quick Service Dining Plan and the Disney Dining Plan. This will allow guests to choose the best option for their budget, appetite and party size. We'll have more information about the Disney Dining Plans soon so stay tuned! 
Continuation of Extended Park Hours for Disney Resort Hotel Guests
Another benefit of staying at a Disney Resort hotel is the early theme park entry for all onsite guests. Not only has it been confirmed that this will be continuing throughout 2024, but it will be offered every day, across all four parks! This means you'll get a jump start on your day, so you can head straight to your favourite rides with less of a wait. 
For guests staying at Disney Deluxe Resorts and Deluxe Villas, extended evening hours will also continue on select dates at select parks in 2024. Valid theme park admission and a Resort ID are required for entry during extended park hours.
Simplification of Disney Genie+ Service
While we don't have any specific details yet, Disney have teased some changes to the current Disney Genie+ Service and Individual Lightning Lane system. The goal of these updates is to "give you the opportunity to spend less time planning in the park and more time enjoying your visit with friends and family". The changes to the Disney Genie+ Service won't be in place until 2024, but we're looking forward to hearing more about them once they are announced! 
Have these announcements convinced you to visit Walt Disney World Resort in Florida in 2024? Browse our Disney Resort hotels to begin planning your holiday, or book now with our Early Booker Package to receive up to $2,100 Dining and Merchandise credit per room, 14 Park Days for the price of 7, and a Disney Gift Card worth up to $300 per booking*! 
*T&Cs apply. Subject to availability.