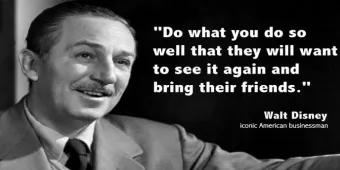 Check out ATD's favourite Walt Disney quotes!
This Throwback Thursday Attraction Tickets Direct takes a look back at some of our favourite quotes from the creative genius Walt Disney himself!
For Throwback Thursday we thought we'd inspire you with some of the Attraction Tickets Direct favourite Walt Disney quotes!
'Laughter is timeless, Imagination has no age and dreams are forever...'
'When you believe in a thing, believe in it all the way, implicitly and unquestionably...'
If you can dream it,  you can do it...'
'Why worry? If you've done the very best you can, worrying won't make it any better...'
'Of all of our inventions for mass communication, pictures still speak the most universally understood language...'
'You may not realise it when it happens, but a kick in the teeth may be the best thing in the world for you...'
'I only hope we don't lose sight of one thing - That it all started with a mouse.'
Head to the Happiest Place on Earth, the only one place on the planet where you can see Walt Disney's inspirations come to life and become a part of the magic Disney is famed for.
Happy Throwback Thursday readers!