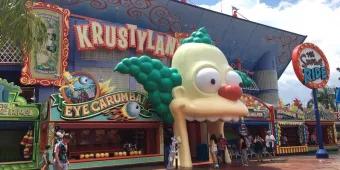 Here are just some of our highlights...
There is SO MUCH to explore in Springfield U.S.A at Universal Studios Florida!
1. Jump into the cartoons on the Simpsons ride
The Simpsons ride takes you on an epic 4D adventure through the exciting world of Springfieldat Krustyland, a theme park owned by Krusty the Clown. Twist, turn and dip your way round the wacky world of the Simpsons as you embark on a virtual reality roller coaster experience with some amazing 4D smell and sensory effects that will leave you encased in the cartoon bubble. Don't miss it!
2. Meet the Simpsons
Meet the whole family at their meet and greet spot in front of the Kwik-E-Mart, where you can snap a few selfies with the world's most famous yellow people! Homer, Marge, Bart and Lisa will be ready and waiting to meet you, along with some other fan favourites from the series if you're lucky!
3. Try a Krusty Burger
Don't let the name of this signature burger put you off – we can vouch for its deliciousness! The Krusty Burger is made up of a 6-ounce burger patty topped with American cheese, lettuce, tomatoes, pickles and a special Krusty sauce which is similar to burger sauce but with added Simpsons magic. If you're really hungry, double it up and add bacon by ordering The Clogger Burger. Crinkle cut chips are served on the side – yum!   
4. Order a Flaming Moe
In Mo's Tavern, next door to Krusty Burger, pull up a stool at the bar and order yourself a drink that also passes as a piece of ART – a Flaming Moe. This Springfield speciality is only served at Mo's Tavern and is suitable for all members of the family as it's a non-alcoholic refreshment. The orange-flavoured drink smokes as you drink it, so get your camera out quick!
5. Visit the Kwik-E-Mart
For all your Simpsons-related merchandise needs, head to the Kwik-E-Mart! Filled to the rafters with merchandise that pays homage to the world's favourite cartoon series, you can pick up cuddly toys, t-shirts and more for the Simpsons fans in your life.
6. Relax with a Duff Beer
We think the perfect way to wind down your day at Universal Studios Florida is with a cold beer at Duff Brewery. You can either sit at the bar à la Homer and Barney or grab a table at the back of the brewery and enjoy views over the lake.
Want to experience all this Simpsons fun and more in Springfield U.S.A? Head to Universal Studios Florida with your Universal Explorer Tickets. 
Liked this post? You may also like...