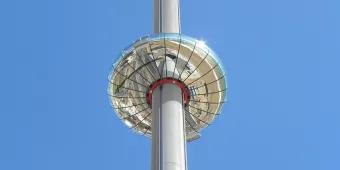 If you're looking to visit the British Airways i360 in Brighton, make sure you know these five fun facts to impress your friends and family with when you're there!
1. The British Airways i360 Brighton stands at a huge 162 metres
Walk around the BAi360 observation tower in its large, futuristic glass viewing pod and admire views of Brighton further than you've ever seen before from 162 metres up! The breathtaking panoramic view from i360 extends over Brighton and Hove, and on the clearest days you may be able to see all the way across to the Isle of Wight. 
Discover more about the landmarks and views you can see from BA i360 using the informative free viewing map onboard. 

2. It was engineered by the same team as the London Eye
The British Airways i360 Brighton Tower was designed, manufactured and engineered by the same team responsible for the building of the prominent and famed landmark of the  London Eye. However, it's 20 feet taller and its pod is 10 times the size of those of the London Eye! 
3. The i stands for "intelligence, innovation and integrity"
These values are upheld with the highest level of service as the British Airways tower's friendly flight crew welcome you onboard the pod. The crew are also available to point out landmarks and answer any questions you may have during the ascent. Furthermore, to guarantee comfort and ease for all passengers, the pod is air conditioned and is fully accessible for wheelchair users.

4. You can hire out the BA i360 viewing pod
The BA i360 hosts many events and experiences from weddings and yoga classes to corporate events. So why not hire it for your next office party? Comfortably holding 175 guests, it's the perfect place to cater large events with an incredible view! You can even host an event at the beachfront events spaces which open onto the beachfront promenade.
If you want to satisfy the thrill seeker in you, why not dare the iDrop experience where you abseil from the viewing pod in mid air! 
5. You can become a resident member and enjoy discounts 
If you are a resident of Brighton, you can become a resident member of the British Airways i360 and enjoy discounts on flights and at the shop and restaurant. 
Enjoy more discounts at the West Beach Bar & Kitchen, which is the restaurant located at the base of the tower, where you can enjoy a selection of delicious food with beachfront views. Also, get discounts at the shop to find gifts designed by local artists which are inspired by British Airways i360 and the surrounding environment such as postcards, children's toys, handy beach gears and local cookbooks!