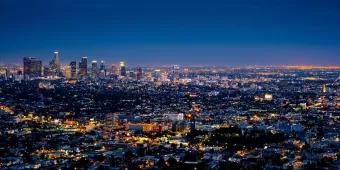 A guide to the unique and unusual bars and restaurants in Los Angeles
Los Angeles is replete with fascinating bars and restaurants and this is our guide to the most unique and unusual available in the city...
If you're visiting the United States to enjoy all of the incredible attractions available in Los Angeles, you'll probably be wanting to hear about some great locations to grab a drink and meal. The good news is that LA is replete with incredible bars and restaurants, many of which are quite different from anything you will have seen before. From themed restaurants to bars housed in peculiar environments, LA has it all, and to let you know just what to check out during your visit, we have put together this guide to unique and unusual bars and restaurants in Los Angeles.
Break Room 86
Image credit: Dylan + Jeni
Pop culture is currently experiencing a great deal of 80s nostalgia, throwbacks to the decade are appearing everywhere from films to fashion and from music to TV. If you're someone who is appreciating the resurgence of all that was great about the period, you will certainly want to check out Break Room 86 – a wonderful 80s set karaoke bar. With a disguised entrance and impressively detailed décor that includes the likes of records, cassettes, and a menu that actually comes in a VHS tape, 80s fans will feel right at home. A live band plays classic 80s hits on Wednesday nights and the karaoke rooms come with retrofitted Atari video game systems, mini-fridge, and full cocktail/bottle service. If you wanted to experience LA in the 1980s, an evening at Break Room 86 is your chance! Mark Houston, owner of Break 86, told us: "Breakroom 86 is one big flashback to the 80s. Some of my fondest moments are from the 80s and this space really exudes that electric nostalgia. From the music we spin to the VHS box menus and shows, it's a 4D experience that feels like complete sensory time travel."
Black Rabbit Rose
Image credit: Jakob Layman
For a truly mysterious bar and restaurant experience during your time in LA, a stop at Black Rabbit Rose is an absolute must. Serving top Thai-Chinese food to those who venture through their secret door, visitors will be treated to an incredibly unique bar that puts as much emphasis on atmosphere as anything else. Kitted out with retro décor and elegantly dressed staff, visiting Black Rabbit Rose is like stepping into a world of magic and illusion. Everything at this charming establishment is designed to amuse and do things a little bit differently. No trip is the same and even the cocktails served are a spectacle in their own right. There's even a theatre with ticketed shows presenting illusionists, magicians, burlesque, and more – all combining for one distinct LA experience. And for drinks to try on arrival, the owner of Black Rabbit Rose recommends: "At Black Rabbit rose, you can expect the unexpected. You have to try the Honey Bunny. A perfect sweet and smoky cocktail for any occasion,"
Beetle house
Fans of Tim Burton classics like Beetlejuice and The Nightmare Before Christmas, and just gothic scariness in general, will have a ball at a wonderfully inventive restaurant known as Beetle House. This is a place where every day is Halloween, paying tribute to dark and scary goings-on via delicious food and drink. This certainly isn't your typical eating establishment and as long as you enjoy a good scare, this comfortable but freakish eatery will be a treat. Speaking about what guests can expect and what sets them apart from the competition, the team at Beetle House told us:
"I would say what makes us unique is that our Los Angeles location provides a uniquely dark atmosphere including entertainment from Tim Burton characters walking around greeting you and an awesome freak-show onstage with sword swallowers, magicians etc. that happens every hour. As for our menu, we have an amazing prix fixe meal that includes an appetizer, entree with a side and a dessert. With items such as The Edward Burger Hands that comes with actual scissors stuck into the burger and the Sweeney Beef that comes with a straight razor, everyone is sure to have a fun, strange, and unusual time. We are also proud to say that we have multiple vegan options like the Vegan Cheshire Mac and Cheese that everyone will enjoy even if they aren't vegan."
Saddle Peak Lodge
Once upon a time, Saddle Peak Lodge was a road house, hunting lodge, and Pony Express stop – a mailing service which began in the 1800s – but today this beautiful location is home to one of Los Angeles' best-hidden restaurants. Found in a picturesque location in the Santa Monica Mountains, diners really couldn't ask for a more relaxing environment to enjoy great food and the best of the Californian countryside. The rustic rooms of Saddle Peak Lodge are decorated with hunting artefacts, books, and fascinating art, making for a truly unique dining atmosphere. Trading the hustle and bustle of LA's streets for mountains and trees, this must dine at location really sets itself apart.
The team at Saddle Peak Lodge spoke to us about their menu and in particular one of their must-try dining experiences: "One of the most popular items is Chef's Game Trio, which consists of three composed dishes on one plate. Currently, the trio includes Amaroo Farms Emu Strip with balsamic onions, potato, spinach, red wine jus; Elk Tenderloin with English pea, bacon jam, arugula, crispy potato, meyer lemon; Braised Bison Short Rib, with smoked miso-potato puree, blistered asparagus, and pepper jelly. Guests also love the Cast Iron Johnnycake with maple butter and Faroe Island Salmon with baby beets, wasabi and smoked avocado."
ixlb DimSum Eats
Image credit: @the_starving_actor
For those who don't know about the dish known as dim sum, it's a Chinese cuisine which is prepared as small bite-sized portions, comprised of steamed buns, pork, rice, and many other options. One of the best places in LA to grab some of this incredibly popular dish is at ixlb DimSum Eats, offering hungry patrons a chance to grab some delicious dim sum in quick-serve fashion. This little spot in the city has a great vibe and is a brilliantly casual way to grab some dumplings, noodles, or bao to go – there are no seats at DimSum Eats, just window counters to look out at Sunset Boulevard while enjoying great food.
Briefly speaking about what to expect and the vibe of this fun, stripped down LA spot, the team at ixlb DimSum Eats told us: "Located in the heart of Hollywood, serving up all your traditional dim sum favourites made fresh to order. It's about getting in and out, and getting good food at a good price point; peeling away a lot of the extra stuff, getting to the core of the food."
Pan Am Experience
Image credit: Photo courtesy of Vatche Karagozian / Air Hollywood
Pan American Airways (also known as Pan Am) was once the principal air carrier in the United States and as such, many have fond memories of flying with the airline. Pan Am Experience was created to capitalise on such nostalgia and today delights diners with an aviation-themed restaurant. Presenting guests with the experience of flying on board a luxurious Pan Am 747, visitors will be presented boarding tickets and served a gourmet five-course meal right from a trolley from appropriately dressed staff in original Pan Am uniforms. It's truly a unique experience, all housed in a 747 replica with guests allowed to explore the various decks before settling in for their meal. For those wanting a very different dining adventure, Pan Am Experience is the place for you.
Speaking to us in a little more detail about this most unique of restaurants, the team at Pan Am Experience said: "It really is an evening like no other - a trip back in time, when travel was a pleasure, filled with fun and adventure. The food was gourmet and the drinks flowed freely - it was an exclusive dinner party in the sky! The possibilities were endless: New York, London, Paris, Frankfurt, and the people were all fascinating and fashionable. No one exemplified this swinging new frontier like Pan Am, its classy crew and those fabulous transatlantic flights on the Boeing 747 jumbo jet.
Image credit: Photo courtesy of Daniel Sliwa / Air Hollywood
"Guests board 'Clipper Juan T. Trippe', our amazing recreation of Pan Am's first Boeing 747, where they'll feel like they've gone back in time with a crew dressed in the original uniforms and retro music (and vintage Pan Am jingles) all setting the mood for one very hip trip. We encourage people to explore the aircraft – from First Class on the main deck to Clipper Class aft of the galley, and the Upper Deck dining room. The interiors of each cabin have all been meticulously restored to Pan Am's original décor and design.
"In classic Pan Am style, the crew serves a delicious, gourmet five-course meal, starting with bread selections and appetizer choices like shrimp cocktail or tomato and mozzarella drizzled with a pesto glaze. For the main course, it's a traditional Chateaubriand carved from the trolley. Guests can also request in advance a choice of roasted chicken with peppercorn sauce or a vegetarian pasta entree that are both out of this world. All meals come with garden fresh vegetables and roasted potatoes. The fourth course is a fine selection of fruit, cheese and biscuits accompanied by port wine. The fifth course is our dessert cart with a selection of classic sweet treats to have with tea or coffee."
Make sure to check out this video regarding the 747 restoration and to fully discover what Pan Am Experience is all about.
Yamashiro
Image credit: Yamashiro
If unique and unusual is what you're after, then enjoying a drink at Yamashiro will be a terrific option. Overlooking Hollywood from 250ft up since 1914, this restored pagoda is an architectural marvel and is today home to a wonderful bar and dining room with the very best views of the city. For a scenic spot to enjoy a drink, this replica of a Japanese palace is hard to beat and by also serving brunch and dinner, there's more than enough reason to come back for a second visit. The menu is comprised of classic Japanese-themed dishes with pork dumplings, shrimp tempura and an exquisite selection of sushi all available for your enjoyment. If it's great views, top food, and unique atmosphere that you're looking for, Yamashiro is the place to be.
Everytable
Image credit: Everytable
LA is one of the most disparate and eclectic cities in the world and as such there are myriad different styles of dining available. One completely unique establishment is Everytable, a wonderfully casual way to grab a bite in the city, bringing hungry customers a revolutionary restaurant model to fulfil their needs. Utilising grab-and-go meals from marketplaces and grocery stores, Everytable has a mission of providing delicious food to those who don't have time for anything but fast food but would love to eat healthily if possible. With prices competitive with fast food joints and a determination to help local communities to eat better, Everytable serve meals such as chicken tinga and Cajun blackened fish, completing their mission to make nutritious, fresh food affordable and accessible to all.
The world of unique and unusual LA bars and restaurants
This has been just a peek into to the wonderful world of unique and unusual bars and restaurants in Los Angeles but we are confident that the above locations will be truly memorable excursions during your time in the city. There's a little something for everyone in Los Angeles and its bars and restaurants are certainly emblematic of its one-of-a-kind nature. We hope that when you next touch down in the city, you'll pay one or two of these marvellous locations a visit. And for those heading to the opposite coast to enjoy exciting family attractions, make sure that you take advantage of these must-have Disney tickets in Florida.
Ready to start planning your trip? Click here, to view our full range of amazing LA attractions.
Liked this post? You may also like…