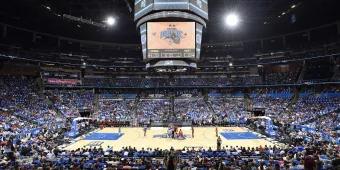 A visit to the Amway Center is fun for the whole family!
The NBA basketball season is starting again soon, and a night watching Orlando Magic is a great way to spend an evening away from the theme parks.
If you're a big fan of basketball, you'll already know that the NBA season is back for another year! But you don't need to be a sports fan to spend an evening watching Orlando Magic play at the Amway Center! An Orlando Magic game is about so much more than just basketball, offering an evening of entertainment for everyone to enjoy, just 25 minutes away from the major theme parks. 
If you don't arrive as an NBA fan, we guarantee that after experiencing all the Amway Center has to offer you'll be one by the time you leave! Here's some of what you can expect: 
Fan Fest 
Before every Orlando Magic game, the fun begins outside the Amway Center with Fan Fest, where the whole family can get in the spirit with live music, interactive activities, face painting and the chance to shoot some hoops of your own. In 2019, the Amway Center was voted as number 1 for fan experiences and with events like this we can see why! 
Stuff's Magic Castle
If you're visiting with young kids who might not be able to concentrate for the full duration of a basketball game (usually around 2-2.5 hours), Stuff's Magic Castle has got you covered! This indoor play area offers soft play, ball pits, slides, climbing frames and mini basketball hoops to keep little ones entertained. There are a number of concession stands throughout the arena that are focused on kids too so they can purchase a fun memento or two to remember their first NBA game.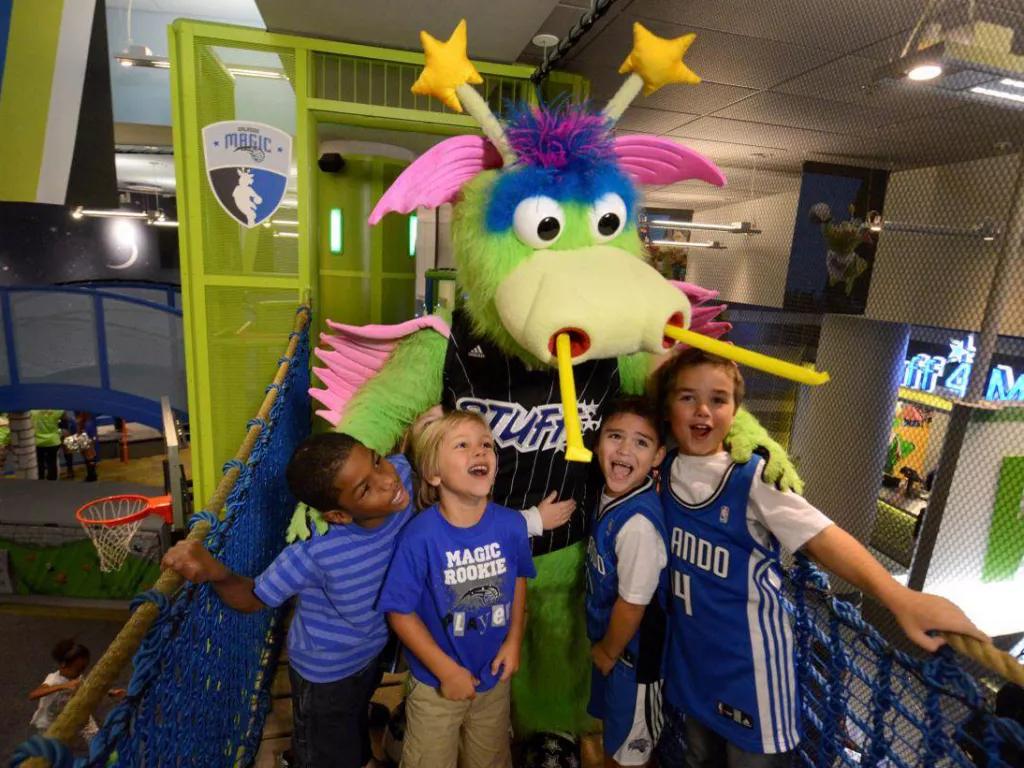 Entertainment 
If you want a true taste of classic Americana then an Orlando Magic basketball game is the place for you. Just like you see on TV and at the cinema, the entertainment at the Amway Center is one of the highlights of the evening. Cheerleaders, drummers, dancers and a hype squad get the crowd amped up and ready to see the players take to the court and we challenge you to not get involved with all the excitement!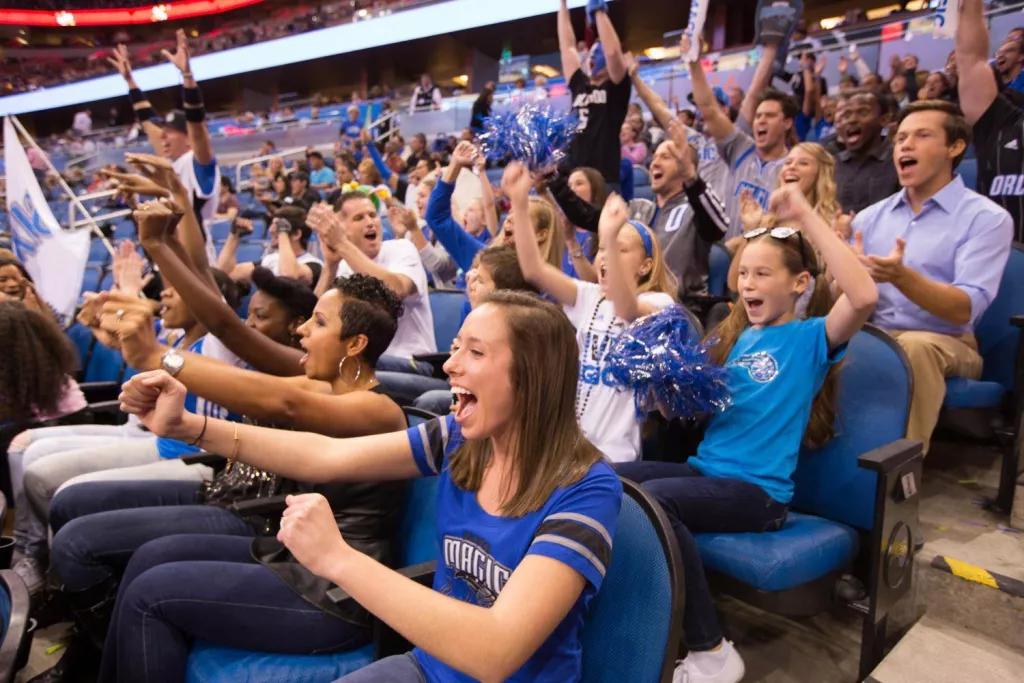 Dining 
An evening out wouldn't be complete without some good food and drinks, and the Amway Center has plenty for you to choose from! There are a total of 9 restaurants and bars at the arena including a rooftop bar, and a restaurant that looks directly down to the arena bowl during Orlando Magic games! Plus, if you book Ultimate Seating, you'll get all-inclusive food and drink, including beer and wine before, during and after the game. 
Orlando Magic's 2023/2024 NBA season kicks off at the Amway Center with preseason games on October 17th, 20th and 25th, running until April 14th 2024. There are a total of 41 Orlando Magic home games throughout the season, with highlights including: 
November 4th - Los Angeles Lakers
December 29th - New York Knicks  
January 21st - Miami Heat
February 10th - Chicago Bulls 
February 14th - New York Knicks 
March 13th - Brooklyn Nets
April 14th - Milwaukee Bucks
With tickets starting at just £13 per person and five different seating categories to choose from, you can enjoy an evening of Orlando Magic no matter your budget. Take a look at the full 2023/24 schedule and book your tickets today!