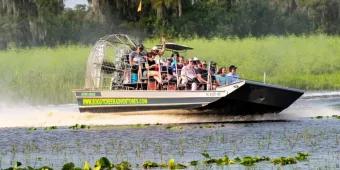 There is so much more to Orlando than just the theme parks!
Are you looking for an Orlando day trip away from the theme parks? We've put together 5 of our best Orlando day trips, with transport included!
Known for its iconic theme parks, captivating entertainment, and endless thrills, Orlando is undoubtedly a premier destination for family vacations and fun-filled getaways. However, amidst the city's enchantment lies a plethora of hidden gems waiting to be discovered just a short drive away.
We know what you're thinking, that sounds great but you don't want the hassle of organising transportation to and from these destinations. Don't worry, we've taken care of all the planning so you can have a stress-free day out! These are our 5 MUST-DO Orlando Day Trips, with transport included!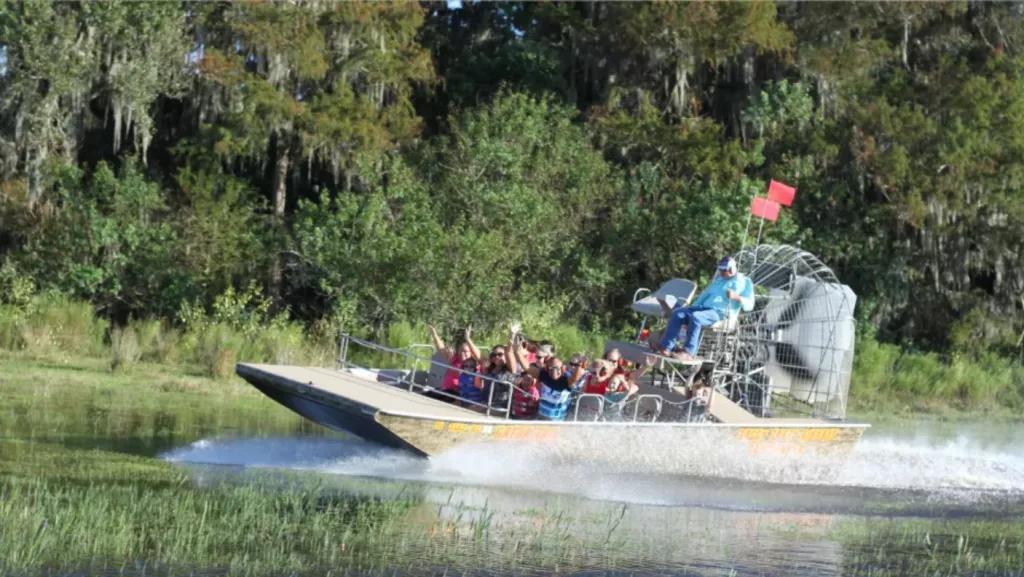 Perfect for those without a car, the Boggy Creek Airboat Adventure includes pick-up and drop-off, plus an unforgettable airboat ride to discover the amazing wildlife of the Central Florida Everglades.
Experience an exhilarating airboat ride through the nearby wetlands, where the pristine Central Florida Everglades remain largely unchanged since the pioneers' arrival. Glide through stunning swamps, marshes, and rivers at speeds up to 45mph, guided by your skilled captain who expertly spots alligators, eagles, and other wildlife. Afterwards, immerse yourself in the Native American Village, adorned with towering Chickee structures showcasing genuine artefacts and handcrafted creations. Little Big Mountain shares a rich heritage through captivating stories and traditional techniques. End your visit with the joy of gem mining, where children can sift through sand to discover their perfect stone. 
This whole experience is a fantastic way to start your morning and you will still have plenty of the day left to enjoy!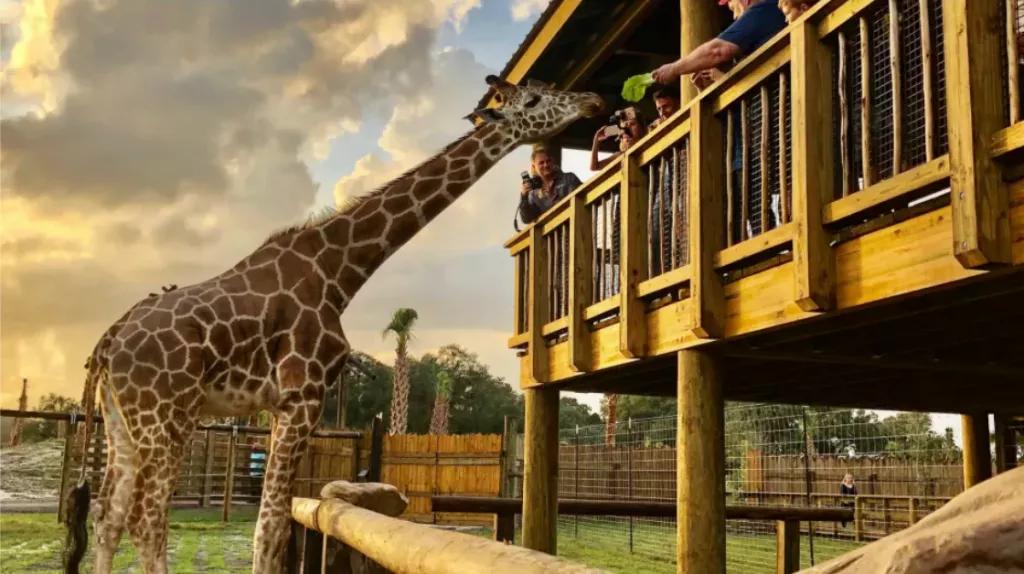 Climb aboard an airboat to explore the untouched wetlands, surrounded by cypress trees, lush vegetation, and intriguing wildlife.
Following the exhilarating airboat ride, venture into the 14-acre Gator Park, where you'll encounter a captivating array of animals, from endangered Florida panthers to delightful lemurs and loveable sloths.
Indulge in a freshly prepared BBQ lunch at the rustic Chomp House diner, set under a covered pavilion offering scenic lake views. After refuelling, prepare for the highlight of the adventure - the Drive-Thru Safari. Immerse yourself in an extraordinary opportunity to interact with over 100 animals, both native and exotic. Hand-feed giraffes and witness the animals roam freely, evoking the spirit of the African savanna.
As well as lunch, round-trip transport and the services of a knowledgeable certified guide, this tour also includes a bag of gator feed per person in the Gator Park and one digital photo per group. The only thing you have to bring is your camera to preserve the amazing memories you will make.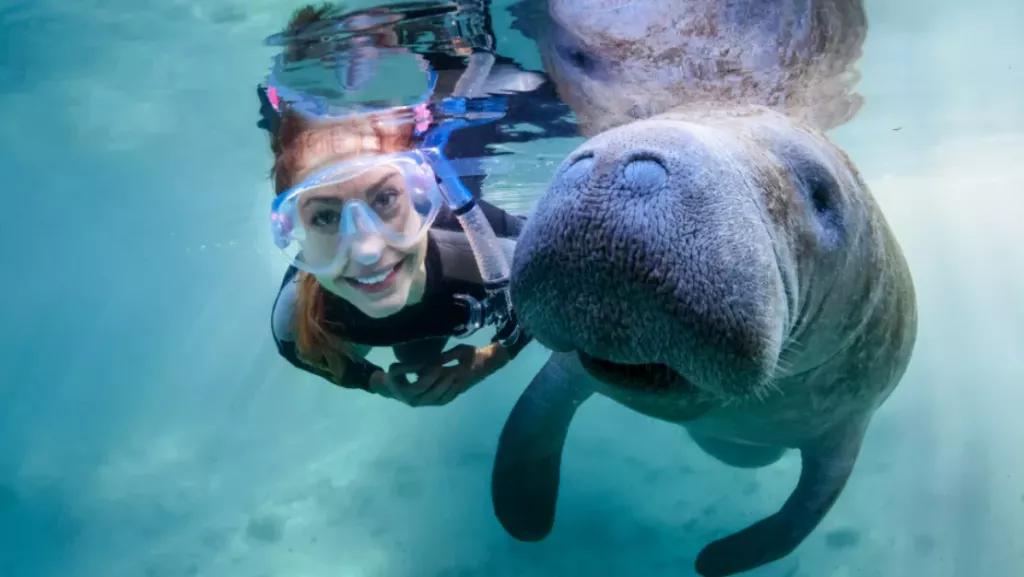 Swim with manatees AND enjoy a wild airboat ride on this #1 rated excursion. You've come all the way to Florida, so it makes sense to actually see as much of it as possible and no other tour provides such a wide-ranging experience as the carefully crafted Real Florida Adventure! The undoubted highlight is the chance to swim with majestic manatees in the beautiful crystal river - the only place in America where it is legal to enjoy this once-in-a-lifetime experience.
Begin your action-packed day with an exciting journey from Orlando to the picturesque Crystal River area on Florida's Gulf Coast. This natural paradise holds the title of the Manatee Capital of the World, offering the unique opportunity to swim with these majestic marine creatures. Glide along the Crystal River on a leisurely narrated boat ride, admiring stunning natural springs and encountering diverse wildlife, including manatees in their natural habitat. Continue the adventure to Homosassa Springs State Park, a hidden gem teeming with native wildlife, including endangered species like Florida panthers and alligators. Explore Nature's Fish Bowl, an underwater observatory, and witness the park's manatee rehabilitation program. Enjoy a packed lunch before concluding your Floridian experience with an exhilarating airboat ride on the Withlacoochee River, immersing yourself in the natural habitat of even more captivating wildlife.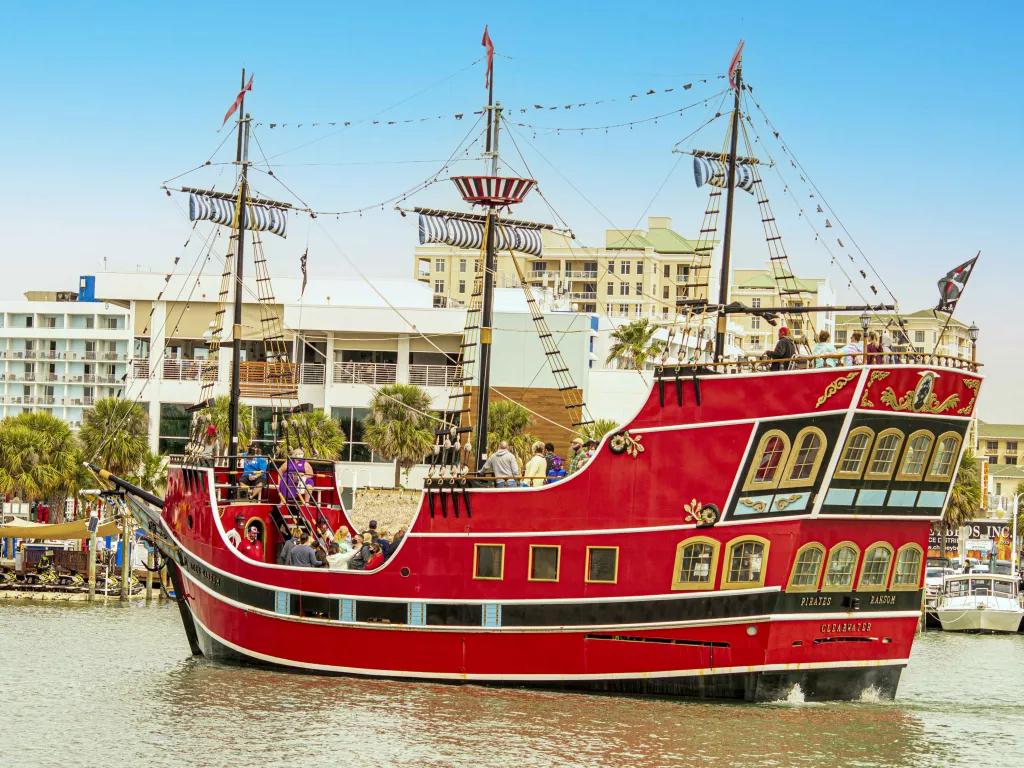 So, you'd like a day at the beach? Great idea! And we have the perfect offering for providing a blissful day of sun and sand in the heart of Florida's gorgeous Gulf Coast. You can keep things simple and spend most of your visit relaxing at the beach or, if you wish, include an unforgettable speed boat tour, aquarium visit, pirate cruise or deep-sea fishing adventure to your Clearwater Beach Tour!
Clearwater Beach offers Florida's premier seaside experience with its vast and open beachfront, perfect for families and beach lovers. The Real Florida Adventures tour takes you from Orlando to the Gulf Coast, where you can enjoy the tranquil waves, vibrant bars and restaurants, the iconic Clearwater Pier, and the beautiful Beach Walk - a one-mile winding promenade connecting various beach attractions. The azure Gulf waters reach a warm 84 degrees, ideal for relaxation. Lunch is provided at a beachside restaurant, allowing you to savour local seafood and other delectable dishes while enjoying the view. Explore the beachfront, Marina, Clearwater Marine Aquarium, and charming shops.
Clearwater Beach offers an idyllic day of relaxation away from Orlando's bustling parks and is one of our most popular tours, year-round. And while we may be biased, we don't think you'll find a better beach experience anywhere in Florida.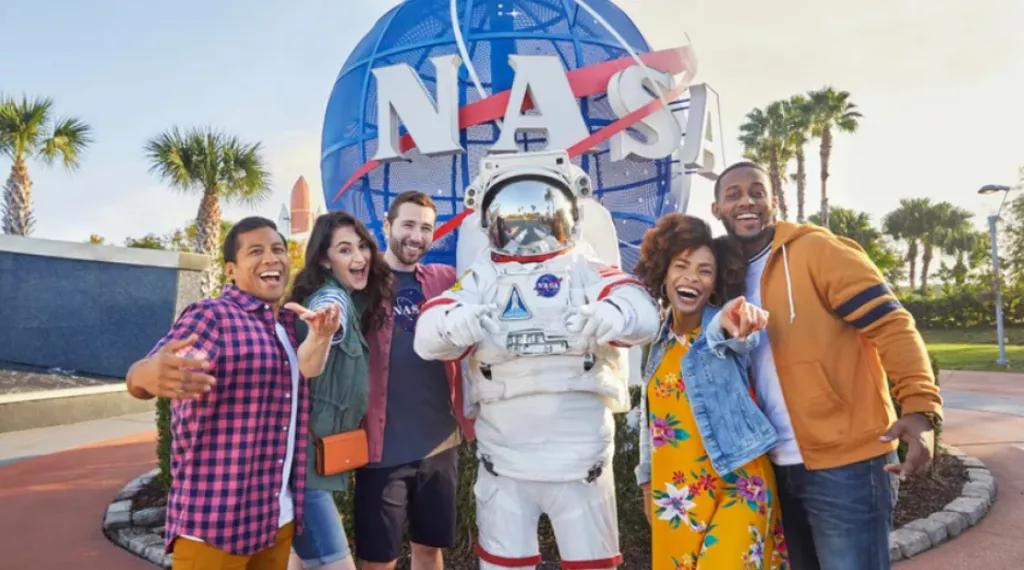 Welcome to the home of One Small Step for Man. In simple terms, Kennedy Space Center Visitor Complex is one of the most essential – and thrilling – attractions in Florida, and planning a visit during your time in Orlando is a must-do.
Kennedy Space Center offers a comprehensive experience that showcases the history, present activities, and future prospects of the space program, immersing visitors in an unprecedented way.
Prepare to be captivated as you witness firsthand the forefront of space exploration, thanks to an array of interactive displays, captivating films, and engaging presentations. Each day, you'll have the remarkable opportunity to personally encounter one of NASA's modern heroes during the Astronaut Encounter.
With an abundance of captivating attractions, a visit to Kennedy Space Center Visitor Complex will require a full day to fully absorb everything it has to offer. To make the most of your experience and satisfy your inner astronaut, a Real Florida Adventures Kennedy Space Center Tour is the perfect way to indulge your inner astronaut! All tour options include an experienced guide and return transportation from Orlando (approximately 60 miles away).
Book a Real Florida Adventures Excursion in Orlando with AttractionTickets.com and receive a free $20 food and drinks voucher with every adult ticket to Brother Jimmy's BBQ, located at ICON Park. Use your $20 adult voucher for delicious food and/or drinks at Brother Jimmy's BBQ restaurant, open for lunch and dinner daily. The $20 food and drinks voucher will expire in full on 31 December 2023 irrespective of use.*
*T&Cs Apply.