By AttractionTickets.com's Florida Experts, Susan and Simon Veness
Just a few miles from the centre of Orlando is a beautiful neighbourhood that feels worlds away from the hustle and bustle of the theme parks!
It may be stating the obvious, but Orlando is a big place. While the theme parks are the big draw, there are many other areas that make up this vast tourist wonderland.
Places like Altamonte Springs.
Now, like other Orlando neighbourhoods such as Winter Park and Winter Garden, there is nothing here that is overtly touristy or designed specifically to attraction overseas visitors. But for those who like an authentic experience as part of their holiday, these places are well worth seeking out for that "something different" factor. We know that these more offbeat destinations resonate with AttractionTickets.com customers, as previous blogs about the likes of the Lake Apopka Wildlife Drive and Top 10 Attractions You Can See for Free have been extremely popular. In the same vein, Altamonte Springs is another local hangout that is packed with eye-catching appeal and originality, a modern suburb that also has its rural highlights along with a series of seasonal events that are well worth catching.
Just to start with, it isn't exactly a hidden secret as such - it boasts one of the biggest shopping malls in the area and a major Fourth of July extravaganza - but it is very much a locals' hang-out, and it makes for a really pleasant day trip. It's easy to find, too, exactly nine miles north of the city of Orlando and 26 from Walt Disney World. Incorporated as a city in 1920, it is officially part of rural Seminole County but feels more urban in its design and make-up.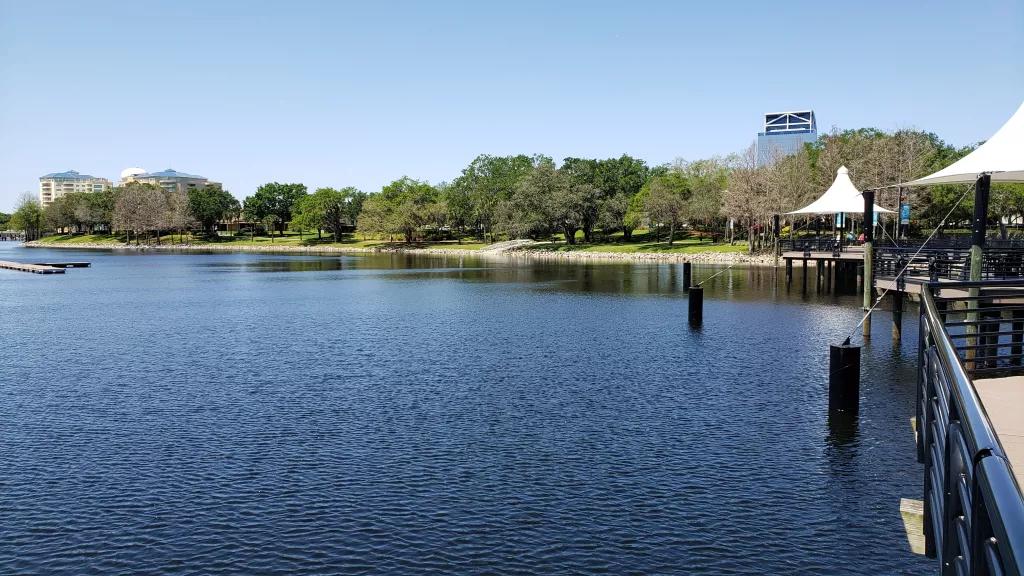 At the heart of the city is Uptown Altamonte, which bills itself as "the city's premier business and urban residential district," and is home to the Altamonte Mall, the AMC Cinema and a nice selection of restaurants. For driving directions, it is right off main motorway I-4, at Exit 92. Turn right onto E. Altamonte Drive then first left onto Cranes Roost Boulevard for the park, or third left on Essex Avenue for the mall.
The big bonus here is that you can practically step straight out of the mall from Macy's or Dillard's and into the blissful surrounds of Cranes Roost Park, a scenic 45-acre urban park surrounding a lake and fountain. It features a complete one-mile walking circuit along paths and raised boardwalks, with benches and covered seating to be able to sit and enjoy the view, which borders I-4. The lake contains plenty of large-mouth bass, waterfowl and a variety of turtles that tend to hang around the boardwalk waiting for food!
The park is beautifully landscaped and boasts some eye-catching architecture, as well as the signature Cranes Roost sculpture on the north shore, called Nurture.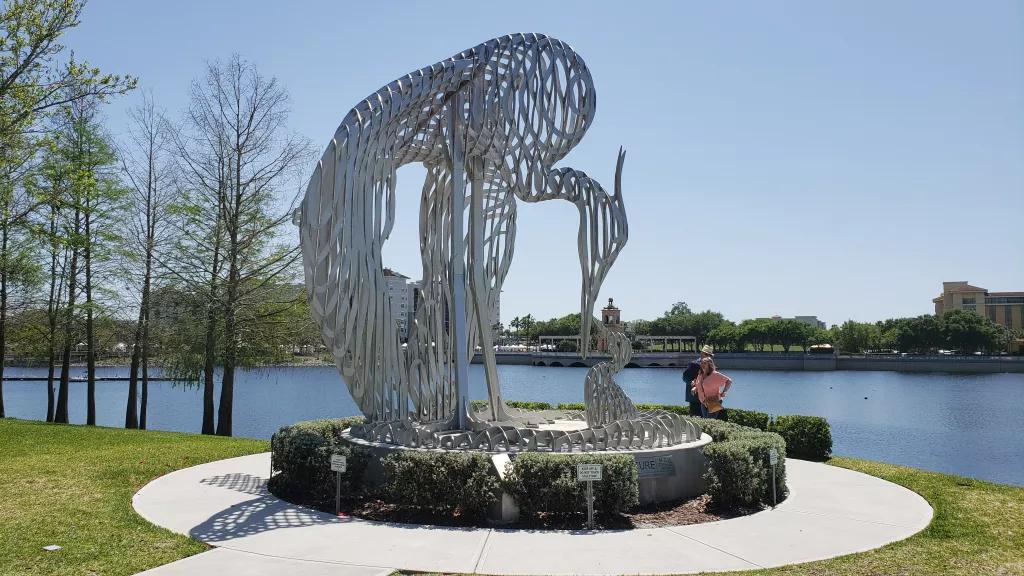 There is also the Eddie Rose Amphitheater with stadium-style seating and a floating stage for special events, which are numerous and well worth making an effort to see if you're in town at the right time. This year, we thoroughly enjoyed the spring Uptown Art Expo; a weekend long arts-and-music fiesta with dozens of artists showcasing their crafts along with chalk artists, live bands, food trucks and more.
The park is also lively at weekends and other special events, including one of Central Florida's biggest Independence Day fireworks celebrations, called Red Hot & Boom, which is held on the nearest Sunday to July the 4th (July 2 in 2023). Equally, it is a lovely chill-out spot during the week, when there is just the occasional jogger along the pathways.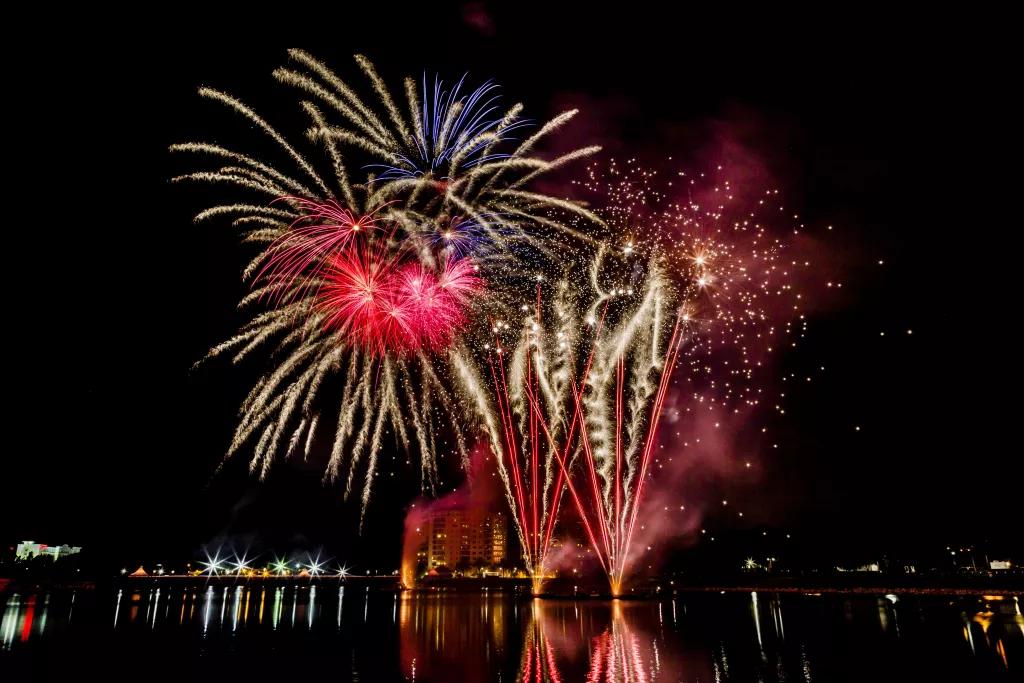 Also within Cranes Roost is a European-style plaza with fountains, which perform a choreographed light show in the evenings. Look for the 62ft tall tower and bring a picnic and you have the makings of a truly blissful day out, away from the theme park frenzy - and much easier on your wallet!
For an even more pastoral outlook, head a few miles south-west for Lake Lotus Park and soak up the wonderful outdoor ambience of 120 acres of woods and wetlands, with a one-mile boardwalk, children's playground, picnic pavilions, grills, a fishing dock and an enclosed pavilion that serves as Nature's Window on the Lake.
The Altamonte Mall is arguably the prime draw hereabouts, though, a glittering, modern, two-storey shopping centre with almost 150 shops and dining outlets, from big-name brands to local boutiques. It offers both extensive outdoor parking and a multi-storey car park, right next to the 18-screen cinema multiplex, which shows the latest movies and includes a high-tech IMAX screen with modern audio-visual enhancements.
Take your pick from department stores Dillard's, JC Penney and Macy's, as well as substantial outlets for Charlotte Russe, H&M, Shoe Carnival, Champs Sports and Build-A-Bear Workshop. There are also unique items to be found at places like Brighton, Francesca's, Oceanology, Kay Jewelers and Miniso, of the more small-scale shops. For dining, look out for the fun style Bahama Breeze, the elegant Seasons 52 and sports bar Friendly Confines for full-service options, while there are numerous snack kiosks and a food court with 11 different serveries, including Taco Bell, Villa Italian Kitchen and Mandarin Express.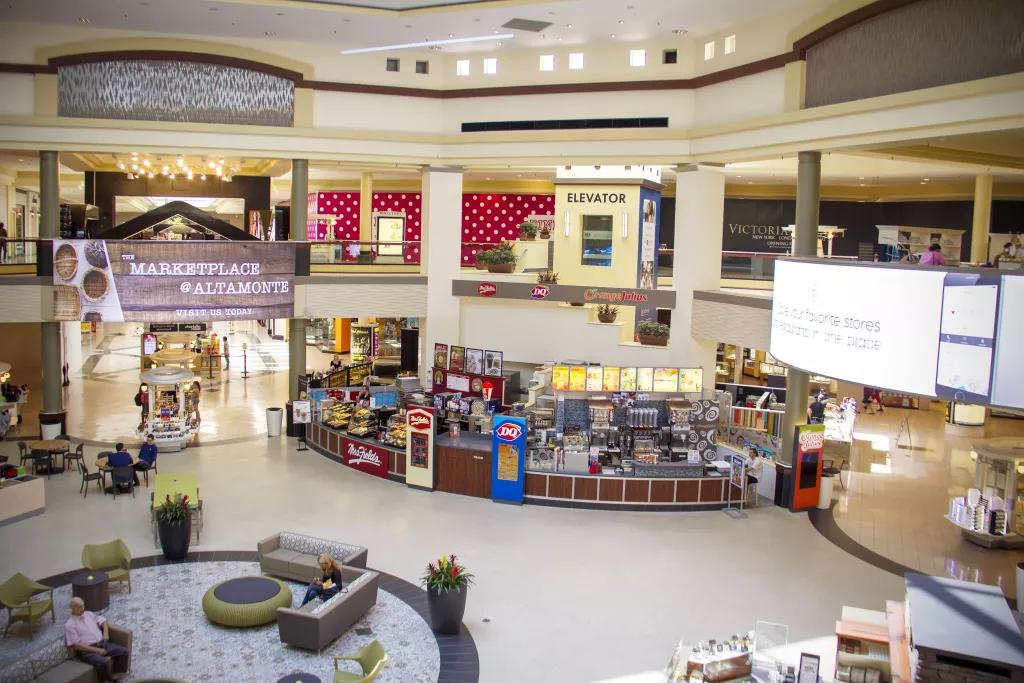 Other nearby dining options along Altamonte Drive include one of the popular local Miller's Ale House restaurants, as well as a Longhorn Steakhouse, Olive Garden and Chili's Grill & Bar. For excellent grocery shopping, there's a Whole Foods Market, which boasts an excellent Deli counter - ideal to provide those picnic fixings.
All in all, Altamonte Springs provides a real contrast to the non-stop thrills of Theme Park Central as well as a taste of the suburban landscape which actually constitutes most of the area. And you can safely say that, having come to this place called Orlando, you have actually seen Orlando!
What off-the-beaten-track places have you enjoyed in Orlando? Tell us about them on the friendly ATD forums, our Community Facebook page, on Twitter or Instagram.