San Francisco Sightseeing
See all major sites of San Francisco with just one incredible ticket. This valuable package includes a tour to Alcatraz Island and the 2-Day Hop-On Hop-Off pass.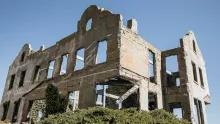 At the end of the day in the bustling city of San Francisco, the daily crowds begin to dissipate. The sun sinks into the Pacific Ocean and shadows fall over the city streets, as waves push rhythmically against the piers. This is your chance. Your chance to experience the faltered prison of Alcatraz ...