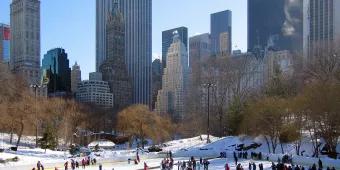 Live that classic movie moment as you glide along the ice in New York's most famous park.
Ice skating in New York's Central Park is a bucket-list item for many. Here's what you need to know about checking it off of your list.
We're struggling to think of a more magical place to visit during Christmas-time, than New York City. During the course of the season, the city comes to life with a range of family-friendly and romantic festivities, lighting up the place during even the coldest and darkest of days. 
One thing you must do if you are visiting New York City this winter, is go ice skating at Wollman Rink in Central Park.
This iconic rink has featured in many movies, including one of everyone's favourite Christmas film, Home Alone 2: Lost in New York. This year, you too can experience that movie magic, as tickets are now on sale for the Wollman Ice Rink in Central Park.

When does it open? 
The rink is open from October 2019 to April 2020, which is longer than many might have thought. New York City can remain chilly through the early spring months, so ice-skating during the first part of the year is also a great option if you aren't able to get to the city over Christmas. Visitors can skate beneath the stunning New York City skyline by day, and its twinkling lights by night. Here are the opening hours for the ice-rink: 
Monday: 10am - 2:30pm

Tuesday: 10am - 2:30pm

Wednesday: 10am - 10pm

Thursday: 10am - 10pm

Friday: 10am - 11pm

Saturday: 10am - 11pm

Sunday: 10am - 9pm 

Where is it?
The Wollman Rink is located in New York's famed Central Park, a park so large that it even has its own zoo. You could easily spend an entire day in this area, incorporating a trip to the ice rink as part of your Central Park explorations.

Do I need to be good at ice-skating?
Of course not! The huge ice rink is popular with locals and tourists alike, and boasts a relaxed feel, welcoming skaters of all levels. The atmosphere is fun, light-hearted, and you don't need to have any ice-skating experience to take part in this fun activity. 

How much does it cost?
We sell our Central Park Ice Skating Tickets as part of a package, usually with at least one other popular New York attraction. Prices start from just £39 for adults, and £29 for children, and there is a range of combinations to pick from. The ticket itself includes admission to the rink and skate rental. It's also an open-dated ticket, so it can be used at any time during your New York City visit, while the rink is open, giving you complete flexibility. Pick from these packages: 

How do you get there?
Getting to the Wollman Rink at Central Park is easy. It's located on the east side of the park, very close to Central Park Zoo. Enter the park at 59th Street and 6th Avenue, or 59th Street and 6th Avenue. The following transit lines have routes which pass near Wollman Park - Subway: A, F, R, W. Train - Babylon, Port Washington. Bus - M66 QM10, X37, X38. You can also take a taxi or Uber, however this will most likely be more expensive, depending on where you are coming from. 

Are there lockers at Wollman Rink?
Thankfully, there are lockers to store your belongings while you ice skate around the rink, meaning you don't have to carry your baggage with you or risk leaving it in an unsafe location. You will have to pay a small fee to use these, but it's worth it for peace of mind. 

What else is there at Wollman Rink?
Wollman Rink also offers ice hockey, a skating school and party facilities. In  terms of food and drink there isn't anything at the rink itself, however you will find a range of vendors, cafes and restaurants either inside Central Park, or just a short stroll away. You'll need to refuel after all that ice-skating fun!

Ready to book your tickets? Click here to browse all of our Central Park Ice Skating at Wollman Rink ticket packages. 

Like this post? You may also like…