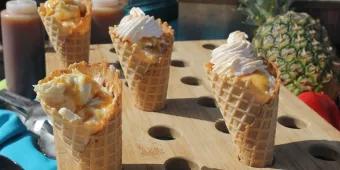 By ATD's Florida Experts, Susan and Simon Veness
It's food festival season in Orlando, and that means scrummy nibbles and boozy beverages abound, including at SeaWorld during its annual Seven Seas Food Festival. Live concerts and SeaWorld's exceptional attractions are part of the experience, but today the spotlight is on the eats!
We're all about getting maximum value from any theme park admission, and SeaWorld's Seven Seas Food Festival offers the perfect opportunity to get the most out of your multi-day SeaWorld ticket or your Orlando Freedom Ticket by visiting the park during a slower weekday, then popping back at 5pm on one of your rest days or a day at a water park. Only have time for one day at SeaWorld? Make it a Friday (more on that in a moment).
Your Event Guide is the key to getting the most out of the Seven Seas Food Festival. It lists every Market, and which food and beverage options are available at each. A map of the park shows where each Market is located, and there is also a guide at the back that lists the most kid-friendly options for guests visiting with youngsters.
Take a few moments to peruse the Event Guide and decide which Markets appeal to you most. You don't really need a plan as you work your way around the park, since all the Markets are located along the main walkway loop, but it's easy to fill up and regret missing out on something you'd really like to try.
So, what's on offer, you ask? Plenty. There are more than 180 items to choose from, many of them reminiscent of Executive Chef Héctor Colón's ancestral homeland of Puerto Rico. Here are some of the selections we sampled.
It's hard to say "No" to noodles, so our first selection was the Peking Duck Lo Mein. Crispy duck breast combined with Oriental vegetables and tossed in a sweet Teriyaki sauce, this dish was totally slurp-worthy and easily enough to make a tasty lunch along with a craft brew and a decadent dessert.
Next we tried Skewered Pork Wrapped in Bacon and covered in Hoisin sauce, a rich, meaty choice that didn't skimp on size. A fluffy Char Siu Bao bun made a nice counterpoint to the firmer skewered pork, with a little sparkle of sweet and tangy from its gingered grilled pineapple topping.
Simon chose Acaraje next, and proclaimed the Brazilian black-eyed pea and shrimp fritters to have a big, juicy flavour, rounded out well by the black-eyed peas and with no hint of brininess. The Passion Fruit Mousse de Maracuja dessert sample proved a bit too tart for our taste buds, but a definite wake-up call on a hot day. Bacon Wrapped Sweet Plantain was more our speed, with its sweet-and-smoky goodness, the perfect foil alongside the superb Brazilian Picanha Steak with oven-roasted potatoes and chimichurri, both from Brazilian Market.
There are 52 new food and beverage items this year, and the stand-out new samples for us were the Tinga de Res Taco (zesty beef in Chipotle sauce), Chile Relleno (hearty green chili stuffed with cheese) and Esquites (easy-to-eat Mexican Street Corn in a cup!) from Mexican Market; Melanzane Alla Milanese (smoky grilled eggplant) from Italian Market; and the Impossible Meat Slider (totally plant based; it's exactly what burger-craving vegans are looking for, and our current culinary obsession) from Vegan Market.
We then hopped over to Caribbean Market for a Cuban Slider (sliced pork with a lovely pop from the pickle), mild Goat Curry Stew (a new offering this year), and spicy Jamaican Beef Patty of minced beef in pastry.
When it's time for dessert, the creamy Banana Foster Cheesecake Cone hits the sweet spot. It's a combination of banana and caramel cheesecake topped with sliced banana and a caramel drizzle, served up in a crunchy waffle cone. But our sentimental favourite is the funky Bingsu Salted Vanilla Ice Cream topped with (no, not topped with; more like packed in!) crunchy caramel popcorn and served in a martini-style glass. It's a dessert that fights back when you try to stick your spoon in it, but it's worth the struggle. Yumminess galore when you finally break through the caramel popcorn coating!
Obviously, a good meal needs a good drink pairing, and with more than 50 wines and spirits, and more than 70 craft beers on tap, it takes some doing to narrow down the choices. Don't know your Cerveza De Trigo from your IPA? Don't worry. There is a handy beer guide at the front of your Event Guide with "tasting notes" that will help you narrow down potential favourites.
There are also various Tasting kiosks around the park for those who would like to sample Wine, Sparkling Wine, Goose Island Beer, or Rum & Tequila by the flight, and remember, it's Happy Hour from 5pm-9pm on Fridays, when the festival adds an extra hour of fun and doubles your drink pour (not on flights, though). Sampling individually? Ask for a double-sized drink. Sampling with a friend? Go for the two-for-one option.
The best way to enjoy the Food Festival is by purchasing a Sampling Lanyard. Purchase a 5 Item or 10 Item lanyard per individual, or go all-out on a 15 Item or 20 Item lanyard to cover your entire group. All lanyards can be used by as many people as you like, and they cover food, craft brews, wine, or speciality drink samples throughout the park.
Sample sizes are relatively generous, so 4 or 5 per person will easily make a meal. Our suggestion? Try 3 food samples and a Happy Hour two-for-one drink, and then pop by the Sweets Market and pick up a Loaded Mini Donut Bites or a Bakers Dozen of Warm Cinnamon & Sugar Mini Donuts and take them home for later, or for breakfast the next morning.
Your Orlando holiday is a busy one, and there is more on offer than any visitor can fit into a two or three week trip, but SeaWorld's Seven Seas Food Festival, which runs Fridays, Saturdays and Sundays until 5 May, offers that little bit of 'something extra' to your stay. Make time for it, and let us know what you tried when you return!
Have questions? We have answers! Have answers? We'd love to hear them! Join us on Attractions Tickets Direct's discussion forums and tell us about your favourite Florida experiences.
Liked this post? You may also like...