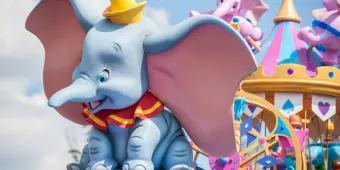 Follow our advice for taking your little ones to Walt Disney World!
Enjoy an easy holiday and have a magical time with your younger children. Here are our top tips for taking your baby or toddler to Walt Disney World Resort in Florida.
Travelling with your little ones is easy, especially when you visit Walt Disney World Resort in Florida. The parks are a fantastic experience for all ages - babies and toddlers included - making it the ideal holiday for all the family.
'Baby Care Centers'
All of the four Theme Parks have special 'Baby Care Centers', areas where you can feed, change and relax with your baby. There are nursing rooms with rocking chairs and changing rooms with full-sized tables. You can bring all your baby supplies into the Parks, however if you do run out of something the 'Baby Care Centers' also sell nappies, wipes, sun-cream, formula, baby food and other necessities to purchase. The feeding areas have high chairs, microwaves, ovens, and sinks. The main room has seating and a TV, and toddlers are welcome to watch a Disney cartoon, do some colouring in, and just generally wind down in the centres too. All of the areas are kept clean and tidy by Cast Members.
Feel free to use the 'Baby Care Centers' to pump even if you aren't with your baby as well - electrical outlets are available for breast pumps.  
Tip: The 'Baby Care Centers' are where lost children will be taken if found by a Cast Member
Rides
The rides will advise if they have a minimum height requirement and to make the most of your time in the Parks, check the requirements using the My Disney Experience mobile app, locating early on which attractions do not have a height restriction. Most of the rides in the family-friendly Magic Kingdom Park DO allow babies to ride, so this would be a perfect place to start off your holiday. "it's a small world", Dumbo The Flying Elephant, and The Magic Carpets of Aladdin are rides which are perfect for all ages. 
There are many other baby-friendly attractions all over the other Walt Disney World Parks too, including Spaceship Earth (Epcot), Turtle Talk with Crush (Epcot), Toy Story Mania! (Disney's Hollywood Studios), Voyage of The Little Mermaid (Disney's Hollywood Studios), The Boneyard (Disney's Animal Kingdom Theme Park), and TriceraTop Spin (Disney's Animal Kingdom Theme Park). 
Disney's Blizzard Beach Water Park and Disney's Typhoon Lagoon Water Park both have designated areas for smaller children too, and complimentary life vests are available to use.
Your baby or toddler will love all the parades and shows at the Disney Theme Parks. Witness Magic Kingdom Park come alive in the Disney Festival of Fantasy Parade, or head over to Disney's Animal Kingdom Theme Park and watch the Broadway-style Festival of the Lion King show and Finding Nemo - The Musical.
Rider Switch
However, just because you have a baby with you doesn't mean you won't be able to enjoy the high-thrill rides yourself!
With Rider Switch, if you are travelling as part of a couple, you can each have a go on the ride while one of you looks after the little one, without having to queue up again. Just tell a Cast Member that this is what you are planning to do before you get on the ride.
Tip: Up to three guests are allowed per Rider Switch pass - perfect if you're travelling with friends as well. 

Pushchairs
You can rent pushchairs at the Disney Parks for a small daily price, however you are also welcome to bring in your own. These cannot come with you in the queues though, which is one reason why the Rider Switch scheme is such a beneficial addition. Pushchairs (or strollers as they are known in the US) can be parked in a designated pushchair parking area.
Many parents also recommend buying a cheap pushchair at somewhere like Walmart for the duration of your trip, as the Disney rentals aren't able to be laid flat. When it's time for you to return home, consider donating the stroller to a local charity, or perhaps another young family.

Travelling between parks
Pushchairs are welcome on the monorails between the Parks, and they don't need to be folded, so this would be a better option when park-hopping with a baby, especially if it's nap time! You can easily travel from Magic Kingdom Park to Epcot, Disney's Animal Kingdom Theme Park, and Disney's Hollywood Studios using all the different transportation at Walt Disney World.

Food 
Did you know that children under three can eat for free with the Disney Dining Plans? Younger eaters are welcome to share from an adult plate at no extra charge, or a seperate meal may be purchased from the menu. Reservations can also be made up to 180 days before your visit, taking the hassle out of planning where to eat every day. 
Walt Disney World Resort in Florida also allows food and drink into all their Parks, meaning you can pack snacks and drinks for your little one to munch on throughout the day. Make you sure to take advantage of the complimentary cups of ice water from eateries too.
Tip: Pour the water into sippy cups and stow them in your backpack. 
Hotels
Picking a hotel that has a monorail station is a great tip when experiencing Walt Disney World with a baby. You'll soon be in the action of Magic Kingdom Park, and you'll also be able to pop back to your room for a quick nap and a refresh once you're done exploring for the day. Disney's Grand Floridian Resort & Spa and Disney's Contemporary Resort are two great deluxe resorts with a monorail stop. 
Staying in accommodation which has a full kitchen or kitchenette is often a high priority when travelling with a baby, as well as a room with slightly more space. The Cabins at Disney's Fort Wilderness Resort & Campground have a full fridge, dishwasher, microwave, and two countertop hobs. There is also a full bathroom, dining room and air conditioning, completing this comfortable lodge for you and your family. 
At Bay Lake Tower at Disney's Contemporary Resort, all the rooms have a full kitchen - even the Deluxe Studios. Magic Kingdom Park is just a ten-minute walk away from this resort, or you can hop on the monorail at Disney's Contemporary Resort next door. Many of the one and two bedroom villas in Disney's other Deluxe Villa Resorts also have a full kitchen and full bathroom which, coupled with the convenient location, make them a great place to stay. 
Babysitting
While your baby might not remember their amazing trip to Walt Disney World, you certainly will. Enjoy some 'you time' and take advantage of the independent childcare provider Kid's Nite Out, who offer one-to-one babysitting in the comfort of your Walt Disney World Resort hotel room. Services are available from kids aged 6 months to 12 years, with prices varying from the number of children being looked after.
As you can see, experiencing the magic of Walt Disney World Resort in Florida is perfect for young families and those travelling with babies. Just because you have an infant with you, doesn't mean you need to miss out on anything the parks have to offer. Just follow these tips to ensure your holiday is fun and an amazing trip to remember. 
Click here to book your tickets to Walt Disney World Resort in Florida now

Like this post? You may also like...