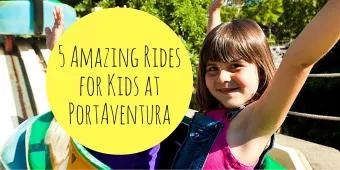 It's not all big thrills!
Looking for something to do with your little ones? PortAventura World is the perfect theme park for families with small children...
1. SeasmoAventura Show
SeasmoAventura a talent show which is one of the many shows held at PortAventura World; a singing contest for your little ones to get involved in and at the end choose who they'd like to win! They get the chance to sing and dance along with some of the big fluffy characters they love the most, including Bert, Ernie, Grover, Elmo, Trikkiand Abby cadabby. The first performance for this show is at 13:00 and the last showing is 20:30, they last about an hour and there are three shows daily. The very last showing for this amazing performance is on the 10th of September 2016, so don't miss out!  
2. La Granja de Elmo Petting Zoo
There are also many attractions in the area where the SesamoAventura show is based for your whole family to enjoy, such as La Granja de Elmo. Here you will discover all of Elmo's favourite animals whilst taking a trip around his farm on a brightly-coloured tractor. Come and take a ride on Coco Piloto while you get the chance to fly your very own brightly coloured plane - you really don't want to miss this! 
3. China Area
How about a trip to China? PortAventura's China area has lots of different rides for you and your little ones to enjoy. Check out the Cobra Imperial, a green serpent which spins and spins, getting faster and faster by the minute, designed mainly for little ones to experience a breath-taking but manageable ride suitable for their size! If this isn't for them then Angkor definitely will be; it's a water ride where you have a water gun to use to shoot down any animal or obstacle that comes across your path, as other people shoot water at you from the banks of the ride. So prepare yourself for the ultimate soaking!  
4. Steam Train
Estacio del Nord is an old fashioned steam train which will take you on an unforgettable ride around the best of the park's attractions. Departing from Estacio del Nord, the train takes you to the far west of Port Aventura, so sit back, relax and take in the amazing views of the park. This is a train ride for the whole family to come along and enjoy as it's suitable for very small children.
5. Polynesia Canoe Ride
Come down to the Polynesia area of the park and make a splash in one of the biggest family attractions… the canoes! Sit down and take a trip through the French Polynesian jungle as you cross over the lakes and rivers of PortAventura Polynesia. There are lifelike sounds of the jungle as you travel through on this exciting canoe ride, making children feel as though they're really there in the jungle. Perfect for little ones.  
By Maizie Curran
Are you thinking of visiting PortAventura with children? Check out our range of great value PortAventura tickets right here.
Liked this post? You may also like...