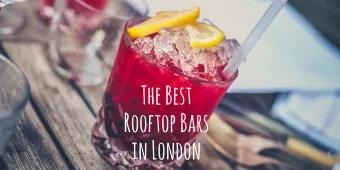 6 rooftop bars you have to try!
When the sun's out, one of the best ways to make the most of it is to enjoy a drink (or two!) at a rooftop bar! So, we've put together a list of our favourites to inspire you this summer…
1. Pergola on the Roof
Pergola on the Roof is the kind of picture-perfect place that would look great on your Instagram! Designed to emulate New York City's the Hamptons, the rooftop is complete with palm trees, pebbles, rose decking and even 13-person day beds. The venue holds up to 600 people at a time and has long benches which are perfect for big groups. There's 2 bars and mouth-watering food from 4 top London restaurants. Choose from fresh fish, tasty tacos and juicy burgers from the famous 'Patty & Bun'. Pergola serves beer, wine, prosecco and refreshing cocktails, but when you need to cool down from the heat, there's only one thing that will do- an ice cream with a chocolate flake!
Where is it? This year, you can find Pergola on the Roof at two different locations- White City and Paddington Central.
How much is it? Beers start at £4.75, wine is from £5.50 a glass and cocktails start from £7.50.
2. Coppa Club
Coppa Club boasts one of the largest riverside terraces in London and with great food and drink to go with the incredible views, this place is one of our favourites. The restaurant was a hit in the winter thanks to its giant igloos on the terrace, but for the summer, there's something new. Guests can now reserve a gorgeous cabana decorated with hanging flowers, complete with cosy cushions and blankets to keep you warm in the evening (although fingers crossed you won't need them!). Rooftop bars can often be quite pricey, but Coppa Club is great value for money, which is just one of the reasons that we love it. We'd recommend coming for a nice weekend brunch, but there's a delicious all-day dining menu too.
Where is it? Tower Bridge.
How much is it? Cocktails start from £6.95, wine is from £4.95 and Beer is £5.25. Main courses are around £12 on average and there's some delicious desserts too.
3. Queen of Hoxton
If you're looking for a fun, laid-back atmosphere, this is the place to go. The rooftop terrace here is open all year round and while we love the hot buttered rum and cosy fires in winter, we love the tasty BBQ and ice-cold drinks in the summer just as much! This year, the colourful rooftop terrace is Neverland themed and has a Lost Boy's Hideout Bar, mermaid crown making workshops and appearances from the odd pirate. Try Peter Pan-inspired cocktails like the Floating Fairy, Blue Lagoon and Mermaid Slushie- a concoction of Frosecco (aka frozen prosecco), peach liquor, orange juice, cranberry juice and blue curacao. You can even get mermaid shots served in clamshells! This lively venue is great value, so if you're prepared to party, give it a visit this summer.  
Where is it? Shoreditch.
How much is it? Slushies start from £6 and cocktails start from £8, while a small glass of wine will only cost you £3.20!
4. Kensington Roof Gardens
The stunning Kensington Roof Gardens spans over 1.5 acres and is divided into 3 themed gardens- Spanish, Tudor and an English Woodland. We love this venue because it's totally unique. Set 100-feet above London, it offers a relaxing escape from the bustling city below. Enjoy a drink as you explore the gardens and make sure you keep an eye out for the resident flamingos! There's also a restaurant if you're feeling hungry and a club for when you're ready to party the night away! This is one of the pricier rooftop choices, but the beautiful surroundings definitely make it worth a visit.  
Where is it? Kensington.
How much is it? Entry to the gardens is free of charge. Cocktail prices start at £11.
5. Queen Elizabeth Hall Roof Garden
We like to think of this place as one of London's hidden gems, and you could easily miss it if you didn't know it was there. It's completely free to visit and is open daily from 10am-10pm. It's more of a garden than a bar, but there's plenty of drinks, so we've given it a place on our list. There's a lawn, flowers, fruit trees, allotments and best of all- spectacular panoramic views of the city. Sit back and relax with a drink in hand as you admire the beauty of London all around. Sip on strawberry Bellini's and passionfruit mojitos or share a jug of Pimm's. You can also enjoy light bites like salads, sandwiches and cakes.
Where is it? Southbank Centre.
6. Sushisamba
If you're looking for something a bit fancy, or want to celebrate a special occasion, Sushisamba is a great place to go. It's set high above the city on the 38th and 39th floors of 110 Bishopsgate, which means you can admire incredible 360° views of the city. The best place to take in the views during the summer is of course on the terrace, which is the highest outdoor dining terrace in Europe! There's a huge range of cocktails to choose from, so we'd recommend trying a few. Before you leave, make sure you take a photo in front of Sushisamba's famous orange tree on the west terrace. The stunning backdrop makes for the perfect photo.
Where is it? Bishopsgate.
How much is it? Cocktails start from £13.
Looking for fun things to do in London this summer? Click here, to view our full range of London attractions.
Liked this post? You may also like…