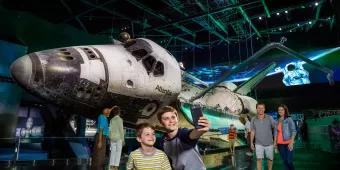 Go behind the scenes with a tour of Kennedy Space Center!
Kennedy Space Center is so much more than a museum. It's a fully interactive attraction, which you can experience through one of their fantastic tours!
Step into the world of space exploration, with a visit to Kennedy Space Center, the perfect addition to any Orlando holiday. 
There's so much to see and do at the Center, so going on one of their tours is a great option if you want an expert insight into everything the attraction has to offer. But which tour is best for you? Let's break down your different tour options:

Kennedy Space Center Bus Tour
This is included with your admission ticket, so is perfect if you are looking to stick to a budget. During this tour, you will access the restricted areas of NASA's Kennedy Space Center to see operational facilities for the history and future of American spaceflight, all from the comfort of an air-conditioned coach. Visit some of the most important areas of the Center, and get closer to exclusive areas such as launch complex 39B and the Vehicle Assembly Building. During the tour, you will also hear from local space experts, and discover how NASA and its commercial partners are preparing for the future of space exploration. 
The tour lasts for around 45 minutes, but please allow around 1 hour 15 minutes for the whole experience. Return buses leave every 15 minutes each day during the following hours:
Visitor complex 5:00 PM close: Bus Tours run 9:30 AM to 2:30 PM
Visitor complex 6:00 PM close: Bus Tours run 9:30 AM to 3:30 PM
Visitor complex 7:00 PM close: Bus Tours run 9:30 AM to 4:30 PM
Visitor complex 8:00 PM close: Bus Tours run 9:30 AM to 5:30 PM

Kennedy Space Center Explore Tour 
Go behind the scenes at Kennedy Space Center, and ride along with a space expert on a tour of America's Spaceport. This tour goes far beyond the Kennedy Space Center Bus Tour, and makes several stops to capture once-in-a-lifetime photo opportunities. You will be able to see iconic spaceflight operations, like the Vehicle Assembly Building, historic Launch Complex 39, and you'll also be able to disembark to get photos too! 
This tour lasts for around two hours, and covers areas normally only open to NASA personnel, like the Neil Armstrong Operations & Checkout Building - the area where astronaut crews spent the final days before their flights. You'll also get to see the International Space Station Processing Facility, where components of the ISS were built before being ferried into space. 
Your expert tour guide will share fascinating historical facts about the sights you're seeing along the way. The tour finishes at the Apollo/Saturn V Center, home of the largest rocket ever built - a 363-foot long moon rocket!
The Kennedy Space Center Explore Tour is included with two of our Kennedy Space Center tickets: The Kennedy Space Center Pass, and the Kennedy Space Center Ultimate Tour (which includes return transportation from Orlando). Both tickets also come with the once-in-a-lifetime experience of Dining with an Astronaut, where you'll get to dine with, ask questions to and snaps photos of a real-life astronaut! More information here. 

Cape Canaveral Early Space Tour
See where the space race all started, is this unique and fascinating tour. Cape Canaveral Air Force Station is where America's space program was born, way back in 1950. Before the Kennedy Space Center was even built, this was where rockets soared into Earth orbit from an extensive complex of launch pads, courtesy of the U.S. Air Force. 
Visitors on this tour will be able to see this historic military site, including launch complexes where the Mercury 7 astronauts blasted into space, and where Project Germini launched its two-person mission. The tour also includes stops at the Air Force Space & Missile Museum, and the Mercury 7 Monument, and Launch Complex 34, which is home to the memorial site for the crew of Apollo 1. 
This exclusive tour is available Wednesday to Sunday only, and visitors must register with the visitor complex security officers between 9am - 11am on the day of their tour. Allow around three hours for the tour, and return buses leave every 15 minutes. For more information and to book your tour, click here. 

Launch Director Tour of Space Shuttle AtlantisⓇ 
These special tours only take place on selected days, so make you check in advance to see when they are running. Showcasing the rich history of NASA's Space Shuttle Program, the Launch Director Tour of Space Shuttle Atlantis with Mike Leinbach gets you up close to this amazing period in NASA's timeline. 
You will be able to see space shuttle Atlantis with her launch director Mike Leinbach, and learn all about the risk and rewards of the Space Shuttle Program. Begin with a walking tour along the aircraft, all the way from nose to engines. From there, you will blast off in the Shuttle Launch Experience, where you'll be put in the seat of an astronaut launching into low-Earth orbit. Finally, you will end your tour with a visit to Forever Remembered, the memorial honouring the astronauts who lost their lives in space shuttle mission STS-51L Challenger and STS-107 Columbia. Mr Leinbach will be able to offer a unique insight, as he actually led the Columbia Reconstruction Team after the tragedy.
This tour costs $65USD, in addition to the daily admission ticket which you can buy from us here.  Tours are scheduled 9:30AM - 12:30PM and 1:30PM - 4:30PM. Space is limited to 30 participants, so this really is an exclusive and intimate experience. For further details, and to see when the tours are running, click here. 

A fantastic addition to your Kennedy Space Center day trip, the tours are a great way to gain further insight into this fascinating and important area of the world.

Have you signed up to our email newsletter? Click here to register your details and receive news and all our latest offers. 


Read next...