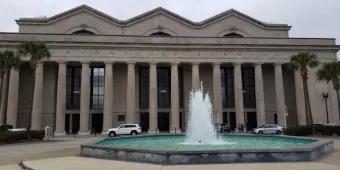 Von den Florida-Experten , Susan und Simon Veness
Unsere Florida-Experten zeigen Ihnen, wie Sie 24 Stunden in Jacksonville, Florida, verbringen können.
Es ist die größte Stadt der Vereinigten Staaten, gemessen an der Landmasse; sie verfügt über 22 Meilen Strände; sie hat das drittgrößte Feuer in Amerika überlebt; sie war das erste Filmhauptquartier des Landes, noch vor Hollywood; und sie ist die stolze Stätte des Jax Ale Trail mit acht Mikrobrauereien. Hier einige Gründe, warum Sie Jacksonville besuchen sollten.
Dieses Jahr werden wir die Top Spots Floridas für einen Tag (oder zwei!) abseits der Themenparks hervorheben, sodass Sie sich nicht darum kümmern müssen. Wir haben für Sie Reiserouten zusammengestellt, die Sie ganz nach Ihrem Geschmack kombinieren können, und wir beginnen mit Jacksonville, 2,5 Stunden nördlich von Orlando über die Interstate 95. Eine solche Tour kann an einem Tag bewältigt werden, vorzugsweise aber an zwei.
Und so geht es:
Frühstück: Vergessen Sie Cracker Barrel, Denny's, Bob Evans und Perkins. Wenn es um das wahre Erlebnis geht, ist es das nicht. Für das authentische Erlebnis müssen Sie zum Metro Diner (3302 Hendricks Ave, Jacksonville) gehen. Dies ist ein echtes, klassisches amerikanisches Diner, wo die Kellnerinnen Sie "Sweetie", "Honey" und "Baby Doll" nennen, auch wenn Sie ein behaarter Kerl sind.  Das wird Ihnen auch gefallen.
Sie werden hier weder Touristen finden, die neben Ihnen essen, noch delikate Fruchtparfaits oder Chiakern-Pudding, aber Sie werden einige der leckersten Komfortgerichte südlich der Mason-Dixon-Linie finden, darunter ein riesiges Fried Chicken & Waffle-Frühstück (groß genug, um es zu teilen, auch wenn es nur eine einzige Portion ist), Breakfast Pie (eine Pfanne mit Eiern, Käse, Pilzen, Zwiebeln, Paprika und roten Kartoffeln PLUS eine Beilage) und natürlich Biscuits & Gravy (zwei riesige Buttermilchbroetchen, Soße UND zwei Eier UND einem Stapel perfekt gebratener Roesti). Probieren Sie einen Pulled Pork Mac Stack (Makkaroni mit Käse und einem halben Pfund BBQ) und Sie werden nie wieder etwas anderes essen wollen.
Ja, es gibt auch gesunde Möglichkeiten, einschließlich glutenfreundlicher Produkte, aber warum sollten Sie sich das antun, wenn ein Urlaub die perfekte Ausrede ist, um in Käse-Fritten, Shrimps und Pommes Frites oder Country Fried Steak zu schwelgen? Vergessen Sie nicht, den kultigsten aller Südstaaten-Ausdrücke zu verwenden, wenn Sie sich bei der Bedienung bedanken und sagen: "Ya'll done gave me a rip roarin' time!"
ATTRAKTIONEN AM MORGEN:
Die vom National Park Service betriebene Kingsley Plantation ist eine Reise in die Vergangenheit, insbesondere in die Zeit um 1700, als Spanien das Gebiet besaß und Sklaven die Felder mit der hochpreisigen Sea Island-Baumwolle bearbeiteten. Besichtigen Sie das Haus, die freistehende Küche, die Scheune und die Sklavenquartiere, wobei Sie etwa 1 Stunde Zeit für das gesamte Erlebnis einplanen sollten. Fügen Sie weitere 50 Minuten für die malerische Fahrt vom Metro Diner hinzu, einschließlich einer langen, schmalen Straße durch Laub und moosbewachsene Eichen, um den Park zu erreichen.
Kingsley ist eines der letzten Plantagenhäuser in Florida, und sicherlich das vollständigste, mit seinen 25 originalen Sklavenhütten, die noch relativ intakt sind. Seine Geschichte ist insofern unglaublich ungewöhnlich, als Sklaven nach spanischem Recht unter bestimmten Umständen ihre Freiheit erkaufen konnten. Noch erstaunlicher ist, dass die Plantage schließlich Anna Madgigine Jai gehörte, die als Wolof-Prinzessin im Senegal geboren wurde, bevor sie in die Sklaverei gefangen genommen wurde. Sie wurde die "Ehefrau des Plantagenchefs nach dem Gewohnheitsrecht", wurde von ihm im Alter von 18 Jahren befreit und übernahm die Mitverantwortung für die Kingsley-Plantage.
Nutzen Sie die kostenlose Audiotour und besuchen Sie das Haus auf jeden Fall an einem Wochenende, wenn Führungen durchgeführt werden. Die Anlage ist täglich von 9.00 bis 17.00 Uhr geöffnet (außer an Thanksgiving, Weihnachten und Neujahr) und ist kostenlos.
Fahren Sie 11 Meilen in Richtung Norden über die Autobahn A1A, bis Sie Boneyard Beach erreichen. Dieser Strand ist nicht nach einer archäologischen Dinosauriergrabung oder dem rostigen Rumpf eines längst vergangenen Schiffswracks benannt, wie man vielleicht denken könnte. Stattdessen ist er einer der fotogensten Orte, die Sie je finden werden, wegen seiner verdrehten, toten Bäume und des ausgebleichten Treibholzes, das in die Küstenlinie des Nassau Sound gefallen ist, als die Klippen während der Hurrikane und heftigen Stürme erodierten.
Wir verstehen, falls Sie denken: langweilig! Vertrauen Sie uns, diese 3 Meilen Strecke ist ein fotografischer Schatz, der sowohl der Wandgestaltung als auch Ihres Instagram-Accounts würdig ist. Ein schöner, sandiger Weg führt vom Parkplatz zum Strand, mit einigen Aussichtspunkten entlang des Weges, und obwohl Sie hier nur etwa 15 Minuten verbringen, ist es eine lohnende Ablenkung. Beachten Sie, dass Sie an einem heißen Tag im flachen Wasser laufen können, aber dies ist NICHT der Ort zum Schwimmen.
Optionaler Abstecher: Genießen Sie die Sonne am Strand des Little Talbot Island State Park, oder machen Sie einen Spaziergang dorthin und beobachten Sie Wildtiere oder Vögel.
MITTAGESSEN:
Da Sie direkt vor der Küste des Atlantischen Ozeans liegen, gibt es auf der ganzen Strecke fangfrische Meeresfrüchte, und frischer als im Palms Fish Camp geht es nicht. Hoffentlich haben Sie sich das Frühstück geteilt, so dass Sie Platz für Palms Meeresfrüchte-Gumbo oder Eintopf, einen Eimer frische Austern oder Jakobsmuscheln oder einen leckeren Teller Shrimp & Grits haben. Möchten Sie alles probieren? Dann wählen Sie den Palms Platter. Sie mögen keine Meeresfrüchte? Keine Sorge. Die Speisekarte bietet genug, um Landratten bei Laune zu halten.
ATTRAKTIONEN AM NACHMITTAG:
Sie werden eine Weile verdauen müssen, und das Cummer Museum of Art & Gardens liegt mit seiner faszinierenden Mischung aus alter und moderner Kunst deutlich über dem Durchschnitt anderer Kunstmuseen. Es ist ein wahrer historischer und kultureller Schatz, aber wenn Ihr Urlaubsradar eher auf einfachen Familienspaß ausgerichtet ist, dann sollten Sie sich zum Main Event begeben, wo Sie Bowling und Arcade-Spiele in der Halle, den Nervenkitzel beim iFLY-Skydiving oder im Bravoz Entertainment Center mit Laser-Tag, Trampolinen, Mini-Bowling und Ninja Warrior Course erleben können!
DINNER:
Sie haben die Qual der Wahl, wenn Sie in Jacksonville essen wollen, aber wir werden Sie zu unserem neuen Favoriten, BlackSheep, steuern. Mit einer wunderbaren lokalen und farmfrischen Speisekarte, klasse Cocktails und einer fabelhaften Auswahl an Biersorten ist dies der Ort für ein originelles Esserlebnis mit einer Vielzahl von lokalen Gerichten.
ABENDLICHE ATTRAKTION:
Wenn Sie sich entschließen, über Nacht zu bleiben, buchen Sie ein Zimmer im Omni oder im Hyatt, anschließend reservieren Sie Ihren Platz im Jax Brew Bus und probieren Sie drei lokale Brauereien entlang des Jax Ale Trail (bisher 20 Brauereien, Tendenz steigend!), mit einer 4,5-stündigen Tour, die bis zu 12 Proben umfasst! Weitere Live-Unterhaltung finden Sie in der Comedy Zone Jacksonville, in den vielfältigen Angeboten des Florida Theatre und im schicken Times-Union Center for the Performing Arts, das den Charme der Stadt für Kulturliebhaber unterstreicht.
Oder gönnen Sie Ihrem inneren Shopping-Therapeuten einfach einen Ausflug in das autofreie Beaches Town Center, den lebhaften River City Marketplace oder die aufregende Einkaufswelt des St. Johns Town Center mit seinen über 175 Geschäften.
Das alles ergibt ein allumfassendes Florida-Abenteuer der besonderen Art, in einer der aufregendsten Städte des Sunshine State. Ihr einziges Problem wird sein, alles in zwei Tagen zu schaffen!