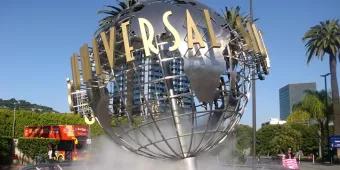 The extreme milkshake craze has come to Universal Studios Florida!
If you thought that insane milkshakes were reserved for Universal Orlando Resort's Toothsome Chocolate Factory and Savoury Feast Kitchen, you're wrong! If you're visiting the L.A. version of the Universal park, you won't be disappointed by the new Studio Scoops restaurant…
Three milkshakes are on offer with increasingly outlandish toppings: S'mores and More, Strawberry Indulgence and Chocolate X6. Here's a little more about the flavours you can expect to try….
S'mores and More: This vanilla and chocolate-based milkshake is topped with graham cracker crumbs, banana chips, whipped cream, chocolate syrup and a stick of toasted marshmallows – yum!
Strawberry Indulgence: Strawberry shake topped with multi-coloured cereal, whipped cream, strawberry jam and the piece de resistance – a chocolate covered strawberry.
Chocolate X6: A decadent chocolate shake topped with brownies, chocolate shavings, chocolate whipped cream and chocolate syrup.
Milkshakes are on sale for $9.99 each and the new shake shop will be replacing the Ben and Jerry's ice cream window on the lower lot
Aside from the milkshake offering, you can pick up four different soft-serve cone or cup ice creams: strawberry, orange and raspberry; bubblegum, banana and 'blue goo'; chocolate, vanilla, black cherry; chocolate, vanilla and strawberry.
Or why not grab a Sundae to go, choosing from Chocolate Carmel Delight (malted milk balls, caramel corn, chocolate shavings and whipped cream with a vanilla ice cream base) or Strawberry Serendipity (fruit poppers, cotton candy, a mini doughnut, a lollipop, strawberry jam, whipped cream and vanilla ice cream. Phew!
Studio Scoops is open now! Get your tickets for Universal Studios Hollywood here. 
Liked this post? You may also like...