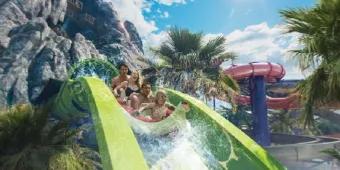 New attraction set to make a splash!
We've been waiting on tenterhooks for more details on the most-anticipated water theme park in Orlando's recent history…
News first broke about the incredible new water theme park Volcano Bay in late May this year, with lots of amazing details about the new park coming a month later in June. We didn't think there was going to be too much extra for Universal's creative team to reveal, but how wrong we were!
Today, Universal revealed more information and the concept art for the park's star attraction – Krakatau Aqua Coaster, which will feature at the centre of the park's showpiece, the Krakatau Volcano (photo above).
The family friendly 'aqua coaster' will take riders through the 200ft tall volcano on specially designed ride canoes which are unlike anything you might have seen before. Notice we say 'through' the 200ft volcano, not just 'down'....! Linear induction motor technology will propel the ride up and down through the inside of the volcano, leading them under rushing waterfalls and through dark tunnels like the Stargazer's Cavern. It looks like a truly incredible ride, and we can't wait to try it out when the park opens in June next year!
Stargazer Cavern, Universal's Volcano Bay
Next up was a little behind how this park will be different to water parks that have gone before it. Universal's creative team looked at what things people disliked about water parks, and one thing that came out above all was having to wait in line for the rides. So...guests at Volcano Bay won't have to wait in line for rides! How? Each visitor will be given a TapuTapu wearable device which allows them to virtually wait in line for the big attractions while they play or relax elsewhere in the park. They will then be alerted by the device when it's their turn to ride, with enough time to get to the attraction first.
Aside from giving you the chance to 'skip' the lines, the device will offer a number of interactive experiences, such as triggering water spurts in Tot Tiki Reef, illuminating images in the caves and even shooting water cannons at unsuspecting guests coming past you on the Kopiko Wai Winding River!
New images have also been released for Runamukka Reef (how relaxing does this look?)...
Runamukka Reef at Universal's Volcano Bay
...and for the Volcano at night. 
Volcano Bay at night
Beautiful!
To find out what else is happening at Volcano Bay, make sure you read the details of the last update and check out the video below for 'real' ride previews!
The brand new water theme park will open on May 25th, 2017. To buy tickets, check out the Universal Orlando Resort tickets for the different options. 
Liked this post? You may also like...