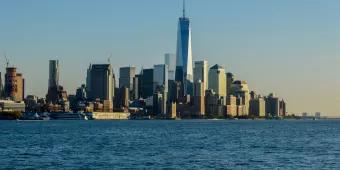 The Manhattan skyline is one of the most famous vistas on Earth; seen in countless movies and TV shows, it immediately invokes feelings of freedom, progress, and possibility. If you're planning a trip to New York City – or you're a resident looking for an exciting "staycation" idea – then seeing Manhattan in all its glory is a must.
As when traveling in any large city, you'll need to put some forethought and preparation into seeing the Manhattan skyline. Issues like traffic congestion make it difficult to enjoy this iconic scenery by car, and walking to an appropriate vantage point isn't always plausible. Fortunately, there are some inexpensive, creative, and exciting ways to take in this landmark, as describe below:
Try a Circle Line cruise.
Like bright yellow taxis, Circle Line cruise liners are one of the quintessential ways to get around New York City… And they offer a much better view of the skyline than you'll typically get by car. As many NYC-savvy tourists and travel websites will tell you, getting out on the water is one of the absolute best ways to see the Manhattan skyline.
Circle Line cruises are ideal for people who want to take in NYC in a relaxed, laid-back way. Circle Line offers several different types of sightseeing tours (all of which cruise around Manhattan), as well as a selection of themed tours, such as a sunset tour. All of these tours last between one and three hours, giving visitors a leisurely amount of time to appreciate the sights. There's even a bar on board so you can recline with your favorite drink while you take in the skyline. If you're looking for a romantic evening or ultimately relaxed outing with friends, look no further.
Go Jet Skiing with Sea The City.
If you agree that seeing the Manhattan skyline from the water sounds like a great idea, but you want something a bit more engaging than a cruise, why not kick things up a notch with a jet ski? One of the more novel New York City tours available, jet ski tours from Sea The City allow tourists to power their way across New York's many waterways, taking in the sights as they go. This adrenaline rush of a ride captures the sensation of freedom that NYC embodies perfectly, while also challenging tourists to get active.
Take a helicopter tour.
If all of those aerial shots of the New York City skyline in movies fill you with awe, then a helicopter tour of the city just might be the stuff your dreams are made of. A helicopter tour will take you high above the noise, traffic, and general mayhem found on the streets of the "city that never sleeps" and give you a crystal-clear view of NYC's expansive grandeur. Be warned, however, that helicopter tours typically don't come cheap, so only choose this option if you feel an aerial view is a "must have."
Check out The Top Of The Standard.
If your travel budget is big enough to allow you to splurge on a bit of sophisticated luxury, then the Top Of The Standard is well worth a visit. Offering one of the most dramatic views of the New York City skyline, The Top Of The Standard also serves up great food in a tranquil atmosphere. Take in some excellent live jazz music while treating yourself to The Top Of The Standard's signature small plate menu and creative cocktails. Just make sure to dress to impress and prepare for the occasion accordingly; as the Standard states, "The dress code is smart casual attire focusing on well-tailored and fitted clothing with the appropriate footwear," and "Reservations [are] strongly recommended."
Try a "hop on, hop off" bus tour.
If you're looking for a budget-friendly choice but aren't prepared to hike around the city on foot, then "hop on, hop off" bus tours (such as those provided by Big Bus Tours) are the next best thing. According to the New York City travel site Free Tours By Foot, "Big Bus Tours consist of 35 stops around New York City on 4 routes, including Downtown, Uptown and Midtown Manhattan routes and one route in Brooklyn. You can also download their app, which has the maps to help you plan your route.  Guests listen to either an English-speaking guide or an audio recording in one of 10 languages while on the bus, and then are free to wander around on their own at each stop." (Just be aware that their special night tour does not allow riders to hop on and hop off.)
Big Bus is also renowned for their versatility. Not only do they offer accessible NYC tours, they provide combo packages for peripatetic bus tour enthusiasts. You can, for example, purchase a tour package that combines both an NYC tour and a tour of Washington, DC. This increases traveling efficiency and helps to reduce costs even further.
Ride the Staten Island Ferry.
Finally, we come to our most cost-effective option of all: The Staten Island Ferry, which is completely free to ride. While a ride on the Staten Island Ferry won't offer the same kind of comfort and range of services that a proper boat tour does, it provides a wonderful (albeit comparatively brief) view of the New York City skyline. Many tourists who are on strict budgets swear by the Staten Island Ferry for this reason.
As you can see from the list above, touring New York City doesn't have to be stressful. There are a range of choices available for tourists today, whether they're looking for something glamorous, something relaxed, or something active and exciting. Regardless of which option you choose, we're confident that you'll enjoy the view… And create memories that will last a lifetime. In our humble opinion, a trip to see New York City's stunning skyline should be one everyone's Bucket List.
About the author:
Established by a serial entrepreneur with 30 years of NYC boating experience, Sea the City is excited to offer Jet Ski Tours of Manhattan, Ellis Island and the Statue of Liberty with a launching point just minutes from Downtown!