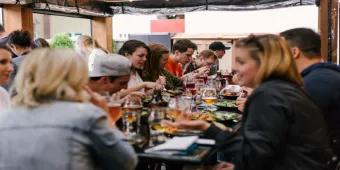 You've arrived at the perfect place if you're looking for fun exhibitions in London this year.
There is a lot planned for 2019, so this selection specifically includes unique experiences that you would be hard-pressed to find elsewhere.
Get ready for six exclusive exhibitions that are distinct, captivating, and most importantly fun!
Interactive exhibitions London offers can be defined by the theme and how well it draws you in and engages you.
These events offer unique experiences enhanced by the area's rich history.
The UK offers a lot of galleries and museums making the final selection difficult, but these choices are sure to not disappoint.
The France Show
Francophiles will delight in the France Show, one of the most prominent French exhibitions in London.
The France Show will occur in London and features floors across a variety of theatres with different features.
Enjoy tastings of French wine and champagne, travel tips, and get information from food and wine experts.
For example, you can learn how to cook a French dinner in a half an hour and gain insights on the local culture.
Living France Theatre and French Property News Theatre offer free seminars where you can obtain expert advice about buying property in the country.
Enhance your French skills at the Language and Travel Forum. The complementary lessons are sponsored by FRANCE magazine.
The France Show is in its 12th year, displaying the best of the culinary and real estate world that the country has to offer. Expect to see top chefs, a broad range of Gallic French market choices, and can-can dancers.
Jewellery and Watch Birmingham
The Jewelry and Watch Birmingham show is the largest trade show in the industry.
The show will be in Birmingham, conveniently before Mother's Day and Valentines Day. There are many coupons available for those who plan on attending via the website.
The site also offers a free ticket to attendees who sign up.
For many people, this is the largest buying event of the year.
Meet exhibitors in person, which is a different experience than buying in a traditional store. Luxury items created by more than 350 talented designers.
The expo expects to host about 17,000 visitors annually. Store owners can find new inspiration and offerings to offer in-store.
Tim Walker Exhibition
Dine at the Garden Cafe the oldest museum restaurant in the world while at the Tim Walker Exhibition.
Tim Walker is a filmmaker and photographer that creates spectacular images with his camera, taking you into an imaginary world.
Tim Walker has shot notable campaigns with Comme des Garçons and Yohji Yamamoto among many others.
His images displayed in the show are filled with magic and hallucinatory illusion. In 2019, it will be hosted by the V&A in London which Walker gained inspiration from to create the exhibition.
Marvel Avengers S.T.A.T.I.O.N.
The Marvel Avengers S.T.A.T.I.O.N. is a must-see for any true superhero fan.
This in-depth experience (S.T.A.T.I.O.N. is an acronym for Science Training and Tactical Intelligent Operative Network) is where Marvel buffs can step inside their favourite movies and get a piece of the action.
What a try at lifting Thor's Hammer, or maybe sneak inside Bruce Banner's lab?
There's only one place to truly be part of the Avenger's team and that's at S.T.A.T.I.O.N.
This one-of-a-kind emersion is open from 11 am-4 pm Monday – Thursday and 10 am-6 pm Friday and Saturday, and with tickets priced at £14.00 for children (4-13) and £25.00 for adults you better hurry. You never know when the Avengers will be out saving the world next!
Stanley Kubrick Exhibition
This filmmaker's exhibition is one of the best museum exhibitions London has to offer.
The Stanley Kubrick Exhibition takes you on a re-discovery of iconic films such as; Lolita, Full Metal Jacket, The Shining, Eyes Wide Shut, Spartacus, A Clockwork Orange, and more. Peruse through the cameras and equipment used to make the films possible.
Get up close and personal with props from iconic films like 2001: A Space Odyssey.
The exhibition will be featured at the Design Museum in London.
In the exhibition catalogue, you can also check out expert essays covering art history, photography, theatre studies, music, and design.
The catalogue pairs the articles with personal photos, documents, discography, and filmography.
The exhibition has travelled to Mexico, South Korea, and Germany. In 2019, the tour will land in the UK, where it has never been before.
The former BBC Creative Director, Alan Yentob assisted in getting this "Stanley festival" to London. Expect to see scripts, costumes, and a variety of props.
The Psychology of Magic
A fascinating exhibition is coming to London's Wellcome Collection. Smoke and Mirrors spotlights how suggestion affects the senses and decision-making.
The exhibit is meant to expose the parts of yourself that believe in magic or the supernatural despite logic. Browse through magic props, spirit photography, and experiments on psychology to experience the effects of magic on your mind.
What is it about a simple magic trick that is intriguing?
Where does magic source its appeal from?
Witness firsthand the actual materials used in magical scientific experiments such as Houdini's Bell Box.
The exhibit features P. T. Selbit's original box used to saw a person in half during a magic show.
Three themes are covered during the exhibition including; misdirection, the seance, and mentalism.
Learn how magicians use tricks to divert your attention, appear to read your mind, and plant ideas in your mind.
There are many quirky things to do in London.
All of these exhibitions in the UK are sure to provide you with ample entertainment and conversation pieces.
From jewellery to magic to the paranormal, this selection of exhibitions covers a lot of buzz slated to happen in the UK. Don't miss out on these unique experiences occurring in 2019.
Author Bio:
Kim Harington is a content writer for several companies in the South-East United States including Suddath Relocations. She has a passion for writing travel guides and tips both for US destinations and those abroad.