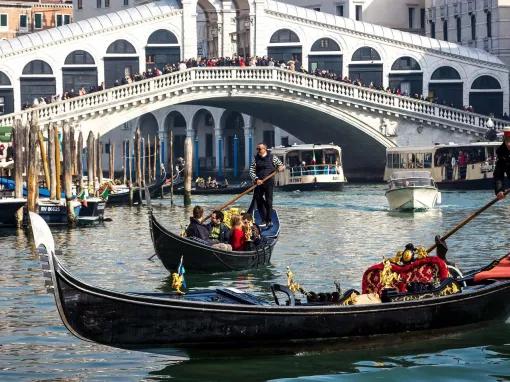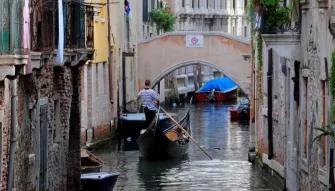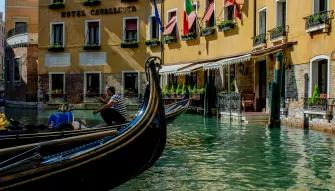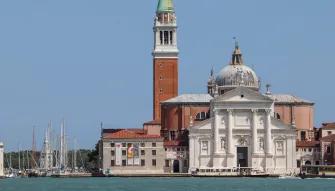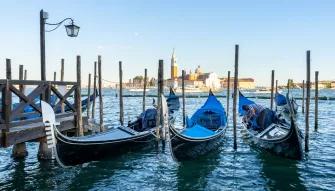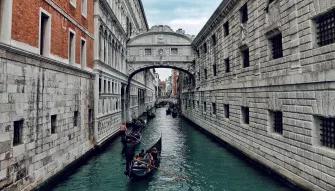 Venice Gondola Rides
Full details
Experience a traditional Venetian Gondola...
Taking a Gondola trip around Venice is one of the quintessential things to do for all visitors to this historic city. So why not avoid haggling over-inflated prices and enjoy a straightforward, no-hassle, shared gondola ride at a fixed time when the waterways are at their most peaceful and relaxing?
Our guide to Venice Gondola Rides
Gondolas are synonymous with Venice and you cannot leave this beautiful city without taking a relaxing sojourn along the Grand Canal and the minor canals that criss-cross the heart of the city.
Their crescent-shaped hulls and their oarlock that allow the gondolier to position their oars in many different ways are the secrets to how these long and slender crafts can navigate the narrow and intricate network of waterways of Venice.
Visit parts of the city not accessible by other means of transport and enjoy views of the majestic Venetian Palaces and historic buildings that line the canal sides as you glide silently along the waterways.
Among the many highlights, you will see on this shared gondola ride are the glorious Baroque Salute Church - built to commemorate the end of Venice's most severe and devastating plague, the ill-fated Ca Dario Palace, La Fenice Opera House, the beautiful San Moise Church, Mozart's home in Venice, the Guggenheim Museum & Peggy Guggenheim's former home.
Also, lookout for a selection of Byzantine Palaces that reflect the great prosperity enjoyed by Venetians during the times of the Serenissima Republic.
Ticket Options
Choose from the following tickets:
People who purchased Venice Gondola Rides also viewed...