Rooms
Rooms available
Sleeps
Price per room

Max 5

There are no available rooms, please try searching for different dates or a different hotel.
Know Before You Go
Staying onsite at a Disney Resort Hotel is the ONLY way you can access the Disney Park Reservation System without the need to pay for your Disney Tickets in full - Secure your dream Disney holiday today with a €200 deposit
To enter a Disney Park, both a valid Disney Ticket AND a date-specific theme park reservation are now required
Disney Park reservations are subject to availability and are not guaranteed until you have a confirmed park reservation. 
Reservations for the Disney Parks can be made as soon as you receive your Disney hotel confirmation
On receipt of your Disney hotel confirmation, create an account on My Disney Experience and link your Disney booking to start reserving your park days!
Keep up to date with the safety measures and requirements in place at Walt Disney World
Overview
The majesty and grandeur of the great American Northwest echo throughout this relaxing mountain retreat inspired by the grand National Park lodges of yesteryear. Features include a massive lobby fireplace and an amazing geyser faithfully shooting water 12 storeys high every hour! Soak in the splendour of the great outdoors, from nature trails through pine forests to rocking chairs that overlook bubbling springs and a waterfall. Inside, discover towering totem poles, headdresses and more. There's plenty to do, including a heated pool with a spectacular waterfall, sand beach, and boat and bike rentals for use along the surrounding scenic trails. Artist Point restaurant features Pacific Northwest cuisine for dinner and a Character Breakfast, while the Whispering Canyon Cafe offers family-style dining for breakfast, lunch and dinner.
Magic Touches

Scenic wonders are everywhere at Disney's Wilderness Lodge, from the specially-themed restaurants to an amazing geyser faithfully shooting water 12 stories high every hour. There's endless fun to be had here for everyone, both day and night! The kids will love the totem pole in the lobby, carved with all their favourite Disney characters, as well as the swimming pool and Cubs Den Club.

Dining

Artist Point offers fine dining and celebrates the culinary heritage of the Pacific Northwest. Try the omelettes, soups, salads, sandwiches, pizza and hamburgers at Roaring Forks where the rugged outdoorsy spirit of the Pacific Northwest emanates throughout this counter-service restaurant that's open for breakfast, lunch and dinner. Or head to Whispering Canyon Café with the family for a meal of all-you-care-to-eat grub and good-time games.

Room Upgrade

Woods View or Courtyard View
Woods View or Courtyard View with Bunk Beds
Standard Room with Club Level
Deluxe Room with Club Level

Location

Disney's Wilderness Lodge Resort is located in the Magic Kingdom Resort area. Magic Kingdom Park is the closest Walt Disney World Theme Park to this hotel and guests can access the regular bus transport which runs approximately every 15 minutes.

Parking Charges

Please note that as of 1st Jan 2020 nightly parking charges of $25 plus tax will apply - (payable locally & subject to change)

Leisure Facilities

Silver Springs themed pool and quiet pool
Health club, fishing, campfires, watercraft and bike rental, jogging trail
Disney movies under the stars
Why we love it
This hotel has a warm and welcoming vibe, which is perfect for those who love the great outdoors. It has heaps of activities for everyone to enjoy such as fishing, evening campfires, swimming pools, bike rental and marina watercraft. The food options for the whole family are nothing short of fantastic with everything from quick service dining at the Roaring Fork to fine dining at the Artist Point. This Resort offers guests a deluxe stay at a great value price.
Artist Point Restaurant: Beginning December 16, 2018, Artist Point Restaurant will introduce a unique Character Dining experience every evening: an opportunity to meet Snow White, The Queen and other characters in a setting that brings the beloved Disney film Snow White to life!

PLEASE NOTE that as of 1st Jan 2020 nightly parking charges of $25 plus tax will apply payable locally & subject to change)
Hotel Facilities
Bar
Concierge Services
Feature Pool
Free Transportation to Theme Parks
Hair Salon
Health Club
Pool with Slide
Quick-Service Dining
Restaurants
Signature Dining
Swimming Pool
Table-service Dining
Valet Parking
Wheelchair Access
Our top tips
If you're staying at a Disney Resort Hotel, use Extra Magic Hours – these give you the opportunity to escape the crowds and visit the parks outside of regular opening hours at no extra charge.
Walt Disney World Resort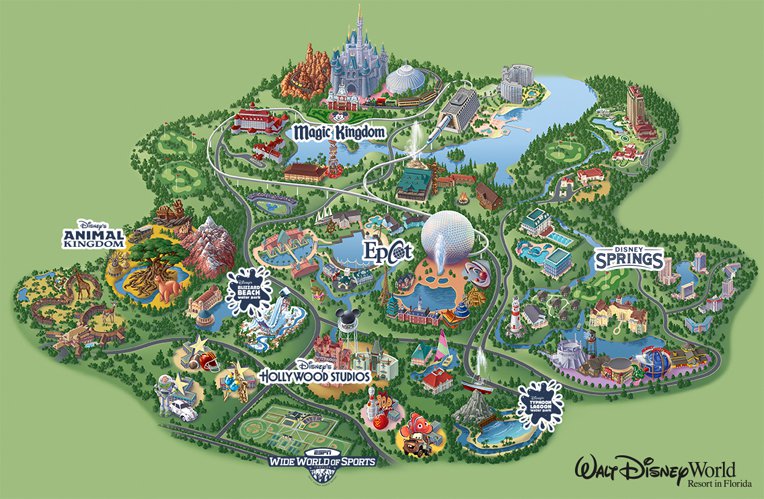 Dining
Artist Point

Storybook Dining at Artist Point with Snow White: Meet the characters from one of Disney's all time favourites Snow White and the Seven Dwarfs, while enjoying a delicious dinner with the whole family.

Geyser Point Bar & Grill

With amazing views over Bay Lake this poolside bar offers an all-day menu. Breakfast offers seasonal fruit, yoghurts and much more, while lunch and dinner offers a heartier choice like bison burger, turkey sandwiches and satisfying grilled Portobello salad.

Roaring Fork

Start your day Disney style with the ever popular Mickey waffles, eggs, sausage and more. For that quick and easy lunch or dinner stop by for a selection of sandwiches, flatbreads and burgers.

Whispering Canyon Cafe

It's time to gather up the whole family and trot on over to Whispering Canyon Cafe for some hearty American cuisine. Enjoy an all-you-can-eat buffet with a theme of the Old West. Be sure to have some cowboy fun at this family friendly restaurant.
Room search
Basket
Travelling

Check in:

Check out:

Hotel

Tickets

Dining
Your basket is currently empty.
Added