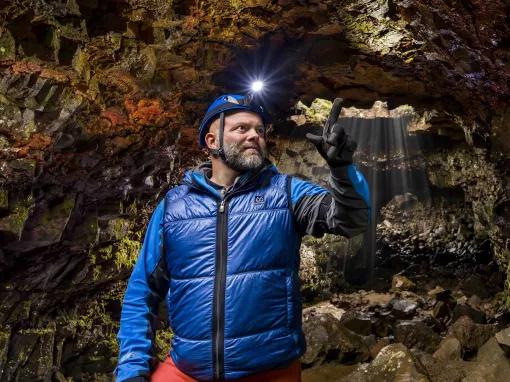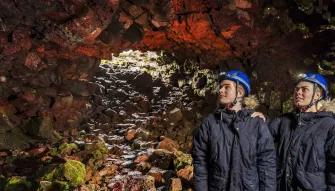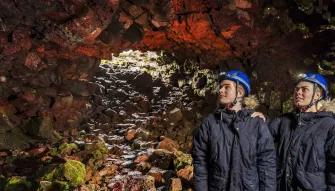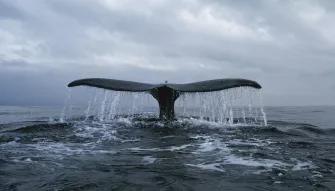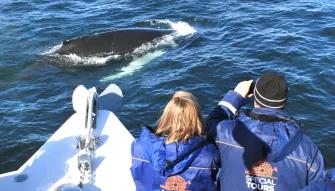 The Lava Tunnel & Whale Watching
Full details
Experience the natural phenomenon of Raufarhólshellir lava tunnels as you explore it in an easy and enjoyable manner. The 1360 metre (4500 ft) tunnel was formed during the Leitahraun eruption, which occurred about 5200 years ago and is a unique Icelandic natural attraction.
Our guide to The Lava Tunnel & Whale Watching
A guide will lead you through Raufarhólshellir's colourful landscape where the formation of the tunnel is highlighted with beautiful lighting. Every winter, spectacular ice sculptures form inside the entrance of the cave, making the experience even more breathtaking. The roughest part of the lava is easily accessible with footbridges and paths so you can explore the cave in a comfortable way. Equipment such as helmets and lights is provided at the location but it is highly recommended that guests wear warm overalls and shoes with ankle support once inside.
The adventure continues as we head to the Old Harbour in downtown Reykjavík for a Whale Watching tour with Special Tours Wildlife Adventures. Experience the wild behaviour of the whales in Faxaflói bay while looking for these phenomenal species, including minke whales, harbour porpoises, humpback whales and white-beaked dolphins. The tour includes a guide that will lead you through the experience with some interesting and useful information regarding the whales. Sit back, grab a hot chocolate or a coffee while enjoying these phenomenal creatures in warm overalls provided on board. (whale watching tour takes approx. 3-3.5 hours).
Your tour ends in the Old Harbour, a short walk from a variety of shops and restaurants in the city centre. A transfer back to your hotel can be purchased for an additional cost.
Lunch can be bought between tours down at the Reykjavík Harbour with multiple selection of restaurants. Please note that you may be short on time between the tours so keep in mind that sandwiches and snacks can also be bought on board the whale watching ship.
People who purchased The Lava Tunnel & Whale Watching also viewed...