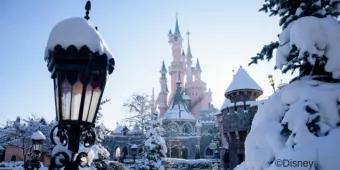 Dieses Jahr bringt Micky während der Weltgrößten Micky Maus Party bis Dezember 2018 mit seinen fröhlichen Weihnachtsüberraschungen neuen Schwung in die weihnachtlichen Traditionen!
Vom 10. November 2018 bis 6. Januar 2019 können Sie in Disneyland® Paris den Weihnachtszauber genießen! Stimmungsvolle Musik, glitzernder Schnee und die Disney Figuren in feierlichem Gewand verwandeln ganz Disneyland® Paris in ein winterliches Märchenland voll festlicher Highlights!
TREFFEN MIT DEM WEIHNACHTSMANN UND DEN DISNEY FIGUREN
Im Disneyland® Park freuen sich die Disney Figuren in ihren Festtagskostümen darauf, Ihnen ein frohes Weihnachtsfest zu wünschen, und auch ein Treffen mit dem Weihnachtsmann wird vor allem für kleine Gäste ein unvergessliches Erlebnis bleiben.
Auch im Walt Disney Studios® Park warten Disney Figuren wie Minnie und Buzz Lightyear darauf, ein festliches Erinnerungsfoto mit Ihnen zu schießen.
DISNEY'S CHRISTMAS PARADE
Micky, Minnie, Donald, Goofy, Woody und Buzz Lightyear verbreiten entlang der Main Street, U.S.A.® auf ihren weihnachtlich verzierten Festwagen zauberhafte Stimmung, während sie mit dem Weihnachtsmann durch den Disneyland® Park ziehen.
MICKEY'S CHRISTMAS BIG BAND
Im Animagique Theater im Walt Disney Studios® Park erwartet Sie ein ganz besonderes musikalisches Highlight: Mickey's Christmas Big Band! Bewundern Sie Micky am Schlagzeug und singen Sie bei den klassischen Weihnachtsliedern dieser mitreißenden Stepptanz-Show mit!
A MERRY STITCHMAS
Ab dem 16. November sorgen Stitch, Micky, Minnie und ihre Freunde bei der Weihnachtsshow A Merry Stitchmas für ein amüsantes Programm auf der Royal Castle Stage vor dem Dornröschenschloss.
DIE ABENDSHOW! GOOFYS UNGLAUBLICHE WEIHNACHTEN
Bei Goofys unglaublicher Überraschung für seinen besten Freund Micky wird die Attraktion The Twilight Zone Tower of Terror™ im Walt Disney Studios® Park nach Einbruch der Nacht mit Spezialeffekten und einer Weihnachtsgeschichte zum Strahlen gebracht. Lassen Sie sich von dieser funkelnden Show mit vielen Disney Figuren verzaubern.
MICKYS MAGISCHE WEIHNACHTSLICHTER
Seien Sie dabei, wenn der Weihnachtsmann, Micky, Minnie und ihre Freunde Weihnachtslieder anstimmen und dabei die Lichter des riesigen Weihnachtsbaums am Town Square im Disneyland® Park anzünden.
Buchen Sie hier Ihre Disneyland® Paris Tickets und erleben Sie den Zauber hautnah!
Ihnen hat dieser Blog gefallen? Das könnte Sie auch interessieren: