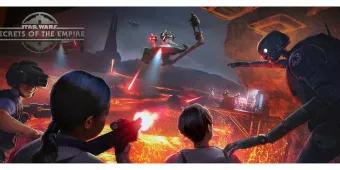 Bereit für eine neue Hyper-Reality Experience?
Das Star Wars Land ist mit Sicherheit eine der größten und am sehnensüchtigsten erwarteten Attraktionen, die in den nächsten Jahren zu Disney kommen werden. Wenn Sie aber nicht bis 2019 warten können, gibt es für die Zwischenzeit zumindest einen kleinen Vorgeschmack!
Star Wars: Secrets of the Empire wird Gäste in eine weit, weit entfernte Galaxie versetzen und mit Spezialeffekten die reale Welt mit der Star-Wars-Realität verbinden. Die Attraktion ist ein neues Projekt zwischen der Immersive Entertainment Abteilung von Lucasfilm, ILMxLAB und dem Virtual Reality Entertainment Centre Entwickler The VOID.
Die Besucher tauchen direkt in die unendlichen Weiten der Star-Wars-Galaxie ein - sie können sich frei durch die multisensorische Attraktion bewegen und mit Freunden, Familie und Star-Wars-Charakteren interagieren.
Die neue Attraktion wird sowohl in Downtown Disney (Disneyland Kalifornien) und Disney Springs (Walt Disney World Resort Florida) eröffnen. Zum Eröffnungsdatum hat sich Disney jedoch noch nicht konkret geäußert – wir vermuten, dass es um die Weihnachtszeit herum soweit sein wird. Bleiben Sie in unserem Blog auf dem Laufenden.
Sie planen einen Disney-Besuch? Klicken sie hier für unsere Walt Disney World Tickets und hier für unsere Disneyland California Tickets!