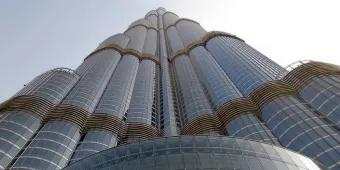 Everything you need to know
If you're planning a trip to Dubai, the Burj Khalifa is a must see! Check out our top tips for the best ways to see the famous attraction…
It only opened in 2010, but the Burj Khalifa is not only one of Dubai's most iconic landmarks, but also one of the most popular tourist attractions. The towering building is the tallest in the world, so it's no wonder it draws in hundreds of thousands of visitors each month! If you're planning a holiday to Dubai, a visit to the striking Burj Khalifa should definitely be at the top of your list. This guide will help you plan the perfect visit, with everything from Burj Khalifa tickets, to the best ways to see the striking attraction and to what to wear.
The numbers:
We've already mentioned that the Burj Khalifa is the tallest building in the world, but did you know it's record-breaking in more ways than one? The 555-metre-tall building holds a total of 17 world records, including the tallest free-standing structure, highest number of storeys in the world, and highest outdoor observation deck in the world to name just a few. Burj Khalifa tickets give you access to the 124th floor, which is an astonishing 1,483 feet in the air! If you want to admire views of Dubai's spectacular skyline, there's no place better.
Work on the Burj Khalifa began in 2004, and took over 6 years to complete. More than 110,000 tonnes of concrete, 39,000 tonnes of steel rebar, 26,000 glass panels and around 22 million man-hours were used to build this one-of-a-kind structure.
The experience:
If the Burj Khalifa is something you know you definitely want to do, pre-booking your tickets is a must, as they can often sell out. One of the busiest times to visit (but one of the most beautiful) is just before sunset, so if you want to watch the sun go down on this exotic city and take some amazing pictures, it's best to pre-book a time-slot so you don't miss out.
When you book Burj Khalifa tickets in advance, you'll be given a voucher which you exchange upon arrival, before zipping straight to the 124th floor in the world's fastest elevator that travels at 10-metres per second! If that doesn't take your breath away, the 360-degree panoramic views certainly will. Once you're at the top, spend some time taking in the awe-inspiring vista, and use the interactive touch screen camera to zoom in on the attractions below. Burj Khalifa tickets start from just €32.
What to wear:
There is no set dress code for visiting the Burj Khalifa observation deck, so you can wear whatever you feel most comfortable in, although it is advisable to dress modestly in Dubai. If you want to dine inside the world's tallest restaurant- At.mosphere, formal dress and smart shoes are required.
Planning your visit:
The Burj Khalifa is open from 8:30am until midnight, with last entry 45-minutes prior to close. If you have already pre-booked your tickets, make sure you arrive around 10-15 minutes prior to your scheduled time, as you may not be allowed to enter if you miss it!
It might be useful to know that an average visit to the Burj Khalifa, takes between 1 hour- 1 hour 30 minutes. This will give you plenty of time to take everything in, but you can of course spend as long as you wish on the observation decks. If you're desperate to see the sunset, we'd recommend booking a time slot for around 90-minutes before. There's even Wi-Fi throughout the building, so you can share your photos with friends and let them know where you are!
To get to the Burj Khalifa from the Dubai Mall, head to the lower ground level in Downtown Dubai (Metro stop Burj Khalifa/Dubai Mall #25). From the station it's a 10-minute walk, and you definitely can't miss it. 
You can also take a taxi to the attraction from wherever you are in Dubai. Taxis are metered in Dubai so you won't need to haggle on the price, but traffic can be very bad so this will definitely be a more expensive option.
Top tips:
Our number one top tip is to book early! We've already mentioned this, but lots of people leave it until the day and find that their chosen slot isn't available. Make sure you're not left disappointed and guarantee your entry by booking Burj Khalifa tickets in advance.  
Prices vary depending on the time of day, so if you're on a bit of a budget, it's best to visit during off peak hours. Off peak hours are from 8am-3pm and from 6:30pm until closing, while peak hours are from 3:30pm-6pm.
Want to visit Dubai's most popular attraction? Click here, to view our great value Burj Khalifa tickets.
Liked this post? You may also like…